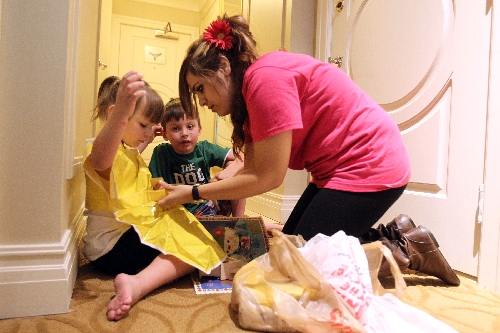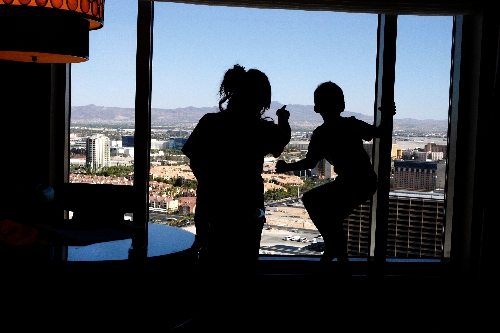 Carson Moore, 6, a whirling dervish of energy, came to a near standstill just long enough to make his second wish in five minutes.
He had already wished for throwing knives that automatically return to the thrower. Obviously, a practical wish. But his new one was a little more doable: candy.
"Hey, I have an idea. I'll skip the ride so I can go in that store and get some chocolate," Carson says, pointing to the Godiva store and its alluring window displays of chocolate-covered everything.
His nanny-for-the-night, Carmen Carbajal, smiles and shakes her head. Chocolate comes later, after dinner, she says, mollifying him for all of three seconds. Then Carson starts up again, a ball of activity bouncing around a bridge in the Grand Canal Shoppes at The Venetian.
Carson's sister, Nevaeh, 3, watches gondolas pass below. The kids can barely contain their excitement as they wait to ride a gondola on a recent Wednesday. A couple of miles up the Strip, their parents, Charles and Melissa Moore, are on their way to enjoy a quiet, romantic dinner at the Stratosphere.
The Moores, who love Las Vegas and were married here seven years ago, wanted to vacation on the Strip. While there are plenty of things for families to do on the Strip, there are even more family-unfriendly activities they wanted to enjoy.
Enter Artsy Nannies. If not for the nanny service and Carbajal, the Moores would be vacationing in Hawaii.
"We've done a lot," says Melissa Moore, listing the shows she saw with her husband. They saw Frank Marino, "Phantom – The Las Vegas Spectacular" and Criss Angel's "Believe." "We would not have been able to do those things without a nanny."
For five days in June, they used Artsy Nannies and Carbajal to wrangle the kids, feed them dinner, offer a snack and entertain them until their parents returned to their Palazzo room.
It's a seemingly Herculean task for a veritable stranger to the family. Children don't always do what they're told and they often like to push boundaries. But Carbajal, 20, is a modern-day Mary Poppins. She may not carry an umbrella but she does come equipped with Artsy Nannies' pink canvas bag full of toys, games, and arts and crafts. Not to mention her six years of child-care experience.
"I've been baby-sitting kids so long, nothing fazes me," she says, peeling a child off a railing.
The job provides some good experience for her, too. Carbajal is an elementary education major at the University of Nevada, Las Vegas. Working as a nanny enables her to use some of the knowledge she's learned at college.
Artsy Nannies founder Andrea Vallee, 29, says the canvas bag is standard issue for all 15 of her nannies.
When she started her business in 2006, the idea was to offer nanny service that provided children with more than just a baby sitter. Vallee wanted her clients' children to have a fun yet educational experience with her nannies. She equipped them with a bag full of arts and crafts projects, paper, scissors, markers, games, books and other items. Instead of using contractors, Vallee hired her nannies as employees.
She charges $35 an hour for a three-hour minimum. That's up to three children, too.
Demand turned out to be greater than Vallee ever imagined. Her business exploded.
"I thought this would be a small thing I could do," says Vallee, who has worked in child care for more than eight years. She started baby-sitting when she was 12.
In May, Vallee opened a storefront, Artsy Nannies, in Town Square. This allows potential clients to come in and meet her and see what the service is all about. Shoppers can even hire nannies to watch the kids while the parents shop.
Artsy Nannies books about 14 jobs a week, the majority of them for hotel guests on the Strip, Vallee says. A large percentage of her clientele are Australian but she receives requests for nannies who speak French, Spanish, Tagalog, American sign language and other languages.
Most clients request young nannies, Vallee says, and she does her best to fill those requests. One of the strangest requests she's ever received was for a nanny with brown hair.
"The client thought her son would feel more comfortable with a nanny who looked like her," Vallee says.
Nannies can take kids on parent-approved outings, too. When Carbajal arrived in the Moore's room, the kids became rambunctious, running around and creating a firestorm of activity. Carson was suffering separation anxiety before his parents even left.
"How long will you be gone tonight?" he asks his mother.
Don't worry, she tells him. It won't be long.
To help calm them down and burn some energy, Melissa Moore asks Carbajal to take the kids on a gondola ride. As they walk through the casino, the kids are so distracted, they don't even notice their parents slip away.
When Carson turns around and sees that they're gone, he takes Carbajal's hand and continues walking and talking.
"Will you get me a bag of chips?" he asks.
He's not the kind of boy to let an opportunity pass.
Contact reporter Sonya Padgett at spadgett@reviewjournal.com or 702-380-4564. Follow @StripSonya on Twitter.