Summerlin-area resident is force for good in community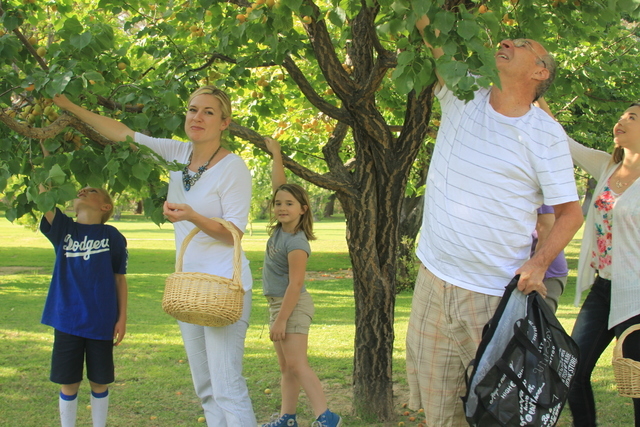 In 2011, Giovanna Raccosta held the first of many Dinner On Us events at the Las Vegas Rescue Mission. The program brings a full home-cooked meal to those in need and makes it a special event.
Now, she's expanded the effort to do more. Along with about 40 volunteers, Raccosta, a Summerlin-area resident, tackled updating 15 bedrooms at Boys Town Nevada, 821 N. Mojave Road, rooms that had not been updated in more than 20 years. She and the group painted walls, provided new comforters and fresh sheets and handed out goodie bags filled with essentials such as pajamas and towels, as well as a throw blanket and Italian chocolate.
"And we installed brand new basketball hoops, all donated by my people," she said.
"Her people" includes a list of email addresses through which she alerts her volunteers — who come from a myriad of connections — of upcoming projects and a list of what's needed to make each happen. Then, people donate what they can.
Why does she organize these projects?
"To walk into the middle of what we created that day, and (your) whole day changes, to me, it means the world," she said. "I get the best pleasure from seeing people happy. And, hopefully, that will click one day and change their life. … My mission is to make them feel that the community cares."
To make the summer even more special for Boys Town residents, she also is helping to organize a trip to Wet'n'Wild Las Vegas; a day in Summerlin at the Red Rock Resort pool, complete with private cabanas and a buffet; an hour at Gravady, a trampoline park at 7350 Prairie Falcon Road; and roller coaster rides and arcade visits.
She said they are also hoping to take in a Cirque du Soleil show on the Strip and visit Voodoo Zipline at the Rio.
Other projects are on a smaller scale. Raccosta, her husband, Bardia Nezhati, and a couple of friends picked apricots from a private orchard in North Las Vegas to raise funds to feed the homeless. They were given the fruit for free and sold it to raise the funds.
"We ended up with four coolers full," she said. "So far, we've raised $1,500 from it."
Last Christmas, she organized a cookie drive for the homeless and had 9,000 cookies donated.
Raccosta said the ideas come to her either in vivid dreams or as she's out and about. They are "little sparks of intuition," she said, like pieces of a puzzle that come together for the good of others. Her ideas of late revolve around a drug rehab group and an addiction program. She said she'll keep an eye out for more pieces of the puzzle to show her where those beginning ideas might lead.
"Ideas come from all over," she said. "I'm inspired by spirit. God just puts people in front of me, and he gives me the tools, gives me the means, to get there."
That was how Dinner On Us began. The first event saw 120 people served. The meal affairs continue each month. Each time, the tables are draped with linens, there is live music, and servers help out. It began with a handful of volunteers but now has help from more than 250. They feed up to 850 people each time, an estimated 25,000 to date.
Each dinner follows a theme. Past themes have been a Hawaiian luau with roasted pig, a Chinese New Year with drummers and dancers, and another featured the cuisine of India. Next up is a Polynesian dinner with the American Samoan community stepping up to provide food and make all the preparations.
"It means I don't have to do anything; they're taking care of (all of it)," she said. "I get a break."
Raccosta's Dinner On Us idea is catching on. After she appeared in a video called "Meet the Mormons," a group in Seattle started its own program based on her model. Likewise, a group in Canada is starting a program.
As if she's not busy enough, Raccosta also is writing an Italian cookbook while setting up the summer days of fun for Boys Town.
To donate or volunteer, email Raccosta at gioracc@gmail.com.
To reach Summerlin Area View reporter Jan Hogan, email jhogan@viewnews.com or call 702-387-2949.
How to help
To donate or volunteer, email Giovanna Raccosta at gioracc@gmail.com.