Summerlin artist's career taking flight with Disney contract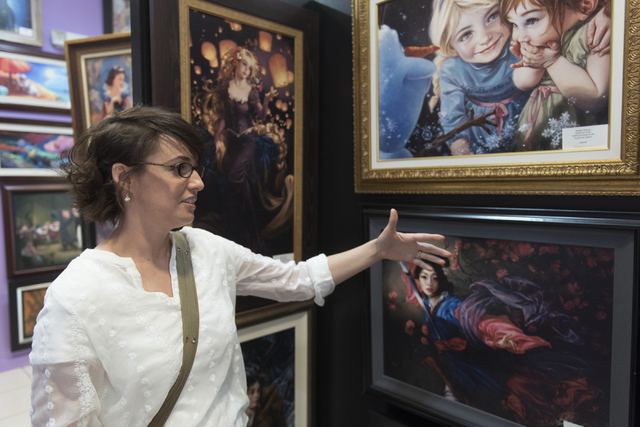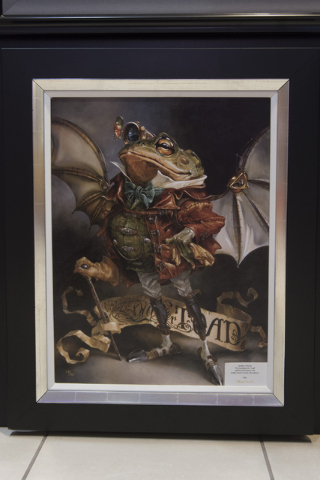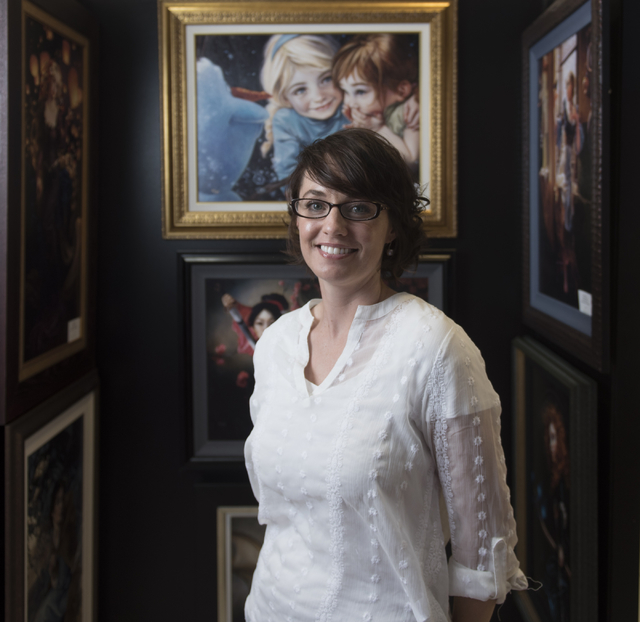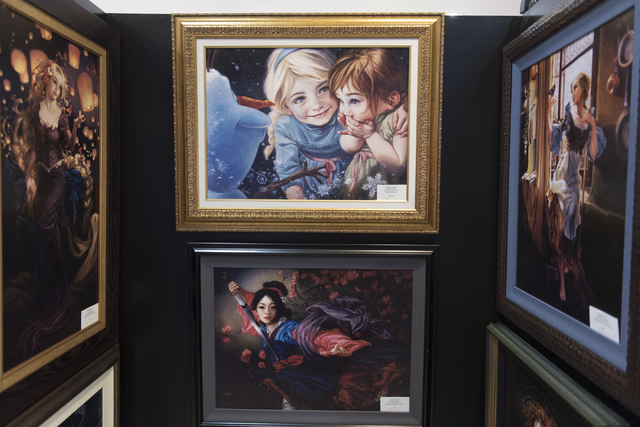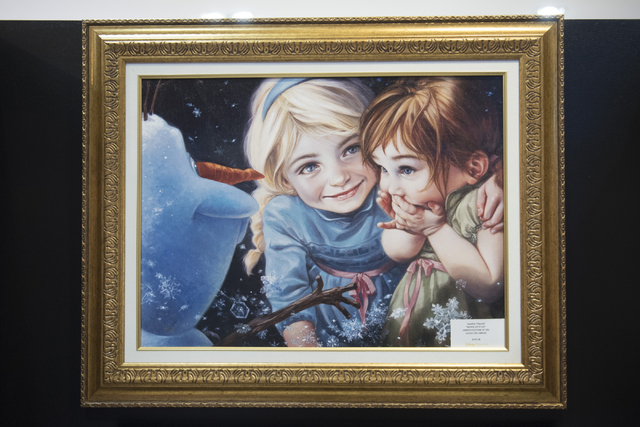 When Heather Theurer wants inspiration for a painting, she goes to sleep. That's because most of the Summerlin artist's ideas come to her when she's dreaming.
"I have a very active dream life," she said. "I wake up from the most amazing full-color dreams. They come to me very clearly, down to the finest details."
She grabs a pen and paper to sketch it or take notes on what she saw because otherwise she said it dissipates and she can't get it back.
Her career has also become something of a dream, with a contract with Disney to have her paintings of its beloved characters sold in its gift shops around the world. Locally, her Disney-inspired artwork can be found in Magical Memories featuring Disney Fine Art at Town Square Las Vegas, 6605 Las Vegas Blvd. South.
About two years ago, a Disney representative came to her booth at an art show and suggested she paint characters of that brand.
"When I was young, I always watched the Disney films but never dreamed of being a Disney artist," she said. "But he said 'try it,' so I did it on a whim."
That whim resulted in a "Lilo & Stitch" painting. It was posted on Instagram, and within two days, her painting had more than 200,000 hits.
"I don't even have Instagram," she said. "Someone posted it. Thank goodness they gave me credit for it."
Theurer's paintings range from $2,600 for smaller pieces to $40,000. Las Vegas resident Josh Patel, founder of FantasyCon, said he first learned of her at the San Diego Comic-Con International in 2013.
"I saw her painting of Mulan, and my jaw hit the floor," he said, adding that he was impressed by the variety of her work. "There is no one on earth painting at her skill level, in that detail, at that size. I could count on one hand the artists alive in the world today that could be mentioned in the same sentence as Heather Theurer."
To date, he said he's purchased 10 pieces.
Theurer grew up in Utah and began drawing as a child.
"For as long as I can remember, I always had a pencil in my hand," she said.
Fast forward to after high school, and she turned down the chance to attend the Art Institute of Chicago, instead spending a year at what is now Brigham Young University in Rexberg, Idaho.
Theurer said many of her paintings come to her after she's had to struggle to resolve something. Those struggles have included balancing her work and family life — she and her husband, Brad, have five children — and economic pitfalls, such as Brad losing his job in 2008 and being unemployed for two years. Each of them also dealt with the loss of a grandparent.
Six or seven years ago, she said she began injecting her emotions from that turmoil into her art. Some underlying message may shine through, she said, as people at shows are drawn to certain paintings and say they see it applying to their own lives.
"I'll be struggling to resolve it in my head, and that comes out in my paintings," she said. "I've had people cry; in the middle of 2,000 people, they'll cry and say, 'I'm going through that right now.' And we'll share our stories and how we're working through it. It amazes me."
She is a stickler for researching, saying she spends more time doing that than painting. Sometimes that research leads to her next piece, she said, such as when she was researching birds and found "all these amazing insects."
About 15 years ago, she painted a triptych — artwork divided into three sections, usually panels — of a religious scene. The hardest part was the face of Christ, she said, adding that she tried and tried, but nothing came out right, so she stopped painting and asked for help.
"I said, 'I can't do this. Help me,' " she said. "It was as if someone was speaking to me over my shoulder, 'Take this color and put it here'; 'Take this color and put it there.' It took 45 minutes, and it came out (different than expected). But it worked."
Theurer said people who saw only the one panel of the triptych asked why Jesus was looking off the canvas and not at the children at his feet. But Theurer said she knew it had to be painted that way, though she didn't know why. Then, when she put the triptych together, it all made perfect sense: Jesus was looking at the the sinners on the next panel, the people he needed to lead to heaven.
"And that is when it all made sense, why it had to be painted that way," Theurer said.
One of her recent paintings, "Saraigh Ceol," which is Gaelic for "Enduring Song," came to her during a time of turmoil. She was having difficulty balancing the needs of her children, including 9-year-old twins, and her career. She said her dreams told her that "you need to do both."
Theurer eventually began home schooling her children.
She said she's learned to rely on the messages she receives at night.
"Whenever I'm really focused on starting a painting, I pray; I say, 'I will do whatever you want me to do.' That's when I find my paintings (turn out) to be the most rewarding," she said. "The money is just the cherry on top."
Now that her art is getting more recognition, and with the Disney contract, she and her family can afford the big home that she wants to buy. Alas, greener places are calling her, and the family plans to move to Portland, Ore,, to further spark her creativity.
Her work can be viewed at heathertheurer.com.
To reach Summerlin Area View reporter Jan Hogan, email jhogan@viewnews.com or call 702-387-2949.
Magical Memories featuring Disney Fine Art
Address: Town Square, 6659 Las Vegas Blvd. South, No. B-112.
Hours: Monday through Thursday, 10 a.m. to 9 p.m.; Friday and Saturday, 10 a.m. to 10 p.m.; Sunday 11 a.m. to 8 p.m.
Information: Call 702-722-2816 or visit disneyfineartgalleries.com. For more of Heather Theurer's work, visit heathertheurer.com.