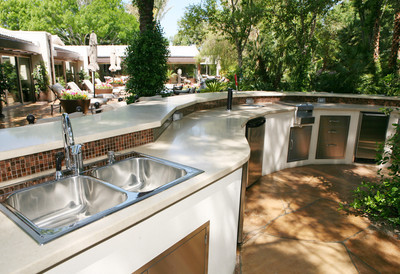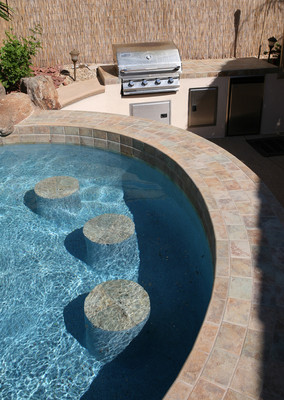 The way "Barbecue" Bill Reingruber sees it, outdoor kitchens are a natural extension of the trend toward moving indoor living areas outdoors.
"Where does everybody hang out when they're at your house?" Reingruber asked rhetorically. "They're in your kitchen. Everybody's going to hang out by the food, munch out and talk."
Reingruber started in the business 16 or 17 years ago, when the notion of an outdoor kitchen was still a bit of a novelty.
"I used to be the only guy in the whole home show who had a booth," he said. Outdoor kitchens in those days were pretty much confined to prefabricated units, which did have one advantage: "People could know right away that that was what they wanted."
But my, how things have changed. While pre-fab units are widely available — and particularly useful for customers who have trouble envisioning their dream designs — custom outdoor kitchens have taken off as well. Terence Thornton, a designer for Green Planet Landscaping, did one project that carried a $130,000 price tag. It came complete with an 80-foot outdoor bar, two "kegerators" (or beer-keg refrigerators), multiple refrigerators, a couple of sinks, an ice maker, trash compactor and the kind of high-end blender commonly found in smoothie shops. The same customer already had a separate 30-foot outdoor kitchen with a grill, side burner, pizza oven, storage drawers, sink and built-in paper-towel dispensers.
"They entertain a lot and regularly have parties with over 200, 300 people," Thornton said. "I went to a party there where they had four bartenders behind the bar."
"It's not about the inside of the house, it's about the outdoors," said Winnie Schulman, owner of the impressive installation in central Las Vegas. "We enjoy our backyard." She said that while she hires a caterer and chef for large parties, she and her husband, Robert, often grill routine family dinners there.
"The whole idea is to build an outdoor room," Reingruber said. A popular trend, he said, is to build a fireplace in the center of an outdoor kitchen, with a "hot side" (with grill, pizza oven, side burner, etc.) and "cold side" (drinks, coolers, etc.) flanking it.
"You have a big table and everybody's right there," he said.
Bruce Spangrud, founder and president of Calise Outdoor Kitchens, a Las Vegas company that manufactures components, builds islands and helps people design their own, said a common mistake is to put a fire pit too close to the cooking area. It's better, he said, if people "can sit around the fireplace while you're cooking. Some are joined so close together you can only do one or the other, because you stand too close to the fire while you're cooking."
Sometimes the kitchen design is incorporated with a pool. Sam Palmer of Sundance Pools recounted a project he designed for Henderson resident David Story a couple of years ago that's a 200-square-foot sunken entertainment area. Part of the pool structure was made into a bar, Palmer said, and the stools are in the pool, with serving from the other side of the counter.
"When we have friends and family in, we always spend time outside," Story said.
But while these projects are out of reach of the average local resident, it's possible to erect an outdoor kitchen on a tighter budget. Spangrud said a basic 4-foot island with a granite top and electric grill or small two-burner gas grill runs $1,195.
"What we tell our customers is if you dream it, we help you design it," Spangrud said, noting that 1.9 million configurations are possible. (The company's Web site, outdoorkitchen concepts.com, has a design feature.) Calise also will help do-it-yourselfers do it themselves.
"We'll help the consumer design and build their island," he said. "They can do it 100-percent themselves," or just the finishing, he said, which can alone save 40 percent of the cost.
"You have the option of building it, and then you're entertaining," he said.
Besides price, another consideration is space. While Thornton said the Schulmans' outdoor kitchen is on a three-quarter-acre lot, most valley residents don't have that luxury of space.
"I've done it on little tiny postage-stamp lots," he said. "The more appliances you add, the bigger the island's going to get because you need room to put everything in. We always put in some sort of bar seating — or at least a leaning counter — so the person doing the cooking isn't flying solo while everyone else is out there having fun."
In backyards with limited space, he said, an outdoor kitchen, fire feature and pool can be combined.
Palmer said the increase in outdoor kitchens may actually be in some measure tied to the general malaise that has spread across the country because of the war, housing crisis and other economic problems.
"It's a hunkering-in mentality," he said. "People are putting more money into their own dwellings."
Spangrud said outdoor kitchens lead to increased value in a home.
But for most owners, the true value lies in enjoyment.
"For me personally," Thornton said, "this is Vegas. You don't want to come home and heat up your kitchen."
On summer mornings, he said, he'll put something in a marinade, and when he gets home, his son plays on his playset, his wife gardens and Thornton cooks.
"It's all about creating the whole outdoor living area," he said.
Contact reporter Heidi Knapp Rinella at hrinella@reviewjournal.com or 702-383-0474.