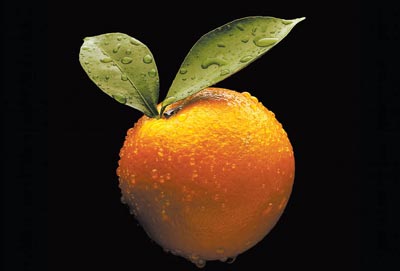 New year, new resolutions: If you've promised yourself you'll eat more healthfully this year, you may be pleased to know this is prime time for citrus.
January is when many citrus fruits overlap in the market. Claire Smith, director of corporate communications for Sunkist Growers cooperative in Sherman Oaks, Calif., said navel orange season is fully under way and seasonal specialties such as tangerines, mandarins, tangelos and pomelos are still in season.
Smith said about 80 percent of the citrus crop from California and Arizona goes into the fresh market, and that an average crop of about 86 million cartons — or 3.4 billion pounds — is expected this year. (About 80 percent of Florida oranges are used in juice, she noted.)
When we think of citrus in the market, we commonly think of it eaten out of hand, or scraped out with a spoon at breakfast. But citrus fruits can appear as prominent ingredients in salads, entrees, soups, side dishes, beverages and other dishes.
Paul Bartolotta, executive chef of Bartolotta Ristorante di Mare at Wynn Las Vegas, said he uses "a ton" of citrus in his restaurant, because "it's the super Mediterranean fruit." He uses citrus juices in vinaigrettes, sauces and other items.
Bartolotta said he's particularly a fan of lemons.
"Things that are tart, you find very interesting and want to go back to them," he said.
One of Bartolotta's favorite methods of preparing fish is to place sliced lemons and oranges plus fennel, parsley and other herbs inside a whole fish, then coat it with a Sicilian salt crust that contains wild fennel pollen, ground star anise, sea salt and plenty of zest of lemon and orange.
"When we roast it, it takes on this incredible perfume," he said. "It's almost floral when it comes out in the dining room. It's all about the fish taking on this perfume of anise and orange. Very aromatico, very engaging." He serves it with a light citrus vinaigrette.
For another dish, Bartolotta bakes the whole fish with capers, green olives, fresh oregano, cherry tomatoes and garlic. He squeezes lemons into the tomato sauce and then drops in the whole lemon, with the oil in its rind.
"With the oil in the tomato sauce, the fresh oregano and the brininess of the capers, you get a tart, but inviting flavor," he said. "The lemon is the one element that just sort of ties the whole dish together."
And if cut-up fingerling potatoes are added to the pot, he said, they absorb the flavor of the lemon, predominantly. "It seems like it's a sponge for citrus. When you eat the potato you get this intense lemon flavor."
But consider experimenting with less-common varieties of citrus than the lemon and the orange. The pomelo, for example — also known as the Chinese gooseberry — is popular in Asian markets, particularly around the Chinese new year. It has an extremely thick rind, Smith said, and is somewhat sweeter than a grapefruit. "Where you might put sugar on some grapefruit, you can eat a pomelo without sugar."
Mandarins are increasingly popular, she said, because they're easy to peel, many are seedless, they tend to be quite sweet and they're smaller, so they pack well in lunches. And Smith said availability will increase in the next few years, because more acres are being planted, many of which are not yet bearing fruit.
Smith said tangerines and mandarins are synonymous, and the clementine is one of 14 or 15 varieties of mandarins, along with satsumas, Fairchilds and Mineolas.
Cara Cara navels, which are pink navels, also are becoming more popular, she said, as are blood oranges, also called Moro oranges.
"There's a huge variety of what we would call specialty citrus," Smith said.
And all of it is good for us, said Mary Wilson, registered dietitian and extension nutrition specialist with the University of Nevada Cooperative Extension. Wilson said citrus fruit is the primary source of vitamin C for Americans, mainly in the form of orange juice. But many other types of citrus fruits provide similar nutrients and are worth a try for variety's sake, she added.
Another reason for mixing it up is so you'll get more of citrus' benefits.
"When you think about it," she said, "you're losing a lot of fiber by not at least having some of the whole food."
Not to mention bioflavonoids. Those, Wilson said, are found in the white pith of citrus fruit, and are nutrients that are known for their antioxidant activity, which can help prevent heart disease and cancer.
And what about the calories that so many are counting at this time of year? Wilson said a half-gallon of orange juice contains the juice of 18 oranges. She suggests diluting the juice with equal amounts of water or sparkling water to cut sugar and calories.
But when it comes to the whole fruit, Wilson said she figures citrus among the lowest-calorie fruits, with an average orange containing 50 to 60 calories.
Then again, she said, "I don't think of things in that manner when I think about fruit, because people can't go wrong eating whole fruit.
"That's not why people get fat, that's for darn sure."
Here are recipes from Sunkist Growers.
TANGERINE BANGKOK CHICKEN
1/3 cup flour
1 teaspoon salt
1 tablespoon pepper
1 pound chicken tenderloins
1 teaspoon grated ginger
1 clove garlic, crushed
1 shallot, minced
4 tablespoons honey
5 tangerines (divided use)
1/4 cup Thai chili sauce
3 tablespoons chopped cilantro
2 tablespoons vegetable oil
Mix flour with salt and pepper. Coat chicken tenders in seasoned flour mixture, shaking off excess.
Combine ginger, garlic, shallot, honey, juice and zest of 3 tangerines, chili sauce and cilantro in bowl and reserve.
Heat oil in large skillet over medium heat. Add chicken tenders to skillet and cook until browned, about 2 to 3 minutes on each side.
Pour reserved sauce mixture over browned chicken tenders and stir gently to heat through. Cover skillet and simmer for about 5 minutes, until chicken tenders are firm and cooked through.
Before serving, peel and segment remaining 2 tangerines and gently stir in tangerine segments.
Serves 4.
GRAPEFRUIT-AVOCADO SALAD
2 medium avocados
3 grapefruit
3 cups baby lettuce mix
Juice of 1 lime
1/4 cup olive oil
Salt, to taste
With sharp knife, cut 1/4-inch rings horizontally around the avocados, being careful not to cut through the seed. Gently remove the rings one by one and remove the skin. Evenly divide avocado rings on each of four plates, stacking the rings vertically on each plate (approximately four rings per plate) to create a tower.
Peel and segment 2 grapefruit, gently cut segments into bite-sized pieces and divide among the four plates, placing segments in the center of the avocado tower. Discard peel.
Slice third grapefruit in half. Use one half to cut into four slices. Zest and juice the other half; reserve for dressing.
Next to the avocado and grapefruit tower, place a grapefruit slice and top with baby lettuce, evenly dividing among the plates.
For dressing: Whisk lime juice, olive oil, reserved grapefruit juice and a pinch of salt. Drizzle each salad with dressing, and top with reserved grapefruit zest.
Serves 4.
ORANGE GINGER CARROT SOUP
2 cups freshly squeezed orange juice
2 cups chicken broth
8 ounces carrots, peeled and sliced
1/4 cup onions, diced
2 tablespoons ginger, peeled and diced
2 cloves garlic, minced
1 cup cream
Salt and white pepper, to taste
Cayenne pepper, to taste
Combine orange juice, chicken broth, carrots, onions, ginger and garlic in medium saucepan. Simmer approximately 20 minutes, until carrots are tender. Remove from heat and let cool to room temperature.
Place in bowl of food processor and puree until mixture is smooth. (Soup may need to be pureed in batches, if food processor bowl is small.) Add cream, salt and white pepper to taste, and use pulse cycle of food processor to blend in slowly.
Chill for a minimum of 2 hours before serving. Ladle 1 cup of soup mixture into each of 4 soup bowls. Sprinkle each with a dash of cayenne pepper and serve.
Serves 4.
ASIAN CHICKEN AND ORANGE LETTUCE WRAPS
1/2 pound ground chicken or turkey
1/2 cup finely chopped red bell pepper
1/2 cup finely chopped onion
2 cloves garlic, finely chopped
11/2 teaspoons finely chopped fresh ginger
2 tablespoons freshly squeezed lemon juice
2 tablespoons hoisin sauce
2 teaspoons brown sugar, packed
11/2 teaspoons sesame oil
1 teaspoon low-sodium soy sauce
7 drops red pepper sauce
2 oranges , washed, peeled, seeded and chopped into 1/2-inch pieces
2 tablespoons cilantro or Italian parsley leaves, chopped
1 head iceberg lettuce, separated into lettuce cups
In large skillet sprayed with nonstick cooking spray, saute chicken over medium heat, crumbling and cooking until no longer pink. Pour into dish; set aside. Rinse out pan and spray with nonstick cooking spray. Saute bell pepper, onion, garlic and ginger for 2 minutes. Add meat to pan.
In a small bowl, blend lemon juice, hoisin sauce, brown sugar, sesame oil, soy sauce and red pepper sauce. Pour into pan and stir to coat chicken. Reduce heat and simmer, stirring, until sauce is absorbed, about 4 minutes. Stir in orange pieces and cilantro. Serve with lettuce cups.
Serves 4.
MANDARIN ORANGECHOCOLATE FONDUE
4 ounces semisweet chocolate chips
1/4 cup fresh-squeezed mandarin orange juice
1/2 tablespoon mandarin orange peel, finely grated
Put chocolate chips, mandarin orange juice and peel in a small microwaveable bowl. Place in microwave oven and heat on high for 30 seconds. Remove bowl and slowly stir and/or whisk mixture until the juice is incorporated and chocolate is creamy and smooth.
Serve in a fondue pot over very low flame.
Use long fondue forks and dip any of the following in the fondue: 2 to 3 cups total of: orange sections, grapefruit sections, whole strawberries, cherries with stems, kiwi slices, large marshmallows, angel food or poundcake cut in 1-inch cubes, vanilla wafers, butter cookies, Brazil nuts.
Serves 4.
Contact reporter Heidi Knapp Rinella at hrinella@reviewjournal.com or (702) 383-0474.