Teens gain confidence, express creativity at improv classes
November 6, 2010 - 11:00 pm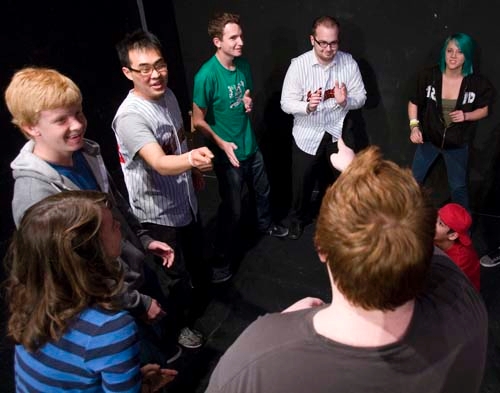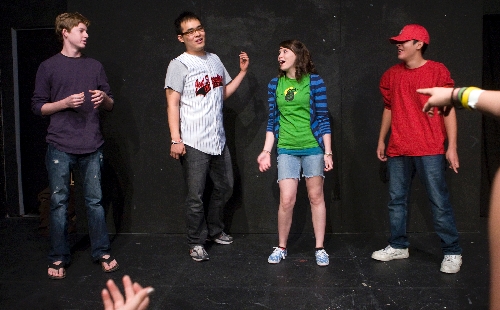 In high school, "cool" is the rule, so teenagers will do just about anything to avoid potentially embarrassing situations.
But not Samantha Elton, 15. She seeks them out. And if she can make a fool of herself in the process, well, that's even better.
For the past two years, Elton, a sophomore at Green Valley High School, has been an avid practitioner of improvisation, routinely doing things that others would be embarrassed to consider. She has even had audiences as witnesses.
Elton is a member of High School Jesters, a nonprofit group that teaches improv techniques to students. The group was founded two years ago by Nicholas "Kopy" Kopatich, himself a former high school jester and avid improviser.
"I just fell in love with improv," says Elton, who grew up watching "Whose Line Is It, Anyway?" She belongs to two improv clubs at school as well as the Jesters.
While even her mother marvels at Elton's ability to get up in front of an audience without a script to fall back on, the teen relishes such opportunities. Performing improv comes with a certain freedom that theater doesn't provide.
"What I like about it the most is I don't have to be a certain character or a certain way, and because of that I can't get anything wrong," Elton says. "I get to write the story while I'm doing it."
That's the attitude that Kopatich, 25, hopes his workshops impart to students. A Wisconsin native, Kopatich moved to Las Vegas in 2004 as a walk-on to the University of Nevada, Las Vegas football team. At 6 feet, 2 inches and 230 pounds, he has an imposing physical presence and a physique made for football.
He has fond memories of his high school jesting days and says performing gave him confidence and self-assurance that he didn't get from anywhere else, including sports. Despite being busy with his psychology studies and football, he wanted to provide high school students with the opportunity to experience the joys of improv comedy.
"These kinds of improv workshops are going on in other cities and I thought it was weird that it wasn't going on here," Kopatich says. "I just decided to put my own spin on it and offer it to students."
The High School Jesters workshop is a nonprofit offshoot of his improv company Jest Serendipity. Students in eighth grade and higher are eligible to participate in weekly workshops at the Las Vegas Little Theatre, 3920 Schiff Drive, on Saturday mornings. It costs $35 for the season, October through April.
Monica Elton, Samantha's mom, thinks the workshops are a valuable outlet that a lot of students may not get in their schools. High school kids don't usually like to act silly or look uncool, she says, but improv teaches them that it's OK to have flaws.
"I absolutely love it," Monica Elton says. "It's fun to watch these kids get up there and do what I, at almost 40, would be terrified to do. And I love watching her gain confidence. She's just not afraid to try things, and she's not worried about what anyone is going to think."
Formed by an accident of sorts when Kopatich lived in a UNLV dormitory, Jest Serendipity has grown into something of a business for him. He is negotiating with a local hotel to bring what he calls his professional improv cast into a showroom.
But this is nowhere close to what he planned on doing with his life. Considering how influential improv has been to Kopatich, maybe it's not surprising that he blindly stumbled into it.
"I was literally sitting in my dorm room and some friends were having random conversations about comedy and improv," Kopatich recalls.
They asked for lessons after Kopatich told them he had improv experience. The small group turned out to be pretty good at it, Kopatich says, so they did a show for the dorm. And things snowballed. A performance at the Student Union was followed by a summer at the Plaza. They even took the show on the road.
"It's been weird how all of this happened. It was never a plan, never meant to happen," Kopatich says.
In 2008, he settled on the name Jest Serendipity because it summed up his experience. In addition to High School Jesters, he currently has a cast of 24 and another six improv artists in training. High school students, such as Elton, can one day participate in the for-profit side of the company, once they reach legal age.
He hopes more high school students will give improv a try.
"I like to think we give kids positivity that allows them to excel and gain confidence," says Brent Mukai, a Jest Serendipity performer and a High School Jesters instructor.
The great thing about improv, Mukai says, is that it is an art form that is open to anyone. But there's more to it than getting up in front of an audience and telling jokes or acting silly.
"You don't need to be the most amazing actress to be an improver," Samantha Elton says. "It's really a place where I can show people my creativity. I can paint pictures for people and entertain others.
"It's really freeing."
For more information on High School Jesters or Jest Serendipity, call 769-4267 or visit jestserendipity.com.
Contact reporter Sonya Padgett at spadgett@reviewjournal.com or 702-380-4564.