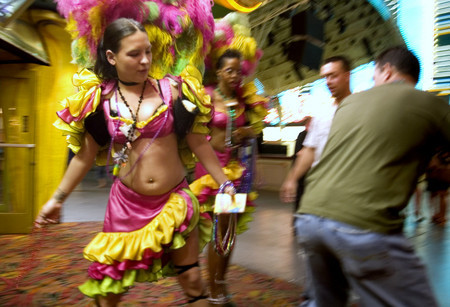 Jim Lower bends over and takes his spanking with an all too-happy grin. His buddy waits his turn with a crocodile smile of his own.
The beads bounce off Lower's backside in three hard strokes — thwap, thwap, thwap — administered by a gal named Mary Jane, whose abundance of eye glitter and sweat-glistening forehead give her the look of a perspiring disco ball.
It's midnight on Fremont Street, the air is thick, sticky and hot, perfumed with the scent of armpits and onions.
Mary Jane's standing outside of come-as-you-are casino Mermaid's, where she works greeting tipsy tourists and pie-eyed Casanovas. She passes out Mardi Gras-style necklaces, which occasionally become tools of discipline, if you ask nicely.
Lower and his pal Eric Christensen, two visitors from California, can testify to as much.
Mary Jane's flanked by a heavily pierced brunette named Ravyn, and they both sport the same gaudy uniform, a flowing pink, yellow and green gown that makes them look like comely parakeets.
Together, they man the frontlines of the Fremont Street Experience.
"It starts about 10, 11 o' clock, then it gets real crazy until about one," Ravyn says of how the party escalates throughout the evening. At the moment, she seems fairly nonplused. "It's pretty mellow tonight," she notes.
"Mellow" is a relative term down here, though.
And this evening, if the slots were as loose as the crowd huddled beneath the Fremont Street Experience's high-watt canopy of lights, no one would ever have to punch a time clock again.
As George Thorogood blasts through the sound system, a drunken gal plays air guitar on a plastic, yardlong cocktail glass; another young lady bear hugs a shrub for no apparent reason.
The rodeo is in town, and there are lots of fellas in cowboy hats bumping into photo-happy foreigners who seem to still be in Far East time zones, clutching their young kids in tow like it was the middle of the afternoon.
This is one of the more egalitarian stretches in all of Las Vegas, where $2 Coronas at the Fremont and 99 cent shrimp cocktails at the Golden Gate enable just about anyone to live it up, at least for one night, and there's a communal air about the festivities.
"The more alcohol people get, the friendlier they get," notes Jose Galvez, a tourist from Los Angeles, who takes in all the revelry with his wife, Dominique, by his side.
Cross Las Vegas Boulevard however, and Fremont Street takes on a decidedly different tenor.
Hipsters flock to The Griffin, a dark, cavernous bar-cum-bat-cave where you can barely see your hand in front of your face, while a DJ spins throbbing electro at the Beauty Bar a few doors down.
On the sidewalk outside the clubs, chicks with tattoo sleeves brightening their biceps chat with dudes in pants that look at least two sizes too small.
This is the in-crowd ying to the Fremont Street Experience's populist yang.
Still, the same impulses guide them all: drink, ogle, repeat.
Back by Mermaid's, just before 1 a.m., some booze defeated gent chases pigeons down the block while a pregnant woman in a pink tie-dye gown sits statue-still as a street artist makes a clay likeness of her face.
Soon, a city worker steers a motorized street cleaner that looks like a Zamboni out onto the sidewalk and begins navigating his way through a riot of beer caps, leaving behind a slug's trail of water.
Still, the grit remains.
It's as much a part of Fremont Street as the rest of us.
Contact reporter Jason Bracelin at jbracelin@review journal.com or 702-383-0476.
ON THE WEB: MORE STORIES FROM THE BEWITCHING HOUR
Slideshow