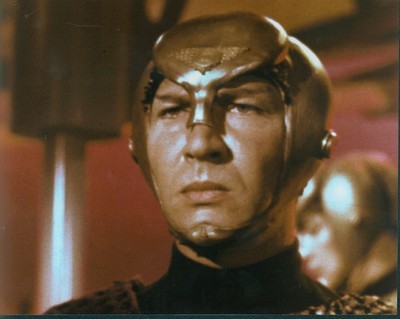 EDITOR'S NOTE: Looking Back is an occasional series about showbiz veterans living in Las Vegas.
A gold-plated rutabaga with a chin strap and earmuffs? No, that's not it. … A specially fitted cap to keep The Elephant Man from catching cold? No, not quite. … Wait, wait, here we go: a mold of Barry Bonds' head just after a steroid injection.
Whatever it is, Lawrence Montaigne made his hilarious "Star Trek" headgear a space-age style statement, proving himself a fashionista of the cosmos. He even managed to act in it.
That was in "Balance of Terror," season one, episode nine, airdate 12-15-66, stardate 1709.1, as officer Decius aboard the Romulan warbird that obliterated Outpost Four en route to a showdown with the USS Enterprise, designation NCC-1701. … OK, enough of that, before we start sprouting Klingon forehead ridges, sleeping with phasers and shunning social encounters.
Now living on Planet Anthem in the Sun City Quadrant of the Henderson Galaxy (sorry, hard habit to break), Montaigne time-travels back to the series' second season, when he donned crescent-moon ears, giant-worm eyebrows and Beatlemania bangs to appear in "Amok Time" as Stonn, vying with Spock for the affections of a Vulcan vixen played by Arlene Martel. It worked out well on Vulcan. On Earth? Well …
"In my book, I write that at a convention, I recognized Arlene as one of the signers," recalls the spry ex-"Trek" voyager and author of "A Vulcan Odyssey," his memoir of adventures in the fictional future and real-life past. "I went over to say hello, there was this picture of me and her on the table, and she had no clue who I was and gave me this blank look. A convention or two later she told me I had undermined her fan base because I made her look like a fool — that's a menopausal Vulcan for you."
Ignore, for now, that the man's movie credits are crowned by 1963's "The Great Escape" — No. 20 of the American Film Institute's Top 100 thrillers. Or that his rugged mug surfaced on "Dallas," "The Fugitive," "Perry Mason," "Batman," "Hogan's Heroes," "Hawaii Five-O," "I Spy" and "Bonanza." Or that at 77, the Brooklyn-born, Rome (as in Italy)-raised Montaigne looks back on a life — including stints as a stuntman, cabby, photojournalist, teacher, screenwriter, Broadway hoofer, cattle-herder in the Negev, fisherman on the Mediterranean, world-traveler, four-time husband and now (congratulations!) five-time fiance — that would've decimated most Earth dudes by age 30.
Whatever. Let's talk "Trek."
"My agent calls me and says, 'You've got an interview for a new series called "Star Trek," ' " Montaigne remembers. "I read for the commander, which I didn't get, but my agent called back and said, 'You got the role of Decius.' I said: 'What's a Decius? Listen, can I get another "Flying Nun" instead?' "
Oh, what folly if the agent had instead booked him a return flight aboard Sally Field's show, because those twin "Trek" roles — yielding about a half-dozen lines between them — warp-sped Montaigne toward the peculiar fame that only the Starship Enterprise can.
"Both of his episodes were fairly important," says "Star Trek" convention consultant Richard Arnold, a former assistant to franchise creator Gene Roddenberry. "His first episode, 'Balance of Terror,' was one of the strongest of the first season. He was the gung-ho one who wanted to report to the emperor that they destroyed the Federation outpost. It was a cat-and-mouse game, tightly written, inspired by that submarine drama with Clark Gable (1958's 'Run Silent, Run Deep')."
That's the one where Montaigne wears the bronzed skullcap with the mumps and, with admirable dignity, musters all his machismo to bluster, "It is our duty to crush the enemies … permit me the glory of the kill, commander!" and "We are beaten! The finest and proudest flagship beaten!" With remarkable restraint, he does not giggle.
Perhaps that helped catapult him to the top of a short list to replace Leonard Nimoy as a new Vulcan character when the actor threatened to dematerialize after a salary dispute, though Nimoy later re-beamed back to the Enterprise. (As some Vulcan poet once wrote, "Of all sad words of tongue or pen, the saddest are these: 'It might have been.' " … No, wait, that was a mere human, John Greenleaf Whittier.) But Montaigne managed to Vulcanize himself the following season, albeit briefly.
" 'Amok Time' was the most we'd ever seen of a Vulcan back story," Arnold says, though we'll spare you the particulars. (If you're not a Trekker, let's just say Spock gets crazy-horny; if you are, you already cherish the plot like some sacred scroll.) "His part wasn't huge, but any fan who's worth his salt — and most 'Star Trek' fans are pretty anal — know who he is."
We'd quote his dialogue if we could remember any. "I stood around and made faces," says Montaigne, who resurrects Stonn's facial muscles in "Star Trek: Of Gods and Men." The three-part online miniseries (startrekofgodsandmen.com) features several familiar "Trek" faces in what's described as a "fan film."
So Lawrence, are you finally free to emote like an alien Olivier? "Well, I marry Aruha." … Uh, that's "Uhura," Lawrence. "Oh, now you know why I'm not working!" he says, punctuating his gaffe with a bellowing guffaw. "My character has become a philosophical guru and he pontificates. I don't know why she wants to marry him. It's no big part, I'm just there — again."
Amusement, rather than vanity, is Montaigne's refreshing reaction to the lasting impact of such a little part. "He called me and I said, 'I'd like to watch the tapes of the shows so you can explain it to me,' " says Tisha Brown, Montaigne's fiancee. "And he said, 'Well, it's a no-brainer.' That was more or less our first date, but I loved it."
In the compact Anthem abode he uses as an office, the memorabilia-dotted walls speak to his larger, "Trek"-less career, including posters from his films "Mobby Jackson" and "Rapina al Quartiere Ovest (Rape of the Western Quarter)." But looming largest is the career-capping POW caper "The Great Escape," in which he portrayed Canadian prisoner Haynes opposite Steve McQueen, James Garner and Charles Bronson. "We got into racing go-karts after filming," he says of McQueen. "He was great on the track, a gutsy son-of-a-gun and tough to beat, and a sweet guy. I heard stories about him, but I discount them because you go by your own experience, and mine was great."
Yes, yes, McQueen was McCool, flying that motorbike over the barbed-wire fence and all that (actually, that was stuntman Bud Ekins), but c'mon, more "Star Trek," please. Was Nimoy, the man behind coldly logical Spock, really a hot-blooded hellion? "I didn't get a warm reception from him. He didn't acknowledge me, but that was fine." Astro-bummer. And that swaggering intergalactic horndog, William Shatner? "Shatner was very pleasant." Really? From the accounts we've read from other actors … anyway, what about the man who generated a worldwide enterprise from the Starship Enterprise?
"They told me to shave my chest, that Vulcans didn't have chest hair. Well, this Vulcan has chest hair. So they called Roddenberry. Gene was a big man, a former cop. He talked down to you, like he was about to give you a citation. But I still refused, so they called my agent. They worked it out, but by then everyone hates me and Gene won't talk to me."
And the (alarmingly obsessed) fans who flock to your convention booth? "They talk to me about all these 'Star Trek' subplots. I sit there and shake my head like I know what they're talking about. But if the whole world were as harmless and involved and creative as these people, it would be wonderful."
Montaigne's entire life, extraterrestrial and otherwise, from Brooklyn to Vulcan, is cataloged in copious detail in "A Vulcan Odyssey" (get the lowdown at lawrencemontaigne.net). "People read my book and say, 'I hate your guts — I've been doing one thing my whole life, lived with the same woman, followed the rules, but you've broken every rule and lived a hundred lives.' And I really have."
He's right. Can you say you've ever worn a gold-plated rutabaga with a chin strap and earmuffs?
Contact reporter Steve Bornfeld at sbornfeld@reviewjournal.com or (702) 383-0256.
EDITOR'S NOTE: Looking Back is an occasional series about showbiz veterans living in Las Vegas.