Tree-Hugger (Date farm worker)
September 24, 2007 - 9:00 pm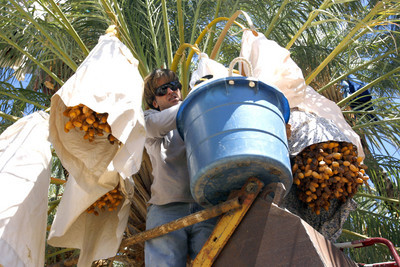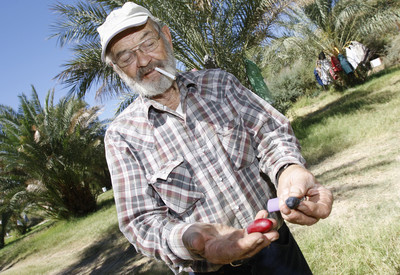 Driving more than an hour west from Vegas for dates is not an uncommon occurrence — unless, like me, you obtain them by shaking a palm tree while suspended 30 feet off the ground.
"Shake it like you're mad at it!" Junior Huffman screams as I lean forward from the boom-truck bucket holding a bag.
Huffman, 72, is a date-picker at China Ranch, a 25-acre date farm just over the state line near Tecopa, Calif. From September through December every year, he and three co-workers pick, wash and sort 24,000 pounds of the sweet brown fruit.
"It's outdoors, it's a good living, and dates are good to eat," Huffman said earlier.
When it's not harvest season, China Ranch staffers work maintenance, cut offshoots from the palms and replant them as new trees, and clerk in a gift shop whose tip jar reads: "date picker's 401K plan."
A typical workday for Huffman, who puts in five per week, runs from 5 to 10 a.m. and pays $45.
"I haven't found anything yet about it that I don't like," Huffman said.
That's not entirely true. Later, Huffman will show me a jar full of date-palm thorns doctors removed from his body since he began picking 16 years ago — and one they didn't.
"See this here?" he'll ask, pointing at a nub on his thumb knuckle. "That's the end of one. It never bothered me. It's on top of the bone."
Dates, believed to be first harvested 6,000 years ago in Iraq, hang in grids threaded by strings beneath a palm's leaves, like beads on an abacus. What's really weird about the bunches at China Ranch is that they're all draped in plus-size dresses.
"Good-looking girls have to be well-dressed," Huffman said. (The real reason circles my head and caws: a hungry raven whose beak is apparently no match for cotton blends.)
Two or three times a year, a carload of horny male tourists will pull into China Ranch — confused perhaps by the hanging frocks, perhaps by the phrase "date farm," but usually because most brothels also call themselves ranches.
"We tell them that this shrivel-ly little brown thing is the only date you're gonna get here," said China Ranch owner Brian Brown, who resembles Peter Fonda in "Ulee's Gold."
The farm, which originally produced hay, was in Brown's family 80 years ago, when his great aunt decided to plant a couple of rows of date palms as an experiment. It changed owners, and crops, several times before Brown's father bought it in 1969. Brown decided to dedicate it to dates in 1991.
"They're one of the few marketable crops that will grow in this climate," said the 53-year-old, who lives with his wife in a 4,500-square-foot adobe house on the property. "And they're like apples — they come in so many different flavors and textures." (China Ranch currently sells 15 varieties.)
Brown immediately hired his old family friend, who traded in his cowboy hat for a baseball cap.
"They kept falling off in the trees," Huffman said.
Raised outside Des Moines, Iowa, Huffman came to this moonlike environment in the '60s to mine talc and iron. Later, he ran cattle on this very property, leasing a portion of China Ranch from Brian's father.
"I had 125 head of cow that ate right down in that riverbed," Huffman said, pointing to the thin water body that makes farming feasible here.
I continue shaking the maternity dress to see what drops out, practicing for an upcoming OB/GYN article, when what a horsefly hacks into my neck like a nail clipper. (I think it's a horsefly. The size suggests a flying horse.)
"Only the females like the taste of blood," Huffman said earlier, "just like in real life."
Women are a sore subject with Huffman, who has been divorced five times. For the past 40 years, he's lived on a pig farm in Tecopa, a ghost town of 100. These are not unrelated facts.
"The last wife, I bought her a brand new chainsaw to cut wood with, so she didn't have to use a handsaw," Huffman said, "and she left me."
Unfortunately, Eva Gabor will only trade Park Avenue for Eddie Albert's country shack in TV land.
"It don't work," said Huffman, who doesn't really understand the problem.
"There's no crime here, no traffic, no noise," he said.
There's also nothing to do other than ride farm equipment and figure out which film stars your co-workers resemble. (Huffman is a ringer for Western sidekick Gabby Hayes.)
The nearest store, of any kind, is 40 miles away in Pahrump — where the nearest schools are, too. And the nearest cell phone tower. This probably explains why all six of Huffman's children are even further away.
"OK, you can come down," Brown screams up after I lower the last bag down to Huffman. It's time to wash and sort the dates on a conveyer belt in a converted airplane hangar. (The best are packaged, the good but weird-looking ground into paste, and the shriveled and raven-pecked go to Huffman's pigs.)
I ask Brown which of the bucket's three control knobs to nudge which of two ways.
"Left, forward," he yells.
The boom truck launches my head into a palm leaf. Thankfully, it's been de-thorned. My brain escapes without its own souvenir nub.
"Did I say forward?" Brown asks.
Watch video of Farmer Corey at www.reviewjournal.com/video/fearandloafing.html. Fear and Loafing runs Mondays in the Living section. Levitan's previous adventures are posted at fearandloafing.com. If you have an idea for a job or lifestyle, e-mail clevitan@reviewjournal.com.
COREY LEVITANFEAR AND LOAFING
VIDEO
watch video