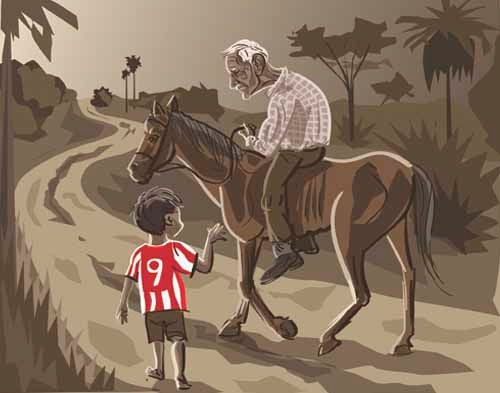 My fiance and I knew traveling to South America to visit the country he was born in would bring adventure. We knew we would see extreme wealth and extreme poverty. We knew it would bring cultural differences and, in some cases, enlightenment. What we didn't know it would bring is amnesia.
During our recent visit to Asunción, Paraguay, we all but forgot what it was like to be American. Excuse me, we all but forgot what it was like to be North American.
"Why do you call yourselves Americans?" one cousin inquired. He is American, too, he told us. But at least he gives us the courtesy of referring to himself as South American, rather than claim the Americas all his own.
I'd heard the argument before, but never while sitting on the patio of a Paraguayan's home, drinking his beer, petting his dog and kissing his kids. I made a mental note to stop exercising that bad North American habit and took a sip of my Brahma beer to make it official.
That wasn't the only hardball his relatives hit us with. Another one wanted to know who got the United States into its current mess, President Bush or President Obama? I found it troubling that our country's shine had tarnished enough for citizens of a Third World country to notice, but even more troubling that I returned that question with this intellectual nugget: "Hey, do you guys know about Lady Gaga here?"
Yes, they did. But they were too busy gearing up for the big Aerosmith concert to worry about her. They also were too busy thumbing their BlackBerrys to understand the whole iPhone craze. A few other North American trends that haven't caught on there yet: divorce, obesity and HD television. That last one explains why two people who consider their DVR cables their personal lifelines sat down in front of a TV once, and only once, during their South American visit. It would have been twice for me, but I couldn't find the channel that airs "The Real Housewives of Asunción."
Not only did I forget about my favorite TV shows, I also forgot about my wedding diet.
The warm empanadas, morcilla (blood sausage), sopa Paraguaya (cornbread's South American cousin), milanesa (breaded and fried, thin strips of steak), late night lomito sandwiches (something like our cheeseburger guilt), guarana soda, caipiriña cocktails (in a word: delicioso), alfajores cookies and dulce-de-leche pastries all threatened to make my last wedding dress fitting a re-enactment of the moment Dr. Bruce Banner turns into the Incredible Hulk.
But, when in Paraguay you do as the Paraguayans do. I had no idea that would mean kissing more strangers than the victor of a good spin-the-bottle tournament. A simple nod of the head or wave of the hand is considered a snub. Women must do the double-kiss and they must do it with every person to whom they're introduced (men shake hands with each other).
We went to a pub one evening and sat with one of the owners. He knew – and greeted — half the patrons there, which means, by the end of the night, I had kissed half the patrons there. Not that I'd dare complain about such a thing. South America isn't exactly experiencing a beautiful people deficit. Even their streetwalkers looked like the gorgeous ladies slapping each other on telanovelas.
My favorite sighting of the trip, believe it or not, had nothing to do with prostitutes. It happened on our drive through the countryside, en route to the town of Caacupé. The quiet drive was a relief from the heavy-handed honking that happens when a city has few stop signs and even fewer driving lanes. It boasted gorgeous vistas, courtesy of trees in every shade of green and well-manicured ranches.
We went for a long stretch without seeing residents, until we came upon an old man with weathered brown skin, atop a horse. With the beautiful Paraguayan landscape behind him and the dusty old road beneath him, the image looked centuries old. That is, if it weren't for the kid standing next to him. The youngster had bare feet and wore shorts, but up top he sported the unapologetically loud, red-and-white striped jersey that means only one thing in Paraguay: fútbol!
Paraguay would face Peru in a World Cup qualifying match that night. The historic church, Our Lady of the Miracles of Caacupé, was full of jerseys, the next best thing to Sunday best attire. My future father-in-law joked that the locals were all praying for the game. Judging from the scene later that night on the streets of Asunción, I wouldn't doubt it. Old ladies rocked the candy-cane stripes in the same abundance as the men and children who huddled around television sets with fuzzy pictures. Red and white was everywhere, yours truly being no exception.
All the double-kissing, crazy driving, guarana gulping and fútbol cheering put us in a South American state of mind. With no DVR, no football, no wedding worries, no fast food, no work deadlines and no Lady Gaga, it was all the more easier.
It wasn't until a visit to a museum, built in my fiance's great-uncle's honor, that we snapped out of it. We ran into one of his cousins who he hadn't seen in enough years to recede hairlines and swell waistlines. He had one question for my future husband and it had nothing to do with how he'd been: "Why haven't you accepted my friend request on Facebook?"
And, like that, South America and North America found common ground.
Contact columnist Xazmin Garza at xgarza@reviewjournal.com or 702-383-0477. Follow her on Twitter at @startswithanx.