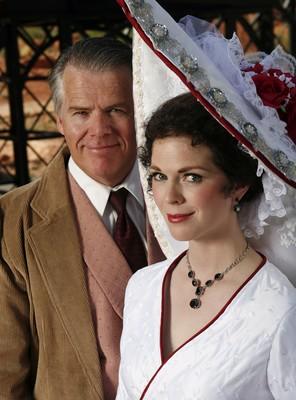 The Tuacahn Amphitheatre and Center for the Arts — near St. George, Utah — opens its summer Broadway in the Desert season on Wednesday with "Rodgers & Hammerstein's Cinderella," alternating with "My Fair Lady."
"42nd Street" rounds out the series, beginning Aug. 30. In addition, the Summer Theatre Institute at Tuacahn will present "Little Shop of Horrors," opening July 11.
"We've surveyed our audiences several times and 'My Fair Lady' is always one of the top requests," says Tuacahn associate producer Jeff Martin. "Our advance sales are really doing well and artistically, I think it'll be top-notch. We've got great talent in all departments."
Rodgers and Hammerstein's version of "Cinderella" follows a pattern — established in 2005 — of pairing a Broadway musical with a more family-oriented show.
"There's a huge demand for family entertainment," Martin said.
"My Fair Lady" will be directed by Tim Threlfall, who returns for his eighth Tuacahn turn.
"At least three of our leads have done the role before, which is good because we have to work quickly," Threlfall says. "We have people who already know the basics, and then we can tailor-make it to this production."
Casting calls for both productions — and for "42nd Street" — took place in New York, Los Angeles, Salt Lake City and Las Vegas. Willow Grey, a former "Jubilee!" showgirl, is the sole Las Vegan to make the cut. She's an ensemble dancer for all three shows.
"We always end up hiring a couple of key people from Vegas," Threlfall says. "If you only see 40 people, but you hire one or two, that's pretty good odds because we probably saw well over 1,600 nationwide."
Nearly 10,000 Las Vegans (10 percent of the total audience for Tuacahn's musicals) made the two-hour drive last year; this as showbiz experts debated whether the Strip could support more musical productions.
"That's a number we're hoping to increase," Martin said, noting that Tuacahn recently received a $50,000 Utah state grant earmarked for TV, radio, newspaper and billboard advertising in Las Vegas.
"This is a stunning place to see live entertainment," Martin said. "We're outdoors at the base of these 1,500-foot red rock cliffs, and I think people who like to escape the rush of the Strip really love it up here."
Tuacahn — a Mayan word meaning "Canyon of the Gods" — opened its 1,920-seat, $23 million amphitheater in Ivins, Utah, in 1994 with an eye toward attracting some of those who travel to nearby Cedar City's Utah Shakespearean Festival (which won a Tony Award in 2000 as the nation's outstanding regional theater).
"I think that our offerings complement each other really well," Martin says.
Before its current program of musicals, however, Tuacahn offered the historical pageant "Utah" for five straight years.
"A lot of theaters around the country do one show forever," Martin said. "But it didn't quite work here."
PREVIEW 2007 BROADWAY IN THE DESERT What: "Rodgers & Hammerstein's Cinderella" When: 8:30 p.m. Mondays, Wednesdays and Fridays through Aug. 17, as well as Aug. 24 and 31; 8 p.m. Sept. 5, 10, 14, 19, 24 and 28; and 7:30 p.m. Oct. 3, 8, 12 and 17 Where: Outdoor Tuacahn Amphitheatre, Ivins, Utah Tickets: $20 To $44; (800) 746-9882 What: "My Fair Lady" When: 8:30 p.m. Tuesdays, Thursdays and Saturdays, starting Thursday through Aug. 18 as well as Aug. 25; 8 p.m. Sept. 3, 7, 12, 17, 21 and 26; and 7:30 p.m. Oct. 1, 5, 10, 15 and 19 Where: Outdoor Tuacahn Amphitheatre, Ivins, Utah Tickets: $20 To $44; (800) 746-9882 What: "42nd Street" When: Tuesdays, Thursdays and Saturdays, Aug. 30 To Oct. 20; 8:30 p.m. Aug. 30 and Sept. 1; 8 p.m. Sept. 4-29; 7:30 p.m. Oct. 2 though 20 Where: Outdoor Tuacahn Amphitheatre, Ivins, Utah Tickets: $20 To $44; (800) 746-9882 2007 Summer Theatre Institute What: "Little Shop Of Horrors" When: 7:30 p.m. Mondays, Thursdays, Fridays and Saturdays and 3 p.m. Fridays and Saturdays, July 11-Aug. 4 Where: Indoor Orval And Ruth Hafen Theatre, Ivins, Utah Tickets: $12.50; (800) 746-9882)