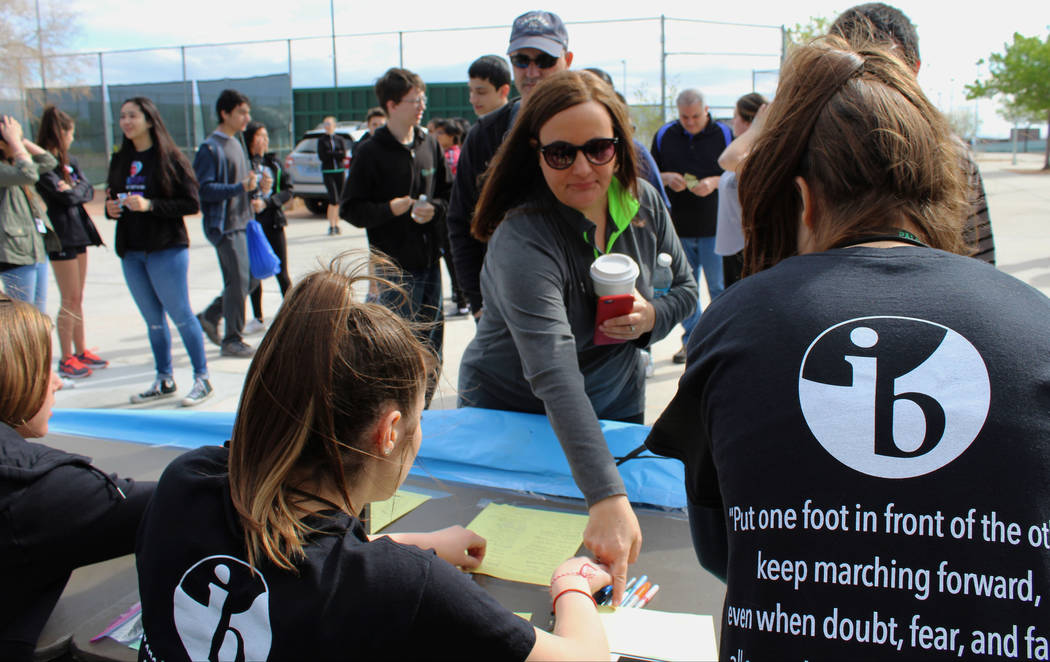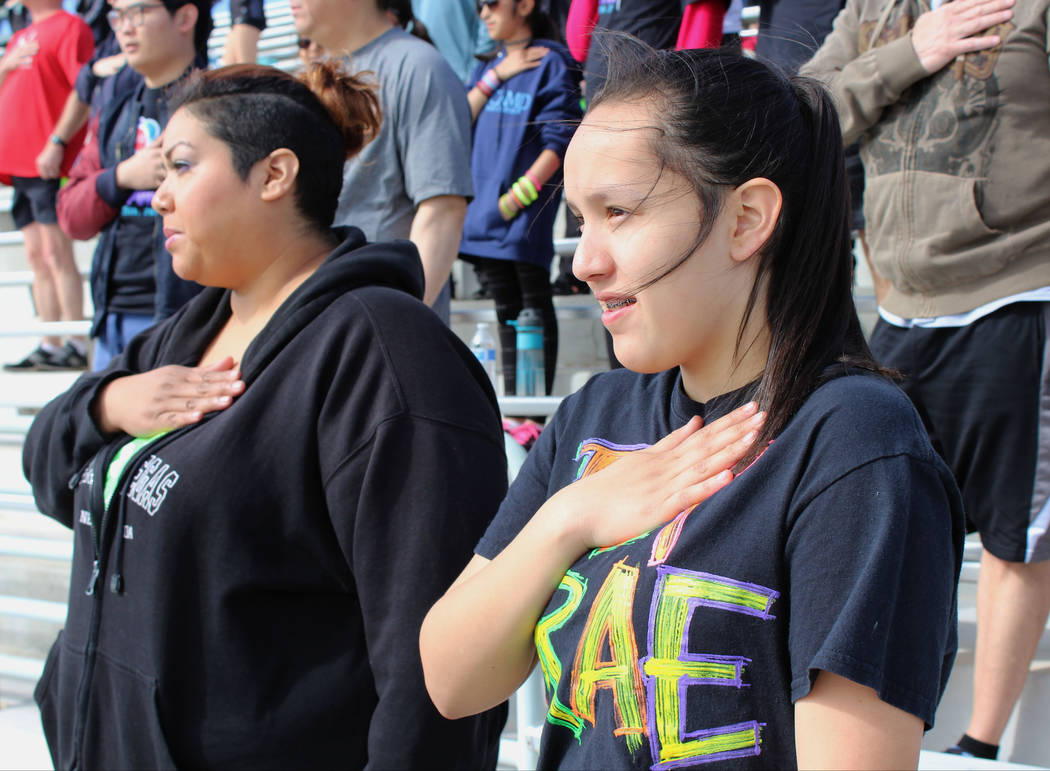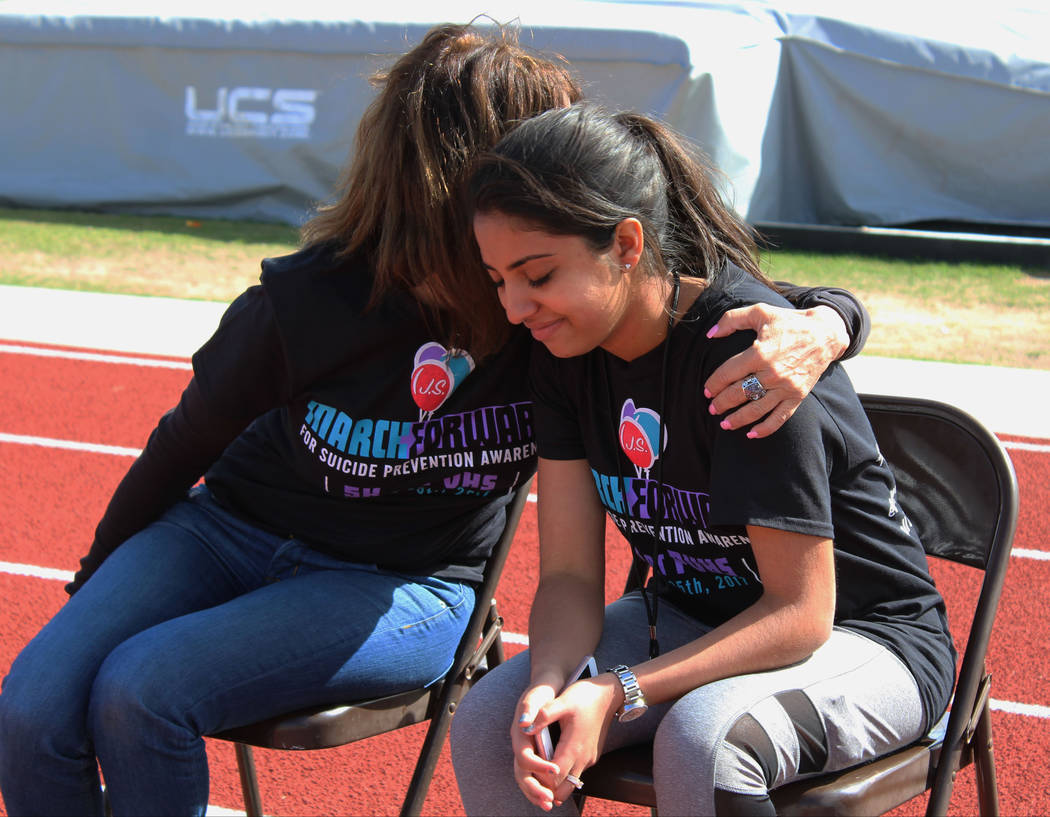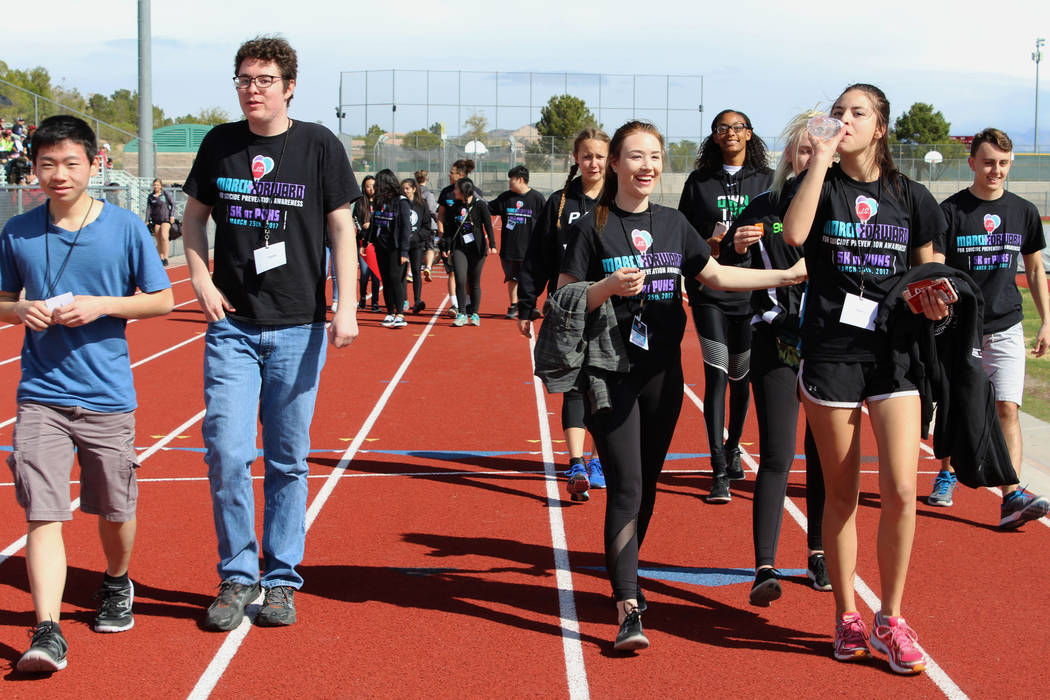 Simran Sodhi was poised as she spoke to a crowd gathered for a suicide prevention walk Saturday morning, but as she talked of her 13-year-old brother's death and neared the end of her remarks, the Palo Verde High School senior broke down in tears.
But not before the 17-year-old student had made her point to the 200 students and community members gathered for the March Forward for Suicide Prevention Awareness 5K run/walk that she and fellow International Baccalaureate students organized.
"I made a promise to him when I became his big sister that I would protect him and always support him no matter what," Sodhi told the crowd nestled into bleachers at the high school's football stadium in Summerlin.
"As much as I wish I could turn back the clock to a time when my brother was still alive, I couldn't be more blessed to stand in front of you today," she said, sharing her hope to prevent as many suicides as possible, before finishing to a standing ovation.
The crowd also heard from Joe Roberts, coordinator of Clark County School District's department of student threat evaluation and crisis response, who relayed information about mental health awareness.
The idea for the walk came about in the days following the death of Sodhi's brother in May. Friends approached her at lunch and asked: Would you like to have a 5K run in honor of your brother?
As International Baccalaureate students, "We had to come up with a service project that touches on a global issue and suicide was that sort of unifying force for all of us," Hailey Foster, 18, said. "We thought, 'Hey, we can really do something powerful with this in our community.'"
Sodhi said she and her family immediately agreed with the idea. "Having all their support has made it a lot easier on me and my parents," she said.
At the same time across the valley, another suicide prevention walk was underway at Craig Ranch Regional Park in North Las Vegas.
The seventh annual Out of the Darkness walk, sponsored by the American Foundation for Suicide Prevention, began in Southern Nevada after Stacey Ridenour lost her 19-year-old daughter to suicide in 2010.
"I felt like I needed to get more involved to honor my daughter's memory," Ridenour said.
She joined the foundation and worked to bring the walk, an event held in hundreds of communities across the country, to Las Vegas. Ridenour eventually became the chairwoman of the local chapter after it received a charter in 2015.
Ridenour, who has stepped down as chairwoman to take some personal time, is still involved with the Nevada Coalition for Suicide Prevention, working to shed light on the stigma that often shrouds suicide.
"We kind of try to get people to shy away from that term, committed suicide. It sounds criminal," Ridenour said. "Depression and mental illness are just like any kind of other illness, and we need to treat them like any other illness."
McKenna Vaughn, one of Sodhi's classmates who helped organize the 5K, has a similar sentiment. "It's a tough topic to talk about, and that's why people push it away so much," she said. "There are resources and ways to talk about it without making it a tough topic."
Why a 5K run? Foster compared the metaphorical aspect of a run to the fight against suicide.
"When you're running and you get tired, you just have to push for the finish line. It's all about endurance," she said. "This is just saying, 'Hey, anyone can get through it.' You can finish it and have a good outcome."
Contact Brooke Wanser at bwanser@reviewjournal.com. Follow @Bwanser_LVRJ on Twitter.
HONOR BEADS
One of Stacey Ridenour's favorite aspects of the Out of the Darkness walk is the beads people wear to represent a different type of loss. "You can walk around to the other participants of the walk and you can see the color beads they're wearing, and you can relate to that person," she said.
WHITE: Loss of a child
RED: Loss of a spouse or partner
GOLD: Loss of a parent
ORANGE: Loss of a sibling
PURPLE: Loss of a relative or friend
SILVER: Loss of a first responder/military
GREEN: Struggled personally
BLUE: Supports the cause
TEAL: Friends and family of someone who struggles
WARNING SIGNS OF SUICIDE
Signs of suicide can include changes in conversation, behavior and mood, according to the American Association of Suicidology.
If a person talks about being a burden to others and feeling trapped; if a person starts acting recklessly or withdrawing from friends, family and activities; if a person starts experiencing rage, anxiety, or a loss of interest — among other factors — reach out to the person or seek help.
For more information, visit www.suicidology.org/resources/warning-signs. The National Suicide Prevention Lifeline, 1-800-273-TALK (8255), provides access to trained telephone counselors, 24 hours a day, seven days a week.