Unique Scotty's Castle is curious attraction in Death Valley
October 28, 2013 - 3:10 pm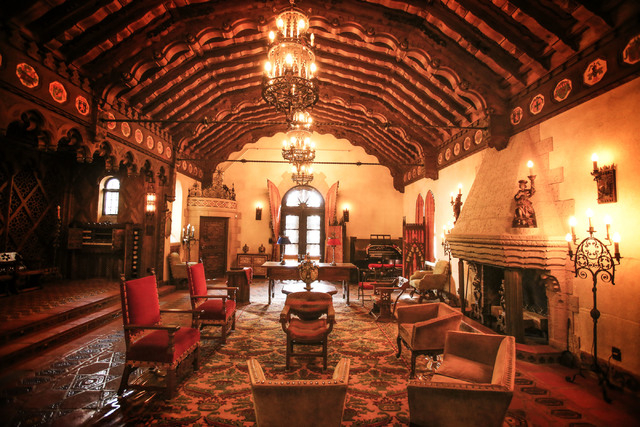 Today, amid its vast expanse of arid land, Death Valley has all the amenities a tourist could want — lodgings with comfortable rooms, swimming pools, a golf course, bars and restaurants. But in the early 1900s, Death Valley was an area of extremes that attracted only the hardiest of men and women.
Although Albert Johnson wasn't a hardy person, the "castle" he built in the northern part of the national park has become synonymous with Death Valley, albeit under someone else's name. Yet Johnson's journey to the desert was remarkable in that it happened at all.
Born into a privileged Ohio family, Johnson was 27 when he was in a horrific train crash that killed his father and all but one other passenger. With a broken back and crushed
pelvis, he was told he would never walk and never live past his 40s.
Johnson did regain his mobility and lived to age 75, but he suffered poor health the rest of his life. Because of his successful business and investing acumen, he and his wife, Bessie, lived a comfortable life in Chicago. But Albert Johnson was not happy.
That all changed when he met Walter Scott, known as "Death Valley Scotty."
Scott was a con man, selling shares to a gold mine in Death Valley that didn't exist. But Johnson wasn't like Scott's other rich investors, who had no interest in seeing their money at work. He told Scott he was coming out to Death Valley to tour the mine.
A fake gunfight at Wingate Pass and the realization that there was no mine didn't dissuade Johnson from venturing further into Death Valley. In fact, it had the opposite effect. It whetted his appetite for adventure and the solitude of the harsh Western desert. And it started a lifelong friendship between the two men.
The Johnsons began making annual sojourns to Death Valley with Scott. At first they camped, but at some point, Bessie Johnson put her foot down. She wanted a house — and not just any house would do.
Albert Johnson built his two-story Spanish-style mansion (a turret in front gives it a castlelike appearance) in a canyon in the Grapevine Mountain range. An aquifer and canyon springs provided the water supply and generated electricity. The lush surroundings created a desert oasis, which was recently affected by a wildfire that destroyed 15 acres north of the mansion.
Starting in the Roaring '20s and ending in the Great Depression, construction cost more than $2 million, and some plans, such as the outdoor swimming pool, were never completed.
Today, Scotty's Castle is run by the National Park Service, and rangers in 1930s-style clothes give tours of the lavish house, which features heavy wood ceilings, hand-wrought iron, imported tile, finely woven tapestries and the original European custom-made furniture. Guests also are treated to the sounds of a 1,121-pipe theater organ.
Although he put up the money to build Scotty's Castle, Johnson wasn't one to brag about his riches. In fact, he was happy to promote the misconception that the home belonged to Scott, who often entertained guests who visited the remote outpost with tales of his adventures in the desert.
Scott had a room at the mansion, but he seldom slept there. Instead, he rode his mule over the hill to a rustic cabin that Johnson built for him. Lower Vine Ranch is usually closed to the public, however, occasional ranger-guided tours are given. A tour of Scott's basic cabin provides a nice contrast to the opulent mansion and reveals how the showy con man became a humble desert dweller.
Although Scotty's Castle is the biggest draw in the northern part of the park, there are plenty of other sights to visit. A short drive from the house is Ubehebe Crater, a half-mile-wide volcanic crater created more than 300 years ago. Visitors can choose to walk along the rim or to the bottom of the crater, but the steep 500-foot climb out on loose gravel might discourage only the heartiest of hikers.
To the south of Scotty's Castle are two canyon hikes: Titus and Mosaic.
Titus Canyon is the backcountry road into Death Valley. The single-lane gravel road is accessed south of Beatty just past Rhyolite ghost town. Hiking in from the Death Valley side, you'll be going against the traffic flow. It's an easy flat hike through the narrow canyon, and you can go as far as you want on the 27-mile road.
Mosaic Canyon was formed centuries ago from water draining off the Tucki Mountain. These rock formations began as limestone; the addition of magnesium and dolomite, high pressure and extreme heat altered the formation into marble.
These smooth, polished-marble walls surround the trail. After about two miles, the trail ends and you can continue up the canyon by scrambling around some dry waterfalls. Mosaic Canyon is considered a geologic "outdoor museum," and as such is protected by law. In other words, rock collecting is not allowed.
For a real calf-burning hike, there's the vast Mesquite Flats Sand Dunes. The highest dunes rise only to 100 feet, but trudging up the soft sand is a challenging workout. And although it may be tempting to go barefoot, the sand can get extremely hot during summer days.
For photographers, sunrise and sundown offer incredible views. The dunes have been used to film scenes in several movies, including "Star Wars."
Within sight of Mesquite Flats Sand Dunes is Stovepipe Wells Village, one of three lodging options in Death Valley and the closest to Scotty's Castle.
Stovepipe Wells has basic motel rooms, a campground with RV hookups, swimming pool, restaurant, bar, gas station, gift shop and convenience store. Movies are periodically shown in the bar, and ranger talks are offered in the conference room.
You can also stay in Beatty, where rooms are half the price of those inside the park. Gasoline is also less expensive outside the park — $2 per gallon cheaper. There are several restaurants and saloons, not to mention the Death Valley Nut and Candy Co. In addition to a large variety of sweet treats and snacks, the store sells water, soda, homemade ice cream, jerky and submarine sandwiches.
Beatty is known as the Gateway to Death Valley and is seven miles east of the park entrance. But Beatty's history with Death Valley extends beyond its proximity.
Beatty was founded in 1900 as the railroad center for the Bullfrog Mining District and was once served by three railroads. In the spring of 1907, the Las Vegas &Tonopah Railroad built a depot in Bonnie Claire, an outpost of approximately 100 people about 20 miles northeast of Scotty's Castle. In the 1920s, the town became a supply point for the construction of Johnson's mansion.
The history of the southern Nye County mining boom is preserved at the Beatty Museum, on Main Street in a historic church. Volunteers are on hand to guide visitors through the history of Beatty and the surrounding area. That history is being celebrated this weekend during the town's annual Beatty Days.
If you go
Getting there: Beatty is 115 miles north of Las Vegas on U.S. Highway 95. From there, Nevada Route 374 leads to the historic ghost town of Rhyolite and over Daylight Pass into Death Valley. If you have a high-profile, four-wheel-drive vehicle, you also can take the 27-mile, one-way road through Titus Canyon. The road is just past Rhyolite.
Accommodations: There are three areas with lodging inside Death Valley National Park: Stovepipe Wells, Furnace Creek and Panamint. We stayed at Stovepipe Wells Village, which is currently offering the lowest priced rooms in Death Valley with 20 percent off lodging through Nov. 30. Rates start at $122 per night for deluxe rooms, which normally go for $152.50 to $163.
Fees: The entrance fee for Death Valley National Park is $20 for seven days. This permit allows all people traveling in one vehicle to leave and re-enter the park as many times as they wish during the seven-day period. An annual pass to Death Valley is $40.
The Scotty's Castle Living History tour is $15 general admission, $7.50 for youth ages 6-15 and free for children 5 and younger. Interagency Senior or Access pass holders pay $7.50.
Visitors also can take an underground tour of the basement beneath the castle for a look at the technology that, considering the location and time period, was very advanced. Tour prices are $15 general admission, with discounts for youth and pass holders.
The Lower Vine Ranch tour of Death Valley Scotty's cabin is $20 for adults and $10 for youth and pass holders.
Advanced tickets for Scotty's Castle tours may be purchased at www.recreation.gov or by calling 877-444-6777.