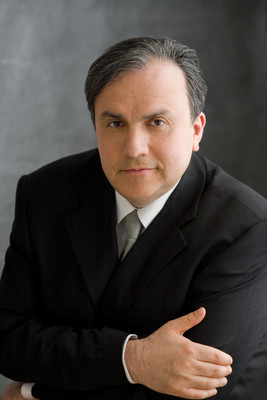 Grammy Award-winning concert pianist Yefim Bronfman opens an eight-city tour at 8 p.m. today at the University of Nevada, Las Vegas' Artemus Ham Hall.
"I'm delighted to bring him here because he's generally acknowledged to be one of the top five pianists in the world," says Larry Henley, director of artistic programming and production for the UNLV Performing Arts Center. "I've been looking at him for three or four years now and this was the perfect timing."
Performing as part of UNLV's Charles Vanda Master Series of concerts, Bronfman will tackle four pieces: Beethoven's Sonata for Piano No. 13 in E-flat Major, Op. 27, No. 1; Schumann's Fantasie in C Major, Op. 17; Ravel's Gaspard de la nuit, Three Poems for Piano; and Balakirev's "Islamey: An Oriental Fantasy."
"I always feel that some theme behind the program is important," says Bronfman from his home in New York City, "and in this particular case, they're all fantasies."
Beethoven is on the program, Bronfman says, "because he's one of the greatest giants in the history of the universe." And Bronfman calls Fantasie in C Major, Op. 17 one of the most beautiful pieces that Schumann wrote — "if not the most beautiful."
"The Ravel is a fascinating piece with some of the most difficult piano writing ever," Bronfman continues. "But Ravel mentioned in one of his letters that he wanted to top Balakirev's 'Islamey' in its difficulty.
"And, I must say, he succeeded."
Bronfman, 49, who was born in Uzbekistan and immigrated to Israel at age 15, made his international debut in 1975 with Zubin Mehta and the Montreal Symphony Orchestra. He won a Grammy in 1997 for his recording of the three Bartok piano concertos with Esa-Pekka Salonen and the Los Angeles Philharmonic.
His current tour concludes on Dec. 17 at New York's Carnegie Hall, where Bronfman made his debut in 1989 and gave a series of recitals with Isaac Stern in 1991.
"This will be my very first time in Las Vegas and I'm very excited to see it," Bronfman says.
Tickets to the concert are $35, $50 and $80 and can be purchased at the Performing Arts Center box office, 4505 S. Maryland Parkway; by calling 895-2787; or by visiting pac.unlv.edu.
Contact reporter Corey Levitan at clevitan@reviewjournal.com or (702) 383-0456.