UNLV student has high hopes for drone concept
January 18, 2016 - 10:42 pm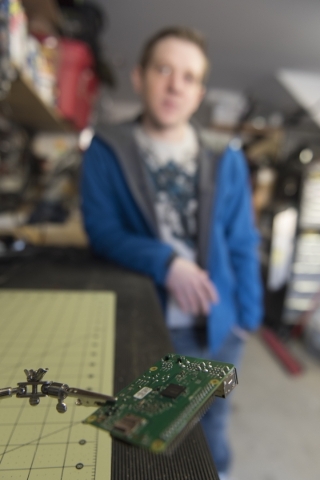 UNLV student Kyle Kimsey recently won the regional qualifying round of the Global Student Entrepreneur Awards for his startup business Adler Dynamics.
The company proposes using drones at construction sites to help make the building process as efficient as possible.
"I didn't really think we had a chance," Kimsey says. "There were some pretty impressive competition."
Some of the criteria include innovation, seeking expert advice and a willingness to take bold risks.
Winning the regional competition has already opened doors for Kimsey. More potential investors have expressed interest in the company.
The next stop: Miami March 2 and 3 for the national competition.
No matter what happens, Kimsey is just excited to have his idea receive recognition.
Though a kinesiology major, Kimsey has a diverse background in technology.
His memory about growing up as a kid in Silicon Valley revolves around technology. He was flying remote control helicopters, helping his dad at a computer repair shop at 10, building computers at 13 and working on websites when he was 18.
It was his background with websites that brought him to Las Vegas when he was hired by a mortgage company to do system administration.
His thirst to learn more about the technology industry grew and grew.
"If I didn't know how to do it, I would learn," he says.
His first attempt at a startup was a similar concept to Adler Dynamics. Through 3-D modeling, he would show construction companies issues they might have while they were building.
"But we basically ran out of funds and closed down," he says. "I think we were ahead of the industry by five years. Now, this is commonplace in construction."
He continued to do freelance IT — web design and system administration — while he enrolled at UNLV. Instead of studying technology, Kimsey decided to pursue kinesiology.
"It's kind of like technology but for the body," he says. "Instead of zeros and ones it's impulses."
While at UNLV, he always kept his eyes open for technology startups and entrepreneurial opportunities.
In 2014, his now co-founder called him to ask his thoughts about drone technology. After brainstorming, they decided there should be a company that uses drones to examine construction sites.
From the little German he speaks, Kimsey named the company Adler Dynamics — "adler" means eagle, which Kimsey says is applicable to what the company hopes to do.
Kimsey looked for funding, but leads turned dry.
While taking a business plan class, he was encouraged by his professor Hans Rawhouser, who says Kimsey impressed him when he worked with his classmates on a business plan assignment for an engineering senior design.
"I was blown away by Kyle's ability to calculate a very detailed and believable estimate for producing the gun lock in China," Rawhouser says, referring to the assignment. "I did not give him the tools to do that, but he's the type of guy that figures things out."
Kimsey continued to impress Rawhouser, who encouraged him to pursue his own ideas.
"While I want to encourage students to pursue their dreams, I also want them to be realistic because I don't want them to waste money or time on ideas that won't work or on ideas that they can't execute," he says. "What impresses me about Kyle is that he has come up with ideas that I think could succeed, he has gained the skills to execute."
Under the advisement of his professor, Kimsey submitted his proposal to the Global Student Entrepreneur Awards. He describes the process as similar to the show "Shark Tank," in which he was questioned extensively about his idea.
As Kimsey prepares for March, he has been adjusting his business model, trying to tweak and fine tune it for the competition.
If he wins, he will travel to Bangkok for the international competition.
The competition is helping with the goals he has set for this year.
Adler Dynamics is still working on prototypes of what the drone would look like. Kimsey says he hopes to have a model worked up this year, along with launching the company website.
While focusing on his goals for the current startup, Kimsey can't help but think about how the company could grow.
Drone production could be a tool utilized beyond construction to people such as firefighters or search and rescue crews.
"I keep a journal and write all these ideas in them," he says. "But I have to stay focused on this. I can't get too ahead of myself."
— Contact reporter Michael Lyle at mlyle@reviewjournal.com or 702-387-5201. Follow @mjlyle on Twitter.