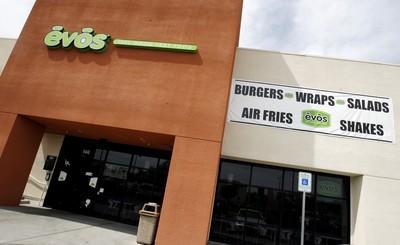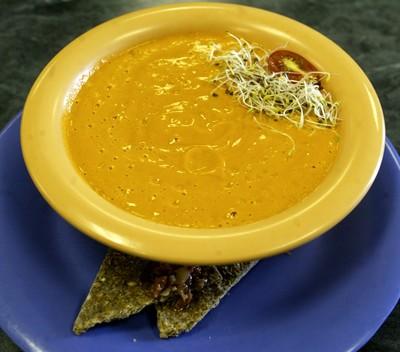 Being a vegan in Las Vegas is like being coconut-intolerant on Gilligan's Island. Not much in your environment suits your dietary needs.
Vegetarians can eat almost everywhere in the valley. Pizza, pasta and Chinese vegetables abound. There are veggie omelets at Denny's, mock-meat subs at Capriotti's and the BK Veggie Burger at Burger King.
But vegans — for health, moral or other reasons — eat no animal products at all (including the cheese in pizza, and the eggs in omelets, the BK patty and Capriotti's filling).
"It gets really tough," says Christa White, a 21-year-old vegan who works as a receptionist for KVBC-TV, Channel 3. "I just feel left out at a lot of places. My parents love to eat out. But whenever I go, I always have to end up getting a salad."
That's if the salad doesn't come pre-mixed with meat — as was the case when White recently hit the neighborhood pub with her mom — and if the dressing has no egg or fish ingredients.
"Even the rolls have eggs in them," White adds.
Any decent restaurant chef can whip up an off-menu selection of grilled vegetables for a vegetarian. But many vegans also are concerned about meat residue on the grill, cookware and utensils.
"Very few people here really know much about being a vegan," says Skylar Myers, 28, a vegan and bartender at Rain who relocated from Dallas three years ago. "In fact, most people assume that being vegan or vegetarian means you can eat fish.
"How is fish not an animal?"
Exactly two valley restaurants cater exclusively to vegans, both of which have the identical menu because they're both branches of Go Raw. Ordering vegan is also possible at the exclusively vegetarian restaurants Veggie Delite and Ronald's Donuts. Long Life Vege, Komol and Evos are meat-serving restaurants that also offer vegan selections. (Vegan food is prepared separately.)
Clearly, Vegas is better for vegans than it was 10 years ago, when their only options were the deli area at the Rainbow's End health-food store or a salad, baked potato and string beans at the nearest hotel buffet. Still, despite our growing reputation for cutting-edge cuisine, we remain a steak-and-potatoes town.
"I wish every restaurant and snack bar at least kept in mind those of us who don't eat dead pigs," says World Series of Poker champ and vegan Las Vegan Daniel Negreanu. "Just keep in mind and have something on the menu that we can eat. A veggie burger should be almost mandatory on every menu."
Negreanu — a Toronto native and two-year vegan — says maintaining the lifestyle can be difficult in the town he has called home since 1997, "especially in Strip casinos or in the airport."
He describes proximity to a Whole Foods Market as "really big" in determining just how difficult. (There are two in the valley — in the northwest and Henderson. And if Whole Foods' pending purchase of Wild Oats Market is approved, we may get two more.)
"If you live close to one, it's so much easier," says Negreanu, who names the dining area at the northwest location as his favorite restaurant in Las Vegas.
Veganism isn't only a dietary choice. In its strictest form, it requires avoiding all products derived from or tested on animals. However, the vegans interviewed all said finding vegan clothing and health and beauty products was easy relative to food-foraging.
"It just takes a little research," Myers says. "When I go to the store, I always have it in my head not to buy from Procter & Gamble or Unilever because of their animal testing."
At least 11 Las Vegas health-food grocers carry vegan health and beauty products. In addition, they can be ordered from hundreds of specialty Web sites. And vegan options also are available in, among others, the Aveda, Zia and Origins cosmetic lines available in most major department stores.
Vegan clothing can be found just as easily. White says she finds most of hers at Wal-Mart and Target.
"You'll find a lot of things that aren't genuine leather there, just because they're cheap," she says.
And zappos.com, a Henderson-based online shoe store, sells 771 different pairs of vegan shoes on the Internet.
Clearly, dining out is the bigger problem.
"When I lived in L.A., I could eat seitan roast beef sandwiches, cheesecake and cornbread," says Genevine Carrillo, 24, a retail clerk and vegan who relocated six years ago. "But there's isn't nearly as much for me to eat here."
Los Angeles supports 33 exclusively vegetarian/vegan restaurants, according to the vegetarian Web site happycow.net. There are 29 in San Francisco. Las Vegas has three (counting Go Raw once but also counting Ronald's Donuts as a restaurant).
"If you look at California versus Nevada, they have 55,000 restaurants and we have 5,000," responds Paul Hartgen, president of the Nevada Restaurant Association.
However, adjusting for population, according to the 2005 U.S. Census, each vegetarian restaurant in Las Vegas serves 194,551 residents. (Every 113,073 Los Angelenos and every 24,745 San Franciscans share one.)
"I don't have the answer to why there aren't more here," Hartgen says. "I think it mainly has to do with demand. Restaurateurs are always looking for a new market — but it's got to be sustainable. It's got to have a serious customer base."
Hartgen estimates the population of vegan Las Vegans at 400.
"Actually, I think that may be a bit high," he adds.
Hartgen's figure is extremely low, according to a Whole Foods spokeswoman.
"I don't want to say (Hartgen's estimate) is ridiculous, but I think it is," says Southern Pacific regional marketing director Marci Frumkin. The Austin, Texas-based health-food grocer established itself here in 2005 after seeing dollar signs in the city's population boom — much of which has been credited to health-conscious Californians priced out of their native real-estate market.
According to Frumkin, the valley's vegan population is well into the thousands and growing.
"It's got to be," she says, adding that 15 percent to 20 percent of all items sold by Whole Foods are vegan. "And they sell briskly." (Whole Foods does not release sales figures.)
Frumkin adds that its vegan cooking classes here are "always packed."
Likewise, Komol owner Chai Savanapridi says more than 40 percent of his customers order at least something from his vegan menu, a percentage that has increased every year since he opened the restaurant in 1990.
"And we don't advertise that menu," Savanapridi says, "other than on our Web site and the sign out front."
A 2005 study by food-industry tracker Aramark found that a quarter of all college students described seeking out vegan food as important to them. That would put 7,000 potential vegan-dining customers at the University of Nevada, Las Vegas alone.
It's possible that the research conducted by restaurateurs renders vegans invisible.
"(Restaurateurs) are slanted toward people who want typical gourmet food," Frumkin says, "which is buttery, meaty, seafood kinds of things. I don't think they're thinking there can be a gourmet vegan restaurant."
Even Hartgen admits: "They probably focus on their existing customers and how to enhance their service — because that's where they're getting the money from now."
But there is good news on the vegan horizon. Evos is planning to open a second location (in the northwest) later this year. And Tanya Petrovna, owner of a four-restaurant Southern California vegan chain called Native Foods, says she will be "good to go soon" with a valley location. (This is the chain where Carrillo enjoyed her vegan roast beef sandwiches, cheesecake and cornbread.)
"Every day is an inch in the right direction," says photographer and vegan Las Vegan Christina Cho, 28.
"We take what we can get."
VEGAN GUIDE
RESTAURANTS
Go Raw Cafe
• 2381 E. Windmill Lane, 450-9007
• 2910 Lake East Drive, 254-5382
Exclusively vegan and raw dishes made from organic nuts, seeds, grains, vegetables, herbs, oils and spices.
Veggie Delight
3504 Wynn Road, 310-6565
Vegan and vegetarian mock-meat options from Vietnam and Taiwan, made with soy and wheat gluten.
Evos
10895 S. Eastern Ave., Henderson, 269-1389
The veggie chili and Delite Burger are vegan, and the Southwest Soy Taco and Good Corn Dog are vegetarian. The fries and fruit shakes are vegan, too.
Komol
953 E. Sahara Ave., 731-6542
A separate vegan menu features dishes made of soy and wheat gluten.
Long Life Vege
4130 S. Sandhill Road, No. A4, 436-4488
A Chinese seafood restaurant that also serves mock-meat dishes made from soy protein and wheat gluten.
Ronald's Donuts
4600 W. Spring Mountain Road, 873-1032
Most of the doughnuts here are vegan, although there are some dairy selections.
GROCERIES/HEALTH AND BEAUTY PRODUCTS
Whole Foods Market
• 8855 W. Charleston Blvd., 254-8655
• 100 S. Green Valley Parkway, Henderson, 361-8183
Wild Oats Market
• 517 N. Stephanie St., Henderson, 458-9427
• 7250 W. Lake Mead Blvd., 942-1500
Trader Joe's
• 2716 N. Green Valley Parkway, Henderson, 433-6773
• 2101 S. Decatur Blvd., 367-0227
• 7575 W. Washington Ave., 242-8240
Sunflower Market
• 4020 S. Rainbow Blvd., 876-3355
• 3365 E. Tropicana Ave., 777-0650
Rainbow's End
1100 E. Sahara Ave., 737-7282
Health Nuts
1645 Nevada Highway, Boulder City, 293-1844
CLOTHING
Stay Healthy
840 S. Rancho Drive, No. 14, 877-2494
Vegan clothing, hair and skin products. Nothing in the store is animal-tested.
Forever 21
• Meadows mall, 4300 Meadows Lane, 258-7500
• Boulevard Mall, 3528 S. Maryland Parkway, 650-6521
• Fashion Show, 3200 Las Vegas Blvd. South, 732-0478
Wide selection of synthetic fur and leather.
Hot Topic
• Boulevard Mall, 3528 S. Maryland Parkway, 731-3011
• Galleria at Sunset, 1300 W. Sunset Road, Henderson, 456-6605
• Meadows mall, 4300 Meadows Lane, 870-0081
• Las Vegas Outlet Center, 7400 Las Vegas Blvd. South, 616-2641
• Fashion Show, 3200 Las Vegas Blvd. South, 650-9710
Vegan belts and faux furs.
Zappos.com
Henderson-based company with a line of vegan shoes.