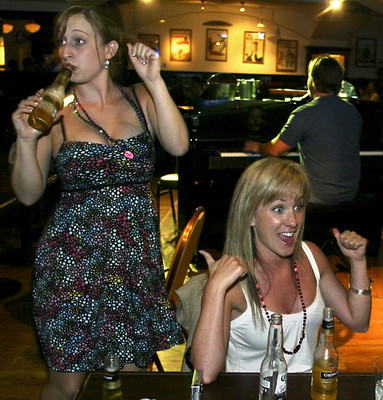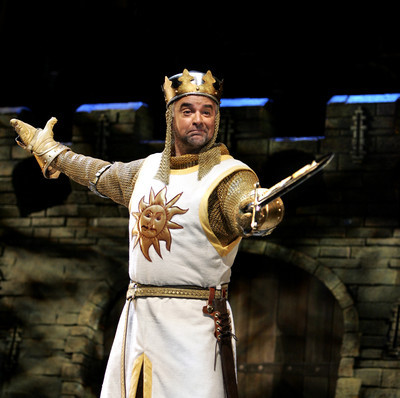 If there's anything positive about Las Vegas' struggling economy — and that's a big if — it's the return of the good casino deal.
While we're nowhere near the $3.99 all-you-can-eat buffets of yore — yet — there are some decent deals to be found, even for those whose budgets are tighter than a Rio cocktail waitress's uniform.
Room rates in many hotels are a consumer's dream, especially with the tantalizing extras being thrown in. Circus Circus will give you gasoline and a buffet visit, too, if you stay for at least two nights. New York-New York will put you on Park Avenue (sort of) for booking a weekday stay.
But you don't have to stay in a hotel to enjoy some of the better bargains in local casinos. Drink like a fish at McFadden's in the Rio or stuff your face with spaghetti at the Wild Wild West. You can even take in a Strip show for half price.
We checked around town and found that just about everyone is offering something for a little less than usual. There were too many deals to include in this story, so we narrowed it down to seven deals in three categories: Relax, fun, and food and drink. The list is not inclusive, and prices change without notice, so be sure to check with the casino before heading out.
RELAX
Circus Circus
2880 Las Vegas Blvd. South, 734-0410
Get free gasoline when you stay at the hotel in an offer that runs through Aug. 31. A two-day stay will earn you a $25 gasoline credit; three nights get you $50. You'll also receive a $25 gaming credit, two-for-one dinner at the buffet, $4 off a ride pass at Adventuredome and a fun book with $100 in coupons. Rates start at $40 a night.
Excalibur
3850 Las Vegas Blvd. South, 597-7700
The Stay and Play package starts at $69 a night for a room and comes with $25 worth of food and two passes to the spa and fitness center.
Golden Nugget
129 Fremont St., 385-7111
Stay at least two nights and get a rate of $59 a night (Sundays through Thursdays) as well as a coupon book worth $250. The coupons are good in the hotel and casino. If you book it, ask for the spring package.
Luxor
3900 Las Vegas Blvd. South, 262-4000
This package is called the Getaway for a good reason: Book a room (starting at $69, depending on dates) and you'll receive two-for-one admission to the spa, $20 off spa services, a $30 dining credit at Fusia and $10 to gamble with.
The Mirage
3400 Las Vegas Blvd. South, 791-7111
If you book a room online, for $109 a night or more, you'll get $30 credit to the Cravings buffet and two passes to Siegfried & Roy's Secret Garden and Dolphin Habitat.
New York-New York
3790 Las Vegas Blvd. South, 740-6969
The hotel is offering the Fifth Avenue package through Aug. 28. The weekday room rate is $80 a night and includes a few extras, such as the "Park Avenue" Strip view upgrade. Guests receive two cocktails, two breakfasts for the price of one at Il Fornaio, $15 off a spa treatment and two-for-one Manhattan Express roller-coaster tickets. This deal must be booked online at reservations.mgmmirage.com.
Rio
3700 W. Flamingo Road, 777-7777
Locals receive 20 percent off of any treatment at the Rio's Spa Mondays through Thursdays. You must show a local driver's license or ID.
FUN
"Chippendales: The Show"
The Rio
3700 W. Flamingo Road, 777-7776
Ladies, this is your chance to see the famed hunky guys in all their glory and for half the price. Through Aug. 31, Monday and Tuesday tickets are 50 percent off. They're usually $58.
Gerry McCambridge, "The Mentalist"
Hooters Hotel
115 E. Tropicana Ave., 739-9000
You'd have to be mental to not take advantage of this one-day promotion. McCambridge is celebrating his 500th show by providing guests — a limited number, of course — with a free show June 19. He'll also meet and greet you. Call now before tickets are gone.
"Jubilee!"
Bally's
3645 Las Vegas Blvd. South, 967-4567
To celebrate 16,000 performances of one of the Strip's last remaining production shows, Bally's is offering locals two tickets for the price of one. You can buy as many as four tickets and get four free. The deal is good through June 30.
"Mamma Mia!"
Mandalay Bay
3950 Las Vegas Blvd. South, 632-7580
Through June 29, get two-for-one tickets. They're regularly $75 and $100 each. You can buy eight.
"Monty Python's Spamalot"
Wynn Las Vegas
3131 Las Vegas Blvd. South, 770-9966
Catch the Broadway show before it's gone July 13. Tickets are two for the price of one, if you mention the word "laughter." You must be a local, and you can receive a maximum of eight tickets.
"Tony 'n' Tina's Wedding"
The Rio
3700 W. Flamingo Road, 777-7776
If you love weddings enough that you'd pay to see one, this is your chance. And you can even take a guest for free. Through Aug. 31, VIP and general admission tickets are two for the price of one, for the Sunday through Thursday shows. If you go Fridays or Saturdays, you'll get 15 percent off.
Risqué
Paris Las Vegas
3655 S. Las Vegas Blvd., 946-7000
If clubbing is more your scene, check out Risque at Paris Las Vegas. Through June 29, the nightclub is waiving admission on Saturday nights for locals with ID. It may not sound like much, but that $20 savings can buy you a drink once you're inside.
FOOD AND DRINK
Ellis Island Casino & Brewery
4178 Koval Lane, 733-8901
You used to be able to get steak dinners for $4. Those days are gone, but $6.99 is a pretty good deal, at least for this meal. It comes with a 10-ounce steak, baked potato, green beans, bread and a beer. It's not on the menu, so you'll have to ask for it. Speaking of beer, Ellis Island has its own microbrewery. You can buy one daily, 24 hours a day for $1.
Fleur de Lys
Mandalay Bay
3950 Las Vegas Blvd. South, 632-9400
At $59, the early evening prix fixe is pricier than some of our other selections. But it's at Fleur de Lys, one of the more expensive restaurants on the Strip, so it's a deal. From 5:30 to 6:30 p.m. daily, you can enjoy a tasting menu that includes an appetizer of either truffled onion soup or Yukon gold potato ravioli; an entree of beef short ribs or Alaskan King salmon and a dessert called the "Chocolate Feast."
Golden Gate
1 Fremont St., 385-1906
The famous 99 cent shrimp cocktail was recently raised to $1.99. It couldn't be helped, what with the price of gasoline and food these days. But you can still get it for 99 cents by signing up for the casino's players' card. That's it.
McFadden's Restaurant and Saloon
Rio
3700 W. Flamingo Road, 777-7777
For $10 ($20 if you're a guy) you can drink at an open bar for two hours during the Saturday Night Special. That's a lot of drinks. Of course, it's only on Saturday nights and only between 10 p.m. and midnight.
Tony Roma's
Fremont
200 Fremont St., 385-6257
Tony Roma's inside the Fremont offers daily early bird specials from 4:30 to 6:30 p.m., including a prime rib dinner for $8.99. If you're more of a late-night person, try the steak and lobster for $11.99, available from 9 to 11 p.m. daily
Triple 7 Restaurant and Brewery
Main Street Station
200 N. Main St., 387-1896
During happy hour from 3 to 6 p.m. Mondays through Fridays, microbrewed beers are $2 and well drinks $1.50. House wine is a buck and appetizers are $4.25.
Wild Wild West
3330 W. Tropicana Ave., 740-0000
If you love spaghetti, you'll love this deal. On Wednesdays, pay $4.99 and slurp all the noodles you can. It's for dinner only, and you have to buy a drink, but you'll get out of there for less than $10.
Contact reporter Sonya Padgett at spadgett@reviewjournal.com or 702-380-4564.