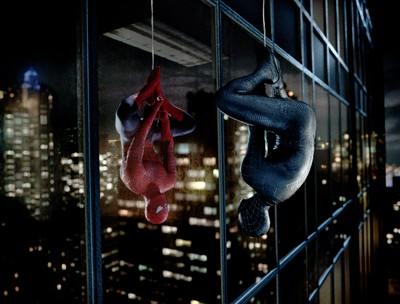 For movies based on comics, staying true to their roots is not enough today.
Die-hard comic fans' appetites have become harder to please and the movie's special effects had better be mouthwatering.
To many moviegoers, another guy in spandex saving the world is becoming too cliche for their taste. Action movies are only good if they have a hard fist and a good punch. "Spider-Man 3" delivers the visual effects but ultimately leaves viewers disappointed by its overwhelming plot.
The story centers around two friends torn apart after Spider-Man (Tobey Maguire) killed the Green Goblin.
Harry Osborn (James Franco), son of the Green Goblin and Peter Parker's (Spider-Man's) former best friend, blames Spider-Man for his father's death and wants revenge.
The start of the movie is long and drawn out. Corny lines are strewn throughout. Becoming re-engaged in the lives of Peter and girlfriend Mary Jane Watson (Kirsten Dunst) is tough through all the monotony.
Suddenly, Spider-Man gets himself stuck in another sticky situation within his own tangle of pride. He is zapped with some outer space slime that brings out his darker, emo side, making him arrogant and obnoxious.
Out of all the Spider-Man movies based on Stan Lee's Marvel Comics creation, this is the most emotional. Bottom line: too much story.
When the action finally kicks in, it happens out of thin air.
The slow motion kills most of the realism of the special effects, making it more computerized and ridiculously overdramatized.
A new villain, Flint Marko (Thomas Haden Church), interrupts many scenes with his random giant sand fist. An escaped convict trying to elude police, Flint falls into a nuclear test and is turned into the Sandman, who is in need of anger management.
Once Spider-Man lets his ego get the best of him, another villain pops into the picture. Eddie Brock (Topher Grace), Peter's nemesis at the New York Bugle, is touched by the same goo that turned Spider-Man into an egomaniac. Eddie's anger, mixed with his obsession to get back at Spidey, allows the venomous black slime to overcome him. The poison turns Eddie into Venom, who wants to sink his fangs into Spidey.
As Spidey's humanity falters, his ego gets the best of him. The busybodies of the city notice there is something different about their neighborhood Spider-Man, but no one can understand it, except his girlfriend, Mary Jane.
Jealousy and rage penetrate Peter, making him strive for more success and a bigger name for himself. His egotism leads to a turn of events no one could expect.
In the end, "Spider-Man 3" leaves the audience unsatisfied with the tangled web of characters it spins.
R-Jeneration
REVIEW
MOVIE: "Spider-Man 3"
RUNNING TIME: 139 minutes
RATING: PG-13; intense action violence sequence
GRADE: C-