Welderup throws junk together to create 'rolling works of art'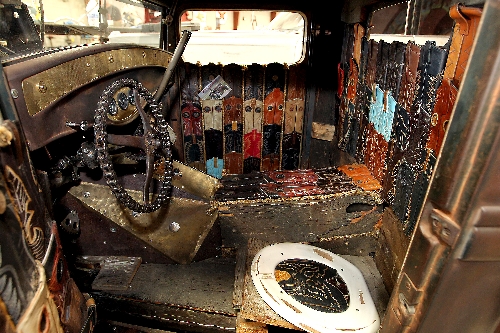 Steve Darnell knows his hot rods look like junk. In fact, he uses an even stronger descriptive. He considers it the highest praise possible.
"I work really hard trying to make my cars not look like yours," he says.
Darnell, 39, owns the Welderup Hot Rod & Fab Shop, which builds hot rods out of things that don't belong in hot rods: farm equipment, modern hydraulics and household items.
Nearly 20 of them are parked, in varying states of assembly, inside a 30,000-square-foot warehouse on the desolate edge of southwest Las Vegas. Hot-rod purists call them "rat rods." Darnell prefers "rolling works of art."
"They're all one of a kind," he says, adding that each averages 5,000 hours of work.
His masterpiece, the Diesel Rod, is positioned for exposure to everyone entering the warehouse. Darnell paid $200 for the 1928 Dodge Brothers sedan body, which he spotted in a Montana field three years ago. He attached a 1998 diesel pickup engine, low-rider air bags and nitrous and propane tanks.
Wait, it gets wilder. … The gear shift comes from a seeding machine, the dashboard from a manure spreader, and the trim is worn-out saw blades.
"It's completely insane," Darnell says.
When this hodgepodge was featured in the November 2009 issue of Hot Rod magazine, it incensed purists. Dozens of online comments argued the virtues of all-original parts and shiny paint.
Darnell doesn't see the point. "Where's the originality in that?" he asks. According to Darnell, it takes a man to build a hot rod, "but it takes a real man to cut one up."
As Darnell speaks to the R-J, his 61-year-old father tends quietly to the engine of a shiny black 1955 Chevy Nomad, one of seven cars he stores on the far end of the warehouse.
Chuck Darnell is a purist, a hot-rodder who cruised Fremont Street in the late '60s. Yet he refuses to argue with his son about the definition of a real man.
"I think what Steve does is great," he says. "I think there's a niche for it. To each his own."
In one respect, at least, the apple actually returned to the tree. This very warehouse was once a supply yard for Economy Steel, the company Darnell's dad founded in 1980. Although Darnell moved from Las Vegas to Montana with his mom when he was 6, he returned every summer to work for his dad, learning to make steel comply with his wishes.
"I'm pretty proud of him," says Chuck, who sold his company and retired four years ago. "He's a better welder than me now."
In an indirect way, Darnell's passion for jerry-rigging rigs owes almost as much to his mom. She brought model cars home from garage sales when Darnell was a tyke. They never seemed to have all their parts, so Darnell learned to improvise.
"I'd take the big tires off a big model and glue them on the back of a little model," he recalls. "I was grounded a lot when I was a kid, so I had a lot of time to make stuff."
When Darnell started his own welding business in Billings, Mont., sod machines buttered most of his bread. It was humdrum work, but off days let him scavenge dusty fields for farm machinery and abandoned cars. When the economy tanked and welding stopped paying the bills, Darnell focused his skills on his passion. However, he soon recognized the need to relocate.
"In Vegas, I can be at a car show every weekend," he says. "Up there, I'm just stuck."
He and his dad split the rent on the warehouse, which Darnell also calls home. (He lives in a trailer parked beside a makeshift shower and living room. His TV stand is the cab from a 1927 Ford truck.)
"I like it," Darnell says, "although it's hard to sleep sometimes."
Darnell is assisted by a younger brother and a couple of buddies who, in addition to laboring tirelessly through the night, also like popping by to hang out way too early the next morning.
"I'm looking for a house now," Darnell says. "I'm getting too old for this."
He still pays the bills with jobs he doesn't love. This week's was attaching fenders to a dump truck.
"But I want to concentrate on my Welderup thing now," he says.
Currently, he's trying to land a spot to display his rolling works of art on Fremont Street or inside a casino.
"You park them somewhere and they're guaranteed to get attention," he says.
He hasn't sold any yet, although there have been offers.
"I never really planned to make money doing this," he says, adding, "but if somebody came up with enough money …"
Contact reporter Corey Levitan at clevitan@ reviewjournal.com or 702-383-0456.