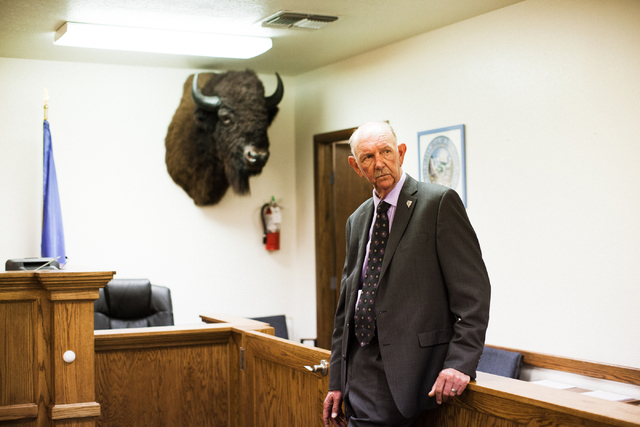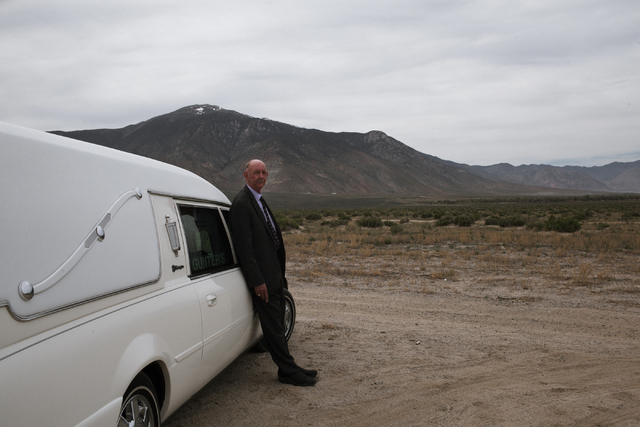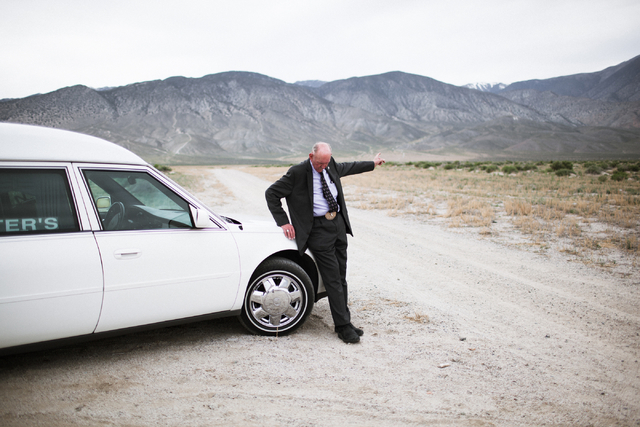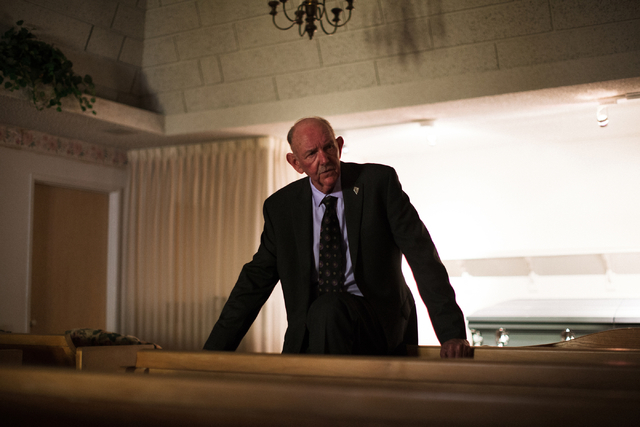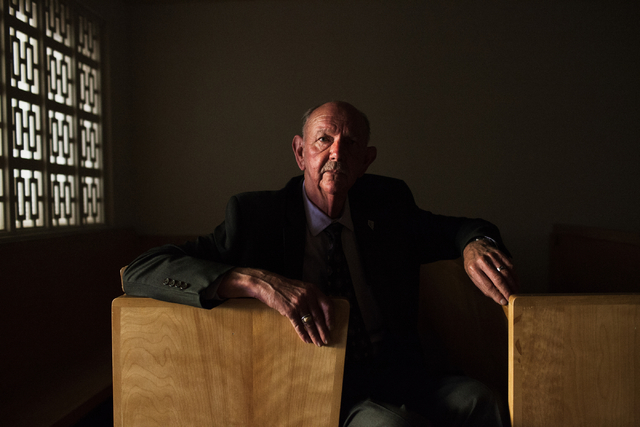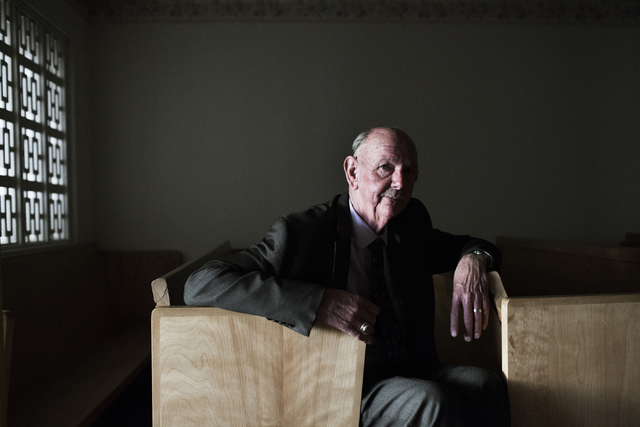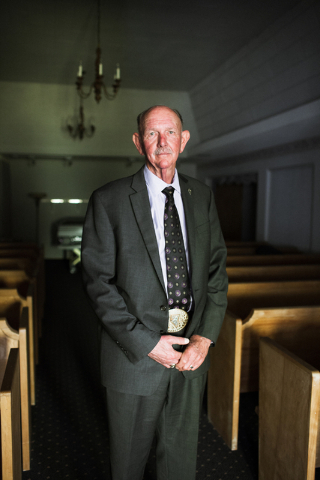 HAWTHORNE
When the telephone rings in the middle of the night, as it often does, Jay T. Gunter knows that some desperate family is in trouble. They might be his neighbors.
Perhaps someone landed in jail or, worse, suffered a fatal accident. Either way, the lanky 65-year-old is the man to call.
People wear many hats out in Nevada's sparsely settled desert, doubling up on their responsibilities because there just aren't enough working professionals to go around.
Take Gunter: The veteran funeral director is also the elected justice of the peace, ready to preside over any middle-of-the-night arraignments or last-minute search warrant applications.
But that's not all; he's a volunteer firefighter's assistant and the deputy registrar in rural Nye, Esmerelda and Mineral counties. And he's Esmerelda County's deputy coroner, responding to deaths at all hours.
So when that phone rings, there are no groggy-eyed excuses about the lateness of the hour. He's on the road, few questions asked.
"When people call and say they want me to come get mom or dad, I don't say, 'Sorry, that's not my territory,'" he said. "I tell them that I'll be there as soon as I can.'"
SPREAD THIN
In large cities, consumers have their pick of ubiquitous funeral homes. Not so in rural areas, where professionals like Gunter cover wide swaths of real estate: His turf comprises 50,000 square miles across central Nevada, an area the size of Arkansas.
Silver State funeral directors have the nation's third-largest client base, according to the National Funeral Directors Association — a factor of the small number of mortuaries amid the state's wide-open spaces. For each of 50 funeral homes statewide there are 54,000 potential clients.
Gunter is the only undertaker between Pahrump and Fallon — 268 highway miles. He's driven 600 miles round-trip, clear across the state to Ely and beyond, just to retrieve one body, and has ranged 150 miles to consult with an isolated ranch family on funeral arrangements.
Make no mistake, he doesn't complain. He knows all-day excursions are part of the job. Around these parts, the long-striding nearly 6-foot-5-inch figure is a well-known commodity to people who know him as "Judge" from his time on the bench, or simply "Jay-T," a neighbor for decades.
So when a family member dies, they call Gunter, their voices heavy with grief, knowing they'll receive a few kind and thoughtful words from someone they've known for years as a hunting partner or community volunteer.
In rural areas, funeral directors like Gunter are more than just undertakers; they're community leaders whom people often seek out for emotional guidance.
"In small-town America, the funeral director is someone who knows the family, the person from whom they seek healing at the time of death," said Arbie Goings, a consultant who trains rural funeral directors in how to handle mass fatalities. "Families trust the bodies of diseased loved ones to their care. These people have high standing in the community."
DEATH IN A CADILLAC
Half of Gunter's 44 years as a funeral director have been spent in Hawthorne, where he has handled more than 2,400 funerals, sometimes burying three generations of one family.
He bears the gentle mannerisms of a country doctor. But there's something edgy about the way he tools along the state's byways and back roads in his vintage white Cadillac "Masterpiece" hearse, following a trail of death across the high-desert plains. It's almost as though David Lynch should be riding shotgun.
Born in Sacramento, Gunter worked in Idaho and in Carson City before moving to Hawthorne two decades ago. He liked the area for its fishing and hunting and soon became accepted. When he ran for justice of the peace in 2007, the married father of one got 68 percent of the vote.
Weighing in at just over 200 pounds, he turns heads when he walks into a room. His face ruddy from time spent outdoors, he wears an oversized belt buckle and a ring bearing an ivory elk's tooth, a touch of country style to his somber suit-wearing profession. And he keeps his sense of humor, joking that his middle initial stands for "trouble."
People know Gunter is honest and fair. There's no pressure to buy a casket that's out of a family's financial reach.
"It's easier to talk a family up from a $5,000 to an $8,000 casket than it is to convince one with little money to go for one that costs $1,200 and not $5,000," he said.
Each year, Gunter and a part-time employee drive an estimated 50,000 miles to conduct business, sometimes doubling up on body pickups in their marked industrial van.
He's retrieved bodies from roadway shoulders following traffic accidents and picked them up in hospitals, hospice care centers and ranch bedrooms. He has driven four-wheel-drive vehicles through the snow and mud to reach other spots — once walking two miles into the woods with a stretcher — where hunters, farmers, ranchers, off-road enthusiasts and hot-springs bathers have died from accidents, or when someone walked far into the outback to commit suicide.
One body he recovered had been missing for eight years. Over the decades, in all kinds of weather, he's responded to the top of Mount Grant just outside Hawthorne to recover the bodies of a half-dozen people killed in several different single-engine airplane crashes.
If Gunter is ever going to get a speeding ticket, it will be on the way to retrieve a body. On the return trip, he drives slowly out of respect for the dead.
Once, on his way to Tonopah to pick up the body of an old friend, he was stopped for speeding by a Nevada Highway Patrolman who didn't recognize Gunter's new vehicle.
"Where'd you get this van, Jay?" he asked after he walked up to the driver's window.
Gunter told the officer where he was going, to care for the elderly woman they both knew.
"Oh, you don't have to hurry with her; she doesn't have any family," the officer said, pausing. "And, by the way, you were going 83 miles an hour."
He drove away with a warning.
A LIVELY BUSINESS
Gunter has done his homework. He knows the average American family will suffer a death every eight years. And when that time comes, he'll be there for them.
Tony Hughes, whose family once ran the local newspaper here, said Gunter arranged the funerals of his two brothers, including one who couldn't afford a headstone.
"So Jay went out and got a real nice rock, had it engraved and placed at the gravesite," Hughes said. "He didn't have to do that, but that's the kind of man he is. I've seen big tears in his eyes at funerals. He chokes up. Not many funeral directors do that."
Hawthorne resident Patty Thyne has another Gunter story: When her son, Kenneth Bostic, was killed in 2006 while serving in Iraq, Gunter arranged for the body to be transported all the way back to Hawthorne with military honors.
"They brought Ken home in a C-130," she recalled. "It was all Jay; he knows how to work with people. He's got a big heart. He always has, and he always will."
Gunter looks out for his country clients. In the funeral parlor, he doesn't use much makeup, even with women, because ranch women don't wear much in life. Sometimes, he'll do their hair himself, or bring in a trusted hairdresser so they can look like they did when they laughed and told jokes in the stylist's shop.
He has a minor in psychology, which often comes in handy. Once, when a man looked to him for solace after losing his elderly mother, Gunter gave him a plainspoken answer.
"Look, I don't have any magic words," he said. "But I lost my own mother a few years ago, so I know how bad you're hurting."
Friends often ask Gunter who's going to handle his funeral. He scratches his head over that one, but his answer has a ring of rural wisdom.
"When it comes to death," he tells them, "we all take our turn."