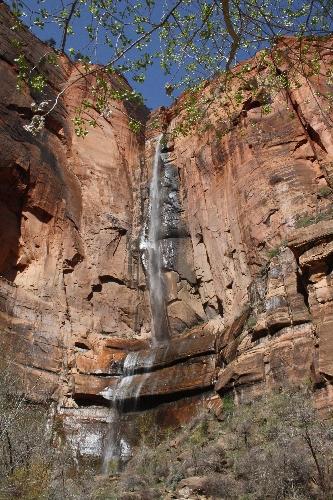 "One hardly knows just what to think of it. Never before has such a naked mountain of rock entered into our minds! Without a shred of disguise its transcendent form rises preeminent. There is nothing to compare to it."
–Frederick S. Dellenbaugh
In 1903, Frederick S. Dellenbaugh, a topographer, artist and writer, spent the summer painting in what is now Zion National Park. The following year, he exhibited the resulting landscapes at the St. Louis World's Fair and wrote an article including the above lines in the influential Scribner's Magazine. Americans have been intrigued ever since with the unique landscapes of Southern Utah.
The national attention focused by Dellenbaugh and others brought federal protection. In 1909, President William Howard Taft, a former protege of and successor to the conservationist President Teddy Roosevelt, declared it Mukuntuweep National Monument. The name was locally unpopular and by the time it gained national park status, it was known as "Zion," an earthly application of one of the names of heaven.
Back then, you could count yearly visitation in the hundreds. Now more than 2 million people visit each year.
Most people who venture here have traveled hundreds of miles, while we in Southern Nevada have it practically in our own backyard, making it a quick and easy getaway. The next few months offer some of the best times to visit Zion. While spring weather can be fickle, getting caught in a spring rain at Zion may not be such a tragedy. With rain and snowmelt together, the canyon walls come alive with waterfalls cascading and free-falling on every side. Thunderstorms are rare this time of year, but March is one of the park's wettest months, with an average 1.7 inches of precipitation. Even so, most days will be sunny with highs in the 60s and 70s.
A trip up Zion Canyon's six-mile scenic drive is the quintessential park experience. The entire drive flanks the North Fork of the Virgin River as it serpentines between the massive red sandstone towering more than 1,000 feet above.
Until the end of March, you can drive your own vehicle along the scenic drive, but from April through October, visitors must take the free shuttle bus. While many people cringe at not being able to drive themselves, I find it stress-free and enjoyable. Taking the bus not only allows you to give the scenery your undivided attention, it also ends your worries about traffic and where to park. The buses run regularly throughout the day and into the evening and you can get on or off as many times as you wish at the eight shuttle stops within the canyon.
Most visitors find that the best way to get to know the park is on foot, and just about all of its finest attributes can be seen on some of the shorter trails in Zion Canyon proper. The Emerald Pools network of trails, located across from the Zion Lodge, is one good place to start, as it offers choices of difficulty depending on what you and your group are able and willing to handle. The highlights here are three waterfalls, one each found on the lower, middle and upper Emerald Pools Trails. These are usually quite gentle flowing, yet in spring with snow runoff and rain, they can be rather spectacular.
While this is a good place to hike, you'll need to use caution as it is also one of the most dangerous trails. Some portions of the trail flank the cliff edge — which is often unstable — and ice and mud add to the danger. I have been told that more people have been killed from accidental falls at Emerald Pools than on the nearby, yet more ominous, hike up to Angel's Landing.
Angel's Landing is the name given to the monolith that towers more than 1,000 feet, just upstream from Emerald Pools. This hike is well-known throughout the world, primarily because its last half mile is terrifying. There are safety chains to help you walk the treacherous, narrow ridge, but mere inches from the path, on both sides, are drop-offs 1,000 feet deep. At the trail's end, however, there is plenty of room to move about, and the views are among the best in the park. Below, you can see the North Fork of the Virgin River as it winds its way downstream, lined with a woodland of Fremont cottonwoods and velvet ash.
Working your way north on the scenic drive, Weeping Rock is a good trail that takes you into a natural sandstone alcove with dripping springs. Two other trails leave from here, the more strenuous East Rim and Hidden Canyon Trails. Both arewell worth the time if you have it.
The final stop on the scenic drive, Temple of Sinawava is also the trailhead for the two-mile round-trip Riverside walk. From the end of this walk you can get a peek upstream toward The Narrows, a famous hike up the riverbed itself. The water's too high to try it this time of year, but you can scout it for a summer day.
The short but steep drive up to the park's east side is well worth the time. The Zion-Mount Carmel tunnel was completed in 1930, opening up the route for easier access to Bryce Canyon and Grand Canyon National Park's Checkerboard Mesa.
At the beginning of April, the deciduous trees — such as cottonwoods — start to come alive. The park, which boasts elevations of 3,666 feet to 8,726 feet, is home to lots of wildlife. Mule deer and wild turkeys are often spotted, but nocturnal critters such as coyotes, foxes, ringtail cats, raccoons and badgers are also common, though harder to detect.
Since I started frequenting Zion more than a dozen years ago, I have seen the town of Springdale transformed. The few good lodgings of those days have been augmented by a rich variety. Some are just simple places to lay your proverbially weary head, but others offer such amenities as heated pools and hot tubs. It's fun to overnight here now, breaking the park experience into two or more days divided by shopping and eating in a variety of small restaurants.
For a more romantic trip, there are also great choices outside of town. The cabins at the Zion Lodge are wonderful. They're the only lodging in the park itself, which makes the nights there very peaceful. Each cabin has a full bath, gas log fireplace and private porch. I can also highly recommend Zion Mountain Ranch, located just past the east entrance of the park. This property has a free-roaming herd of bison and offers horseback riding into the back country. In season, its Buffalo Grille restaurant serves vegetables organically grown on the ranch. It's an especially good choice if you are incorporating a side trip to Bryce Canyon National Park.
One of the best ways to learn about Zion is by taking a workshop with the Zion Canyon Field Institute. There are a wide range of topics. Some upcoming workshops include the Wednesday Naturalist Walks, which take place March 30, April 27 and May 4. They are led by Allen Brown, a zoologist/ecologist who will focus on the flora and fauna of the park and delve into the area's human history and geology. Thursday Treks take place March 31, April 14 and May 5 and deal with plants, animals and geological history. And if the park's spectacular geology is your main interest, a workshop in April concentrates on that.
Since most people visit Zion at least partly to take pictures, institute director Michael Plyler, an expert photographer, will lead a workshop called "Zion through the Lens." The event, April 15-17, is open to those who still use film, as well as those who now shoot digitally. Zion's Low Desert Wildflowers workshop takes place on April 23, and on April 30, there will be a Plein Air Painting workshop with instructor Anne Weiler Brown. Reservations are needed for all the institute workshops.
Even by myself, I've always been able to enjoy a place as pretty as Zion. But doing it under the instruction of an expert zoologist or geologist who can explain what we're really seeing, or an expert photographer who can show me how to capture the sight, could be rewarding. And doing it in a class of like-minded people, stunned as I am by breathtaking beauty, should be better still. Maybe you'll be one of them.