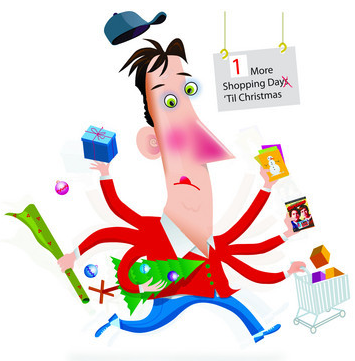 acob Palmer had plenty of time to shop for presents since getting laid off from his job as a recruiter for Zappos shoes last month. Still, he's putting it off until Christmas Eve again.
"I'll admit it, it's kind of exhilarating," said the 43-year-old, who is one of thousands of Las Vegans expected to swarm valley stores like tardy locusts this week.
"It's like a game."
A National Retail Federation survey of 8,000 American consumers found that 20 percent of men, and 14 percent of women, had not started shopping by last Dec. 18.
"A lot of people are shopping-averse," said Jim Cross, marketing professor for the University of Las Vegas, Nevada. "It's like going to the dentist. It's such an unpleasant experience, they just put it off."
Cross said others are simply too busy, and a growing number — especially this year — may be worried about losing their jobs.
"If they don't (lose them), then they'll decide to spend more," he said.
The last-minute shoppers who responded to a mass reader e-mail sent by the R-J, however, explained their behavior by simply identifying themselves as procrastinators — proud ones at that.
"It's just so how I am," said Eric Bonnici, the 47-year-old national sales manager for KJUL-FM, 104.7, who also admits filing his taxes "the day after they're due."
Three years ago, Bonnici said, his family's traditional Christmas Eve gift exchange was delayed a full two hours because he was still at the mall.
"All the little kids were upset because they couldn't open their presents until Uncle Eric got there," Bonnici said, adding that "they couldn't eat, either."
As far as Christmas disgraces go, though, Palmer has Bonnici beat. In 2000, he put off buying his grandmother's gift all the way to Christmas morning. With no stores open, he high-tailed it to the mall where his parents owned a tchotchke kiosk that he managed for them.
"I had to beg the security guard to let me in," Palmer remembered. "Then I realized that I didn't have the key to get into the kiosk."
Palmer judged breaking in preferable to arriving at his grandmother's house empty-handed. He grabbed a miniature statue of David made of alabaster, which he didn't have time to wrap.
"I had to tell my parents what I did the next day, so they didn't think they got robbed," Palmer said.
When asked to explain this particular type of consumer behavior, Cross replied, "No comment." He added, "Perhaps you should contact a psychologist."
This year, Palmer's list is 10 recipients long. It includes his friend's 13-year-old daughter, Emma, who will receive a double present because Palmer neglected her October birthday.
"Oh God, I feel so bad," he said, vowing to go "out of my way" to shop earlier this year.
"Two days before Christmas," he said. "For me that's early."
He added, "But most likely, I'll be shopping on Christmas Eve again."
Contact reporter Corey Levitan at clevitan@reviewjournal.com or 702-383-0456.
1. Disney memo pad with pen, 99 Cents Only, 99 cents 2. The Backyardigans, Dora & Pals or Pablo & Pals Nickelodeon figures, Family Dollar, $5 3. Laguna Home Party Drink Mix Sets, Big Lots, $5 4. Disney Camp Rock Sing-Along Microphone, Target, $9.99 5. Fisher Price Baby's First Blocks, Wal-Mart, $7.88 6. "Superbad" DVD, Best Buy, $8.99 7. Any item of clothing from Steve & Barry's, which is going out of business, $8.99 8. "Your Ultimate Personality Quiz" book by Dorothy McCoy, Borders, $9.95 9. "Are You Smarter Than a 5th Grader?" card game, Walgreens, $9.99 10. Stafford Shirt Maintenance Kit, JC Penney, $9.99