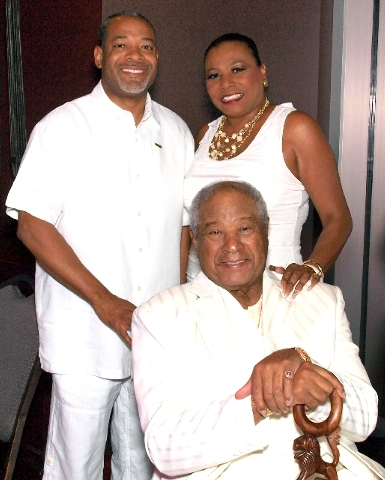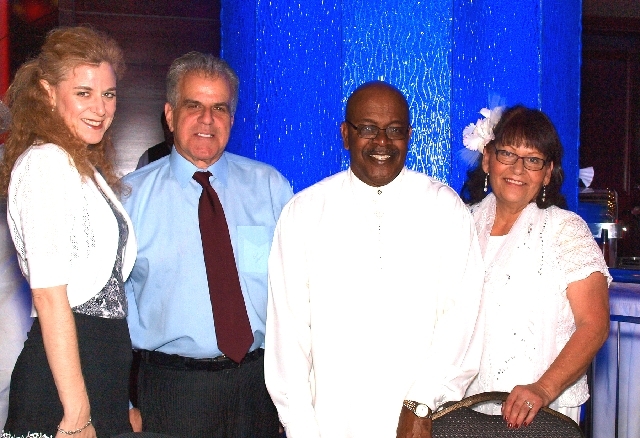 The fifth annual White Linen Affair sponsored by 100 Black Men of Las Vegas Inc. took place June 29 at the Eastside Cannery to raise money for the organization's efforts to empower young people.
The event is the organization's major fundraiser. The nonprofit 100 Black Men of Las Vegas works to improve the quality of life for African-Americans and other minorities. It empowers young people through mentoring, education, health and wellness and economic development programs. These programs are designed to nurture creativity, emphasize academic achievement and reinforce social responsibility.
More than 300 men and women wearing all-white cocktail attire attended this year's White Linen Affair in the Cannery's beautiful party room, called the One Six, on the hotel's top floor that overlooks the Las Vegas skyline.
Guests including Wilbur Jackson, Kenneth Pearson, Harvey Williams, Rosalind and Darryl Raiforde, Renee and Donald Nubia, Diane Mayfield, Cathy McCluney, Sharon Petteway and Geri Ratliff participated in the silent auction chaired by Henry Taylor that offered designer handbags, jewelry, art, a bar butler, gift certificates, and a University of Michigan jacket and jersey.
The buffet supper included cheeses and fruit, crabcakes, coconut shrimp, and a turkey and roast beef carving station.
The Reggie Gonzales Band played for dancing.
The president of 100 Black Men of Las Vegas, Brian Pauling, welcomed the guests and thanked Lillian McMorris for chairing the 2013 White Linen Affair. Pauling spoke about the Las Vegas chapter's adoption of the national organization's action agenda, "Five For The Future," which emphasizes mentoring, education, economic development, health and wellness, and leadership.
The 100 signature mentoring program has successfully been implemented at Wendell Williams Elementary School and the Mackey Magnet School as well as the group's own charter school, The 100 Academy of Excellence.
The 100 Black Men mentoring program consists of individual mentoring, group and pod mentoring (groups of five), all utilizing the nationally recognized text "Mentoring the 100 Way."
Members involved in the program are grateful to the staff at each of the participating schools. The mentoring committee devotes its time to tutoring and mentoring students. The 100 Black Men mentors are all volunteers. These men are required to complete a rigid training and certification program prior to their community placement. All members are also required to pass an extensive background check.
More members and their guests attending were April Ahammer, Stacey Wise, Tammie Henderson, Sally Hall and Dwayne Sims, Juanita Bell, Shirley and James Oakley, Joyce Atkins, Susan Moon, James Spencer, Pris Hughes, Cynthia Thompson, Rita Sims, and Barbara and John Johnson.
The evening concluded with music from the Shelley Jordan Jazz Quartet.