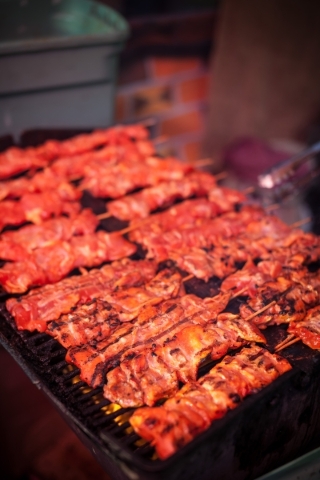 Wii Sports Resort" presents a win-lose scenario for Nintendo. The win: Since "Sports Resort" is a top-notch game that people can play at parties, it's earning many millions of dollars.
The game allows two to four gamers at a time to compete in 12, crazy-entertaining minigames. You can sword fight, perform archery, row a canoe, play table tennis and so on.
The losing proposition: Some Wii-ple (that's Wii people) spend their game time only on party games, such as "Wii Sports," competing against friends once a week, or once a month.
Those part-time party gamers may now obsess only on "Wii Sports Resort." It has so much replay value, it's feasible it will be the only game they buy this year. That's bad news for software sales of other titles.
But the varied quality of the minigames offers some kind of fun. When you toss your way through mini-Frisbee, you throw a Frisbee in the air and your cute little dog catches it above targets. This rewards you with points. Then you can play Frisbee golf.
When you wakeboard, you jump waves to do tricks and land properly on your feet. These are simple things, executed to grand fun.
If you've played "Wii Sports," it looks and feels similar. You portray too-cute Weeble-like cartoon characters engaged in minigames that, compared to "Wii Sports," are prettier, sleeker and even easier to control with your Wii wand.
In fact, "Sports Resort" comes with Nintendo's newest toy, an excellent little electronic device you plug into your wireless Wii controller. This device, called Wii MotionPlus, adds new sensors to your hand controller, to make it respond more dynamically to your hand motions. It is, suddenly, a must-have for Wii gamers.
I doubt serious gamers will spend much time playing "Wii Sports Resort," certainly not by themselves. It's more of a game for fanboys of the Wii, and for those part-time party Wii-ple. But even hard-core gamers like to party now and then.
Speaking of fanboys, fanatics of the fighting-competition series "King of Fighters" now can obsess over "King of Fighters XII."
"KOF XII" bucks years of trends by delivering an old-school, two-dimensional, side-scrolling fighting game. It deserves praise and criticisms.
You pick three fighters to take into a ring for tag-team fighting against the computer or against human opponents online or on your couch.
Then you commence fighting — kicking, punching, dodging and unleashing the occasional special move, such as grabbing an opponent's head and slamming it into the ground.
Obviously, "King of Fighters XII" serves up standard fighting fare. That's win-lose, too. It's a loss only because "KOF XII" doesn't evolve the fighting genre. But more important, it's a winner because, let's face facts, "KOF XII" does the job it needs to do. The fighting is smooth and fun enough to give fight-game fans hours of punching each other in the virtual groins.
Other reviewers seem to be mildly peeved that some characters from previous "King of Fighters" titles are missing here. Me? Don't care, because the roughly two dozen characters are sufficient. So fanboys of the world: unite and rejoice.
("King of Fighters XII" by Ignition retails for $60 for Xbox 360 and PS 3. Plays smooth and fun enough if you're into fighting games, especially in online matches. Looks OK. Moderately challenging. Rated "T" for violence. Three stars out of four.)
("Wii Sports Resort with Wii MotionPlus" by Nintendo retails for $50 for Wii. Plays quite fun, primarily as a party game for two to four gamers. Looks Weeble-cute. Moderately easy. Rated "E" for cartoon violence. Three and one-half stars.)
Contact Doug Elfman at 702-383-0391 or e-mail him at delfman@reviewjournal.com. He also blogs at reviewjournal.com/elfman.
NEW IN STORES
"Madden NFL '10" (EA) tries to live up to the hypes as, once again, one of the year's most anticipated games.
A few things are enhanced this year. First, there's "Pro-Tak," or procedural tackling, which essentially just means a bunch more defensive guys pile onto tackles, whether it's you or your opponent (or the computer) telling defenders to pile on.
It'll be interesting to see if this means more players will get hurt — or if there will be fewer injuries since referees are more inclined now to stop a play if a runner's progress has been stopped by a bunch of defenders pushing him backward.
EA also has created better pocket protection. Forever in "Madden" games, your best option as a quarterback has been to run backward or sideways from the line, to avoid defensive linemen. But now if you run out of the pocket, you're a little more likely to get sacked.
If you win the Super Bowl, you can finally get a ceremony. And EA promises the most intense online enhancements ever.
The Friday release retails for $60 for Xbox 360 and PS 3; $50 for Wii; $40 for PSP and PS 2. It's rated "E."
The karaoke game, "SingStar Queen" (Sony), plays homage to Queen, one of the most influential and skillfully melodic rock bands of the 1970s.
As in previous "SingStar" games, this one comes with full music videos. Words to classic Queen hits scroll on the bottom of the videos. You sing along. And a pitch meter constantly judges your vocal abilities, as measured right there on the TV screen.
I'm just going to admit that my favorite two artists of the 1970s are David Bowie and Queen, so you know where I'm coming from when I declare this one of my own most anticipated karaoke games so far.
Freddie Mercury's powerhouse of a rock-operatic voice was voted second-greatest of all time (behind Mariah Carey) in an MTV2 poll in 2003 — nearly two decades after his death.
In "SingStar Queen," you sing along with him and the band to 20 songs, including "Under Pressure," "We Will Rock You," "We are the Champions," "Another One Bites the Dust," "Bohemian Rhapsody," "Crazy Little Thing Called Love," "Somebody to Love," "You're My Best Friend" and "Fat Bottom Girls." The PS 3 version comes with a handful of extra tracks.
The game retails for $40 for PS 3 and $30 for PS 2. It's rated "T" for alcohol and tobacco reference, mild lyrics, mild suggestive themes.
— By DOUG ELFMAN