Wine of the Week: 19 Crimes Red Wine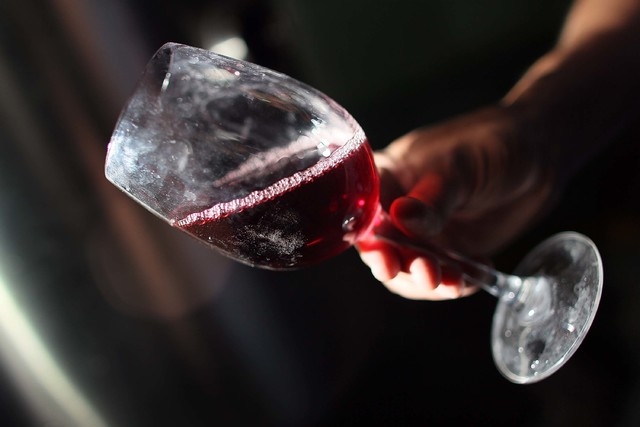 Wine: 19 Crimes Red Wine
Grapes: Shiraz, pinot noir, grenache and cabernet sauvignon
Region: Southeastern Australia
Vintage: 2014
Price: $8.99
Availability: Lee's Discount Liquor
In the glass: 19 Crimes wine is a deeply opaque blackish-red color with streaks of purple in the center going out into a dark ruby-red rim definition with medium-high viscosity.
On the nose: The wine exudes tremendous ripe crushed blackberry fruit, including boysenberry, black currant and elder fruit. Then there is some creme de cassis, faint oak references, vanilla custard, creme brulee and fruit-driven minerals with just a touch of "heat" as well.
On the palate: There is impressive concentration with gobs of jammy black currant, boysenberry marmalade, concentrated extracted blackberry fruit — featuring superb balance with the fruit and tannins in complete harmony — and then nicely complemented by minerals and a hint of star anise. The midpalate is a firmly structured and seamless fruit effort with excellent delineation going into the lengthy finish that shows blackberry extract throughout, even hints of sweetness.
Odds and ends: The British government began transporting criminals to Australia in 1788, when the first ship of mainly petty thiefs and political prisoners arrived to serve their time at this faraway penal colony. These criminals went on to found the first settlement, called Sydney, and then later Adelaide. About the time that Britain stopped this practice in 1868, vines were planted not far from Adelaide in the Barossa Valley. Knowing the history, the label of the wine makes more sense, referring to the 19 offenses that got people a one-way trip Down Under. In any case, this is an interesting and delicious wine, blended from a highly unusual mix of French grape varietals. I do like lighter styles of wine for the summer months. Paired with red meat, this is an utterly affordable great red wine. Drink it now through 2018.
Gil Lempert-Schwarz's wine column appears Wednesdays. Write him at P.O. Box 50749, Henderson, NV 89106-0749, or email him at gil@winevegas.com.