'Always enjoy the wins': How Jane Lynch finds the glee in each day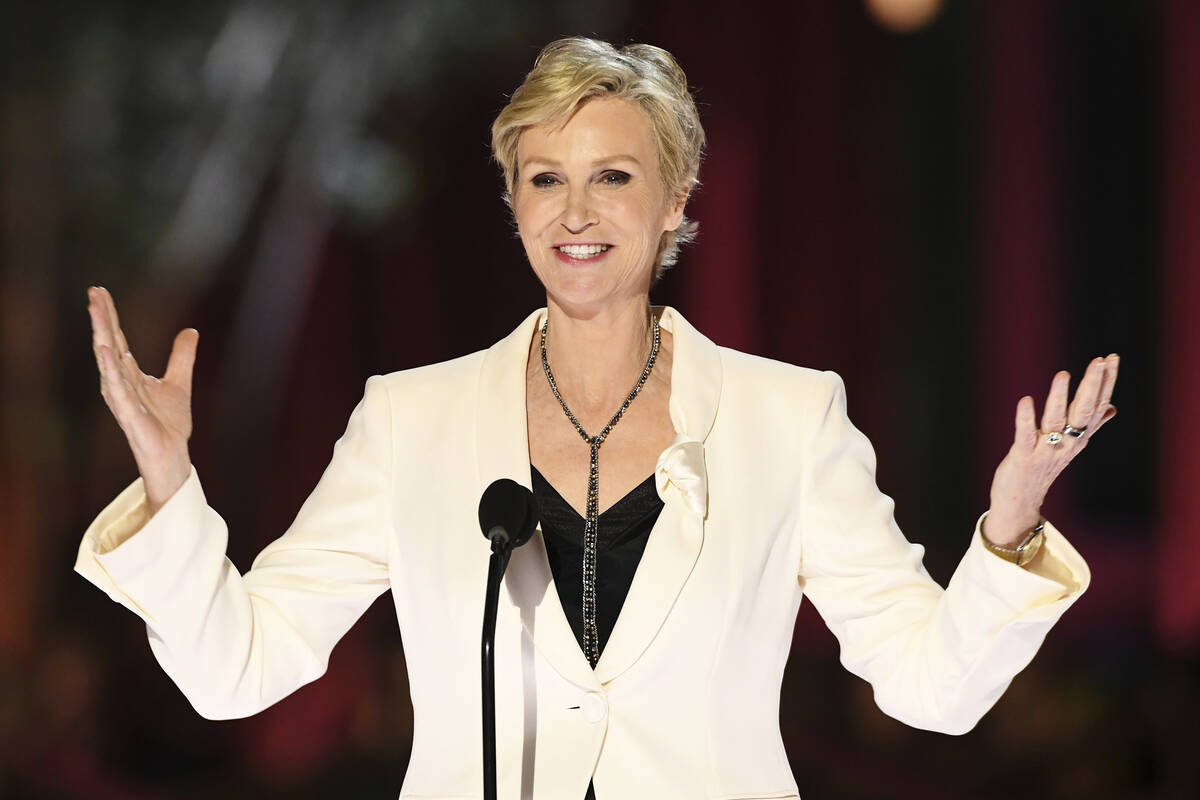 She has a way with words that turns them into therapy.
To wit: The other night, one of the most recognizable faces on TV was out walking her dog and said to herself and the canine, "God, I love being Jane Lynch."
And Lynch meant it.
The 62-year-old scene-stealing star of movies such as "Best in Show" and "The 40-Year-Old Virgin," and whose TV credits include tyrannical cheer coach Sue Sylvester on "Glee" and snarky host of the game show "Weakest Link," has always loved her life — the good and the bad.
"You lament the nos and savor the yeses. That's my biggest good life tip," the actress says over Zoom on a warm day in Los Angeles.
"One moment at a time, one play at a time, one show at a time," she says, stating her mantra. "Whatever you do in life, if you take it by the moments and search for something good in them, then you're having a good day."
Lynch's newest call to action involves lending her voice to Apple's new creative TV spots airing on streaming and other platforms about an important topic: health data privacy. The spot tells the fictional story of people whose health information shared with a third party, voiced by Lynch, and unfortunately made public thanks to breaches involving sensitive personal information.
"Health data privacy is key in this information age where so many of us live our lives online," Lynch says. "I don't know about you, but it's private information. I don't want anyone to know I've only taken 57 steps today!"
She takes those steps in what she calls "a little beach town," where Lynch lives with her wife and dog. Her other good life advice:
Keep it private
"I did those Apple spots because they were comical but also important, because others can troll our personal health information," she says. "It's actually a very serious problem since most of us assume there is some privacy and protection having personal health data online. You think if it's on a health app then it's protected, but in many cases it's not."
"We live in this era of oversharing on the internet. You have to remember that you're sharing this information online and it goes everywhere," Lynch adds. If you tell too much at a party, it usually just ends there, unless someone is taking notes, which they never do. On the internet, it lives forever."
Health is wealth
"Physically, I'm obsessed," Lynch says. "I watch my sleep, get my bloodwork done and go crazy with what I eat. I was a vegan last year. Year before, I was a carnivore. I'm trying to find some sanity with it."
"I do like to walk, but then I worry that I'm not getting enough of an upper body workout," she adds. "I like yoga because you use your own body weight and it has been around for about 100,000 years. And I think doing yoga is a great way to go into late middle age."
No-stress zone
"I don't get stressed anymore," she says. "I don't know if I just don't care or I'm just over stressing, but I don't let it get to me."
How can others get to this point in life? "I do meditate," Lynch says. "It's helpful in about 100 million ways. I find meditation is a very good, easy and simple way to start your day. I know it's hard for many people to sit still for 20 minutes, but I promise you will get there."
Keep your dream alive
The daughter of a banker father and a homemaker/secretary mother, Lynch grew up in the small Chicago suburb of Dolton, Illinois. "I knew what I wanted to do with my life, and I was told it probably wouldn't be possible," she recalls. "The drive was so strong in me that I took it one day at a time and I vowed to love that day because it brought me one step closer to my dream."
She had to struggle for her moments in the spotlight. "I would do something I thought was funny and everyone would just roll their eyes," Lynch says. "I was like, 'Somebody, please see me!' "
She attended the acting program at Illinois State University and then began auditioning for roles in New York. "I did what was in front of me and enjoyed it," Lynch says. "And I stopped pointing so hard toward a goal and just lived my life happily. I was an actress."
Manifest your success
"I felt I made it before I made it. That was the key," she says. "There was a part of me that often wanted more, but later I actually missed that girl in the little red car running around to auditions."
Choose thrills over comfort
"I don't do sports, but I have always been a Chicago Cubs fan," Lynch shares. "And I did step out of my comfort zone to throw out the first pitch at Wrigley.
"I did it on the fly, which not many people do. But that was fine, because as a kid, I played hardball in the park and in my backyard. I just never did it in a major league ballpark before that day, which was actually thrilling."
Believe
"With most things in life, you must relax and know it will be fine," she says. "You can't live in the mold of, 'I'll never get this' or 'I can't' or 'It's not fair.' Shouldn't isn't a battle cry. Think in terms of, 'Why not me?' Try a little positivity every day. And always, always, always enjoy the wins."
Find your happy
Does she miss being part of the beloved series "Glee"? "I'm not missing it. I'm relishing it," Lynch says. "It did great things for old and young people during the pandemic. I've heard from so many who said that show helped to get them through those times. … There's nothing like the power of music. It's called 'Glee' for a reason."