Superbloom or not, Death Valley beckons in springtime — PHOTOS
Updated March 3, 2023 - 11:48 am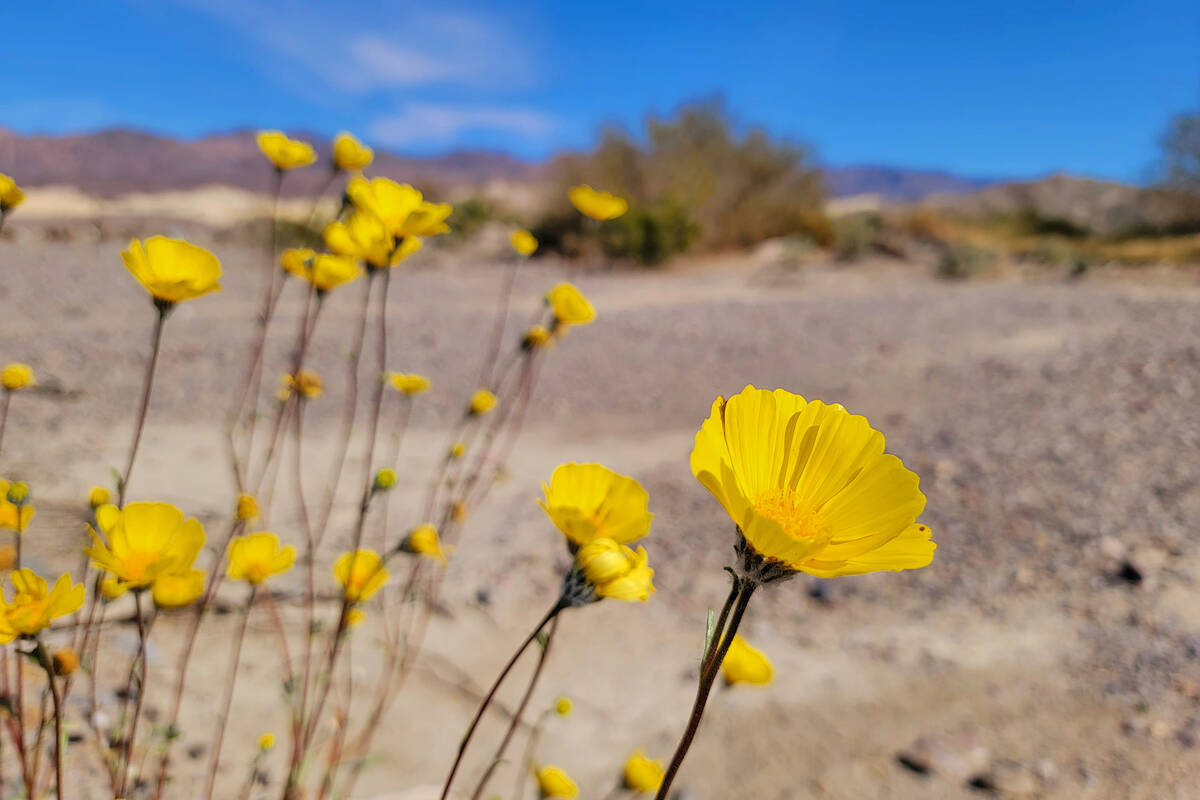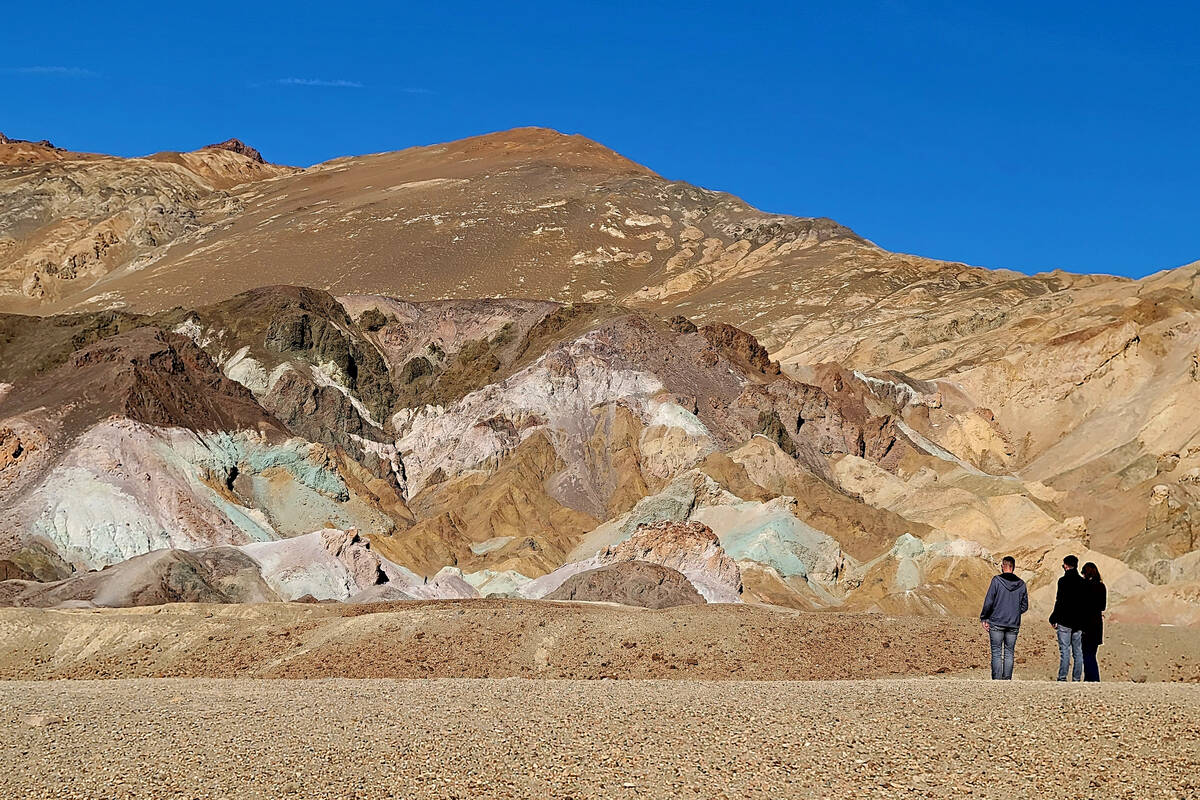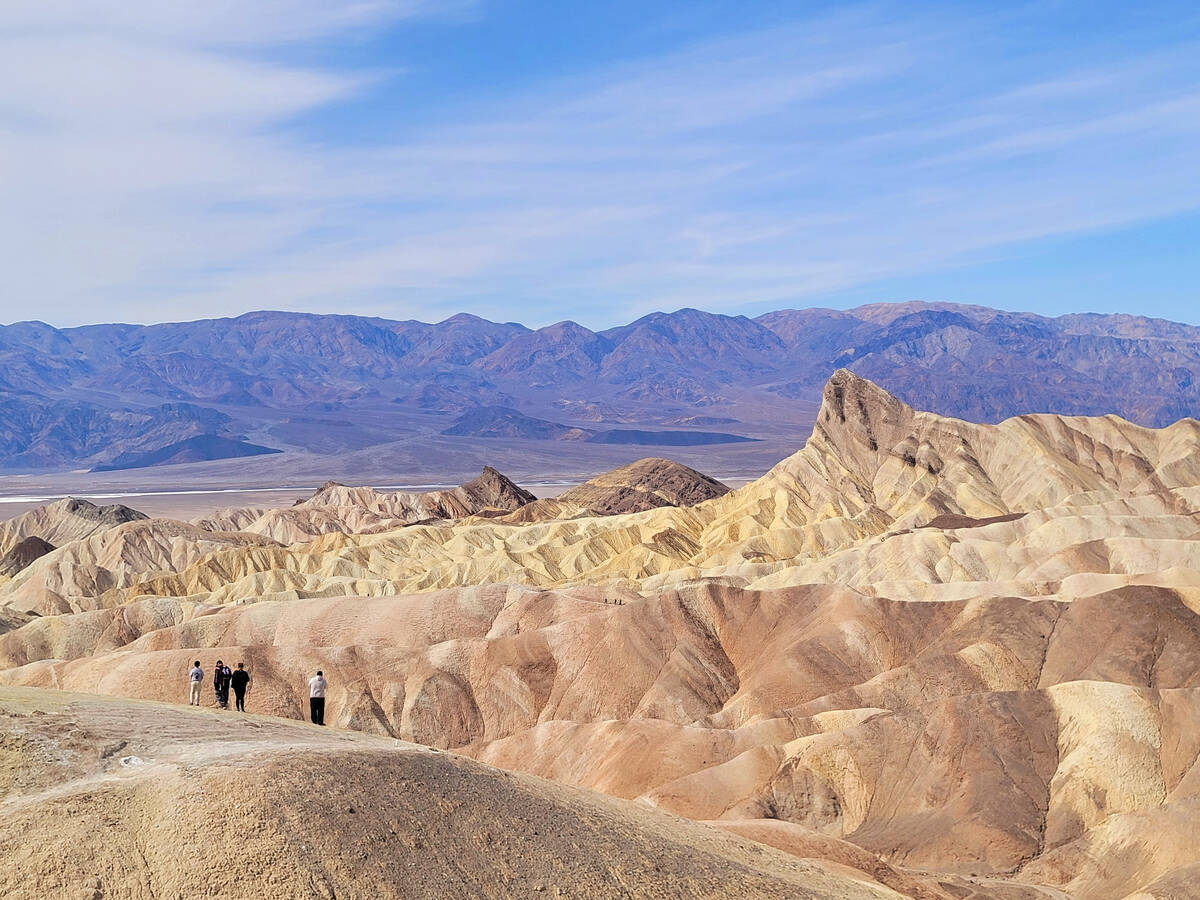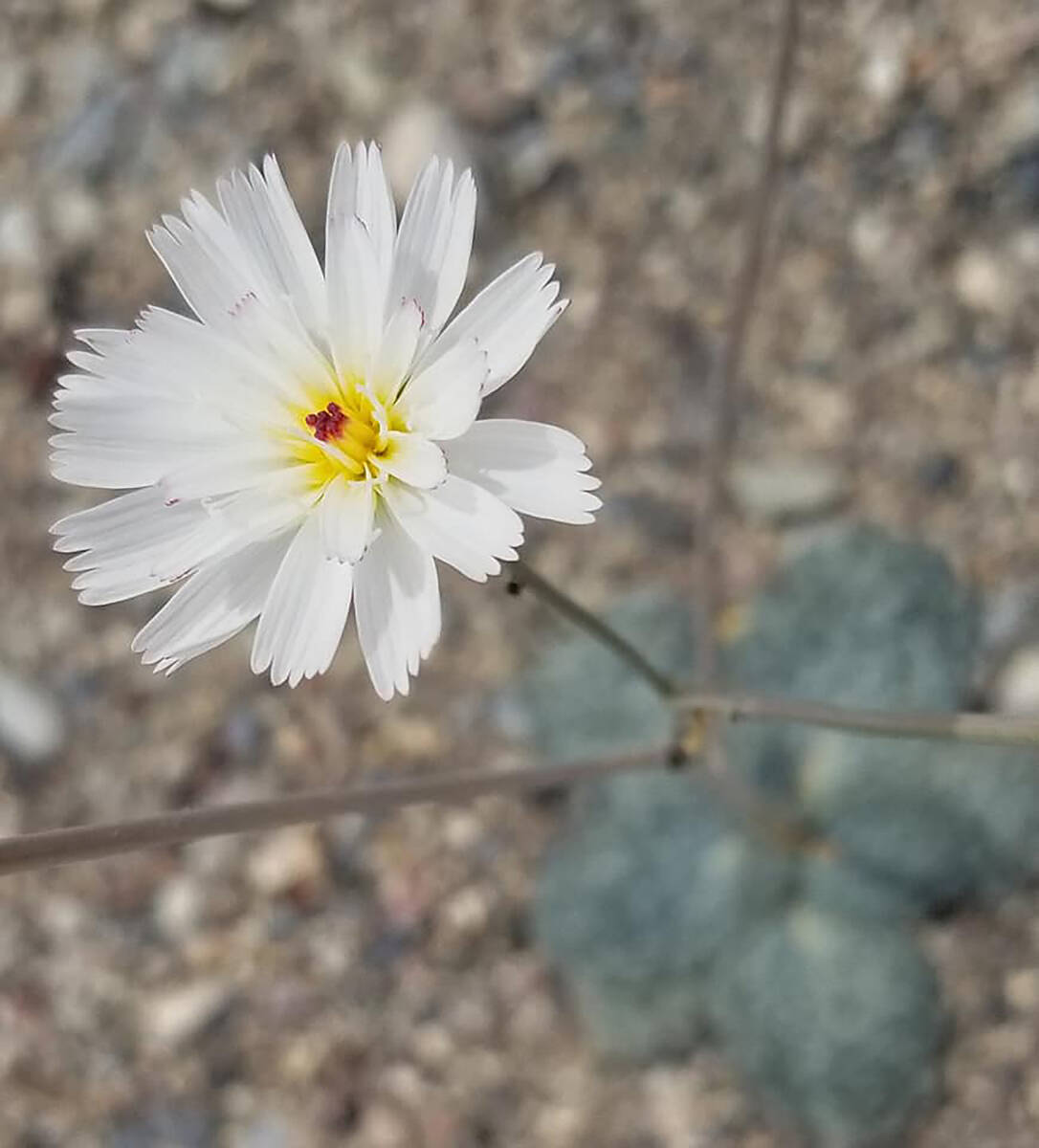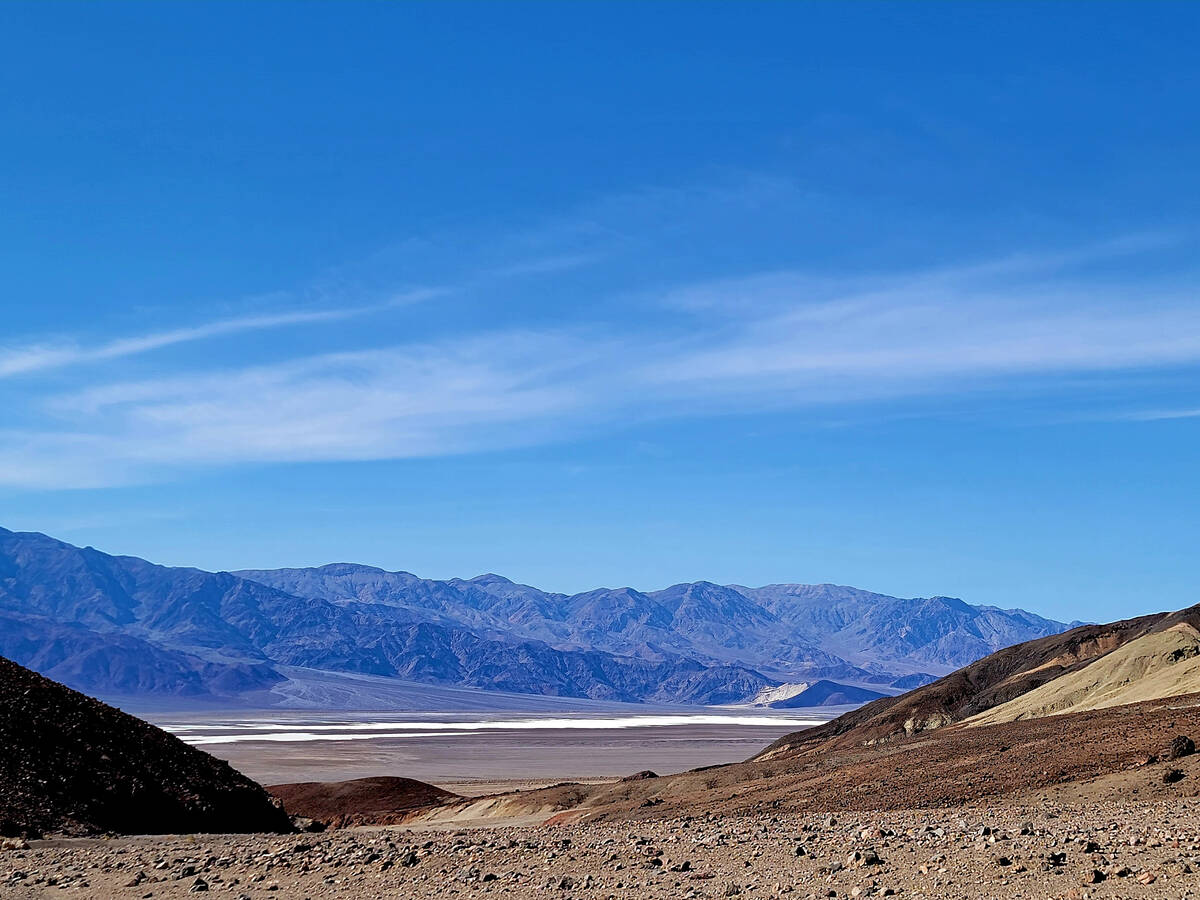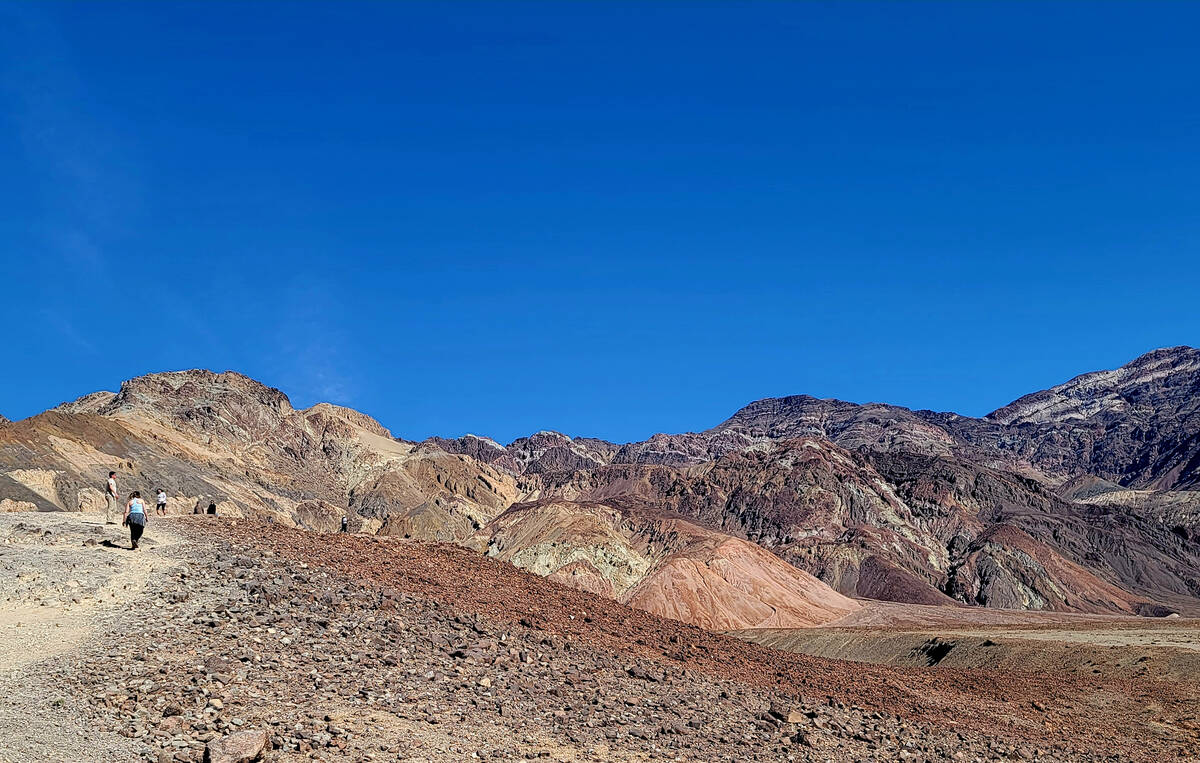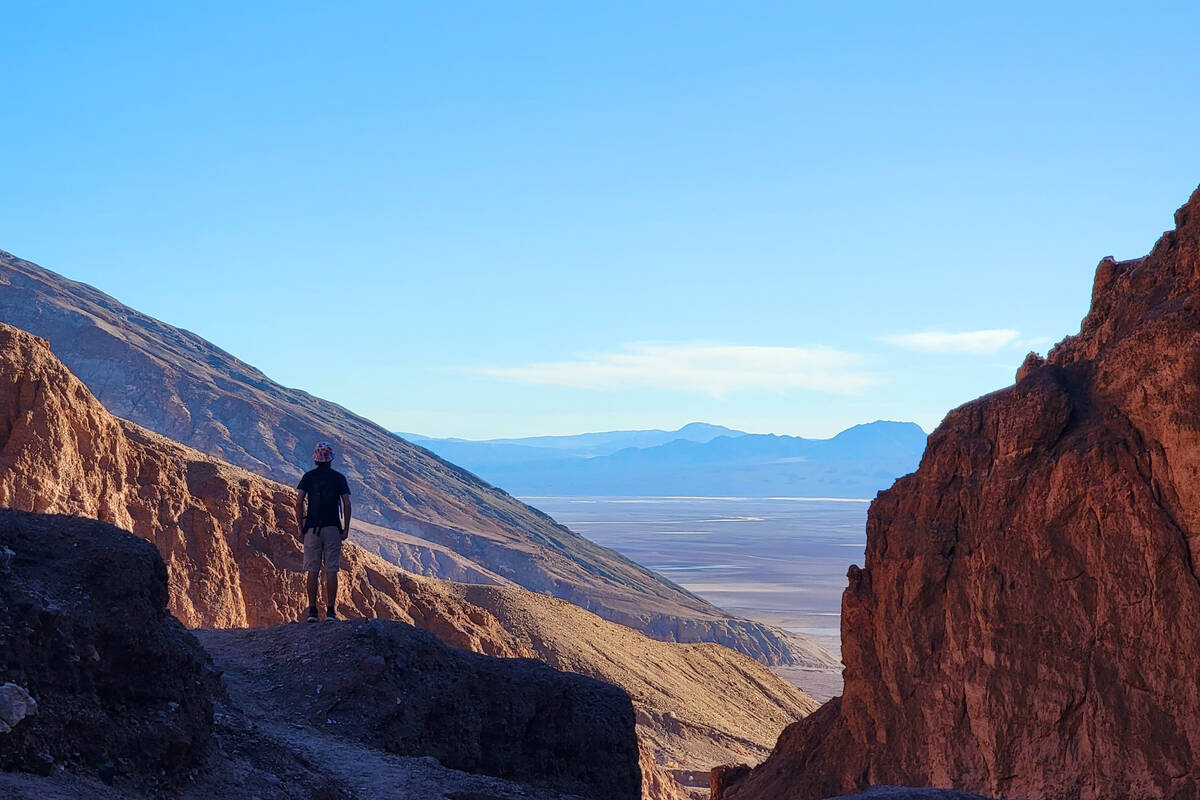 Fields of ephemeral wildflowers aren't expected this year at Death Valley, but the nearby national park's rock-solidly stunning geology never takes time off.
While superblooms and the color they add to life in Death Valley are always welcomed sights, the forecast absence of one in 2023 shouldn't stop Southern Nevadans from making a two-hour trip there while temperatures remain manageable through March and April.
Death Valley National Park has an otherworldly vibe and oddities that include a chance to gawk at an exquisitely artistic assembly of volcanic remnants and an opportunity to stand 282 feet below sea level at Badwater Basin, the lowest point in North America. The mostly California park with sections stretching into Nevada is the largest in the Lower 48 and, famously, has recorded Earth's highest official temperature of 134 degrees.
For most visitors, a day trip from Las Vegas begins on Nevada Route 160 through Pahrump and toward Bell Vista Avenue on the outskirts of Pahrump. Bell Vista takes drivers past Ash Meadows National Wildlife Area and then unnoticeably switches names to State Line Road on the approach to Death Valley Junction, where you'll turn right on California Route 127 for a very short distance until a marijuana dispensary and warehouse come into view on the left. Take that left turn onto California Route 190, which leads to the east entrance of Death Valley National Park. Many visitors take photos at the park's sign, and moments after crossing the park's boundary there's a spot to stop for restrooms and to pay admission ($30 or show a park pass). Another benefit of this stop are the wildflowers that could be blooming around the parking lot and in the dry wash area behind it.
Death Valley is too big a place to cover everything during one visit, but much can be checked off a day-trip list and then goals like the Mesquite Flat Sand Dunes could carry over for next time. A planned-out patchwork of short hikes might add up to 3 miles of exercise by day's end, and some sights can be appreciated from the car by anyone who's not comfortable with climbing, ambling over rocky terrain or getting their shoes dusty or salty.
Here's a suggested itinerary, starting with Badwater Basin, if getting below sea level on land is a priority, and ending with Zabriskie Point, where afternoon light is magical.
Badwater Basin
If you arrive at the park by 9 a.m., exploring the expansive salt flats first makes sense because parking is limited, and this surreal spot stays crowded throughout much of the day. To reach the boardwalk that leads over parts of the crunchy, strange, salty surface, drive on California Route 190 until you reach its junction with Badwater Road. Head south on Badwater Road for 17 miles. A sign near the start of the boardwalk alerts visitors they are 282 feet below sea level. There's an option to continue walking on the salt flats past the boardwalk's end. At some point, for perspective, take a look back toward the parking lot to read "sea level" written high up on the cliffs of the Black Mountains. Walking across more of the Badwater Basin (easy 1.5- to 2-mile round trip) will mean close encounters with salt polygons, remarkable geometric designs made by groundwater surfacing through salty deposits before evaporating.
Natural Bridge
Backtracking north on Badwater Road toward Furnace Creek, motorists will soon spot a sign for Natural Bridge and its parking area. The hike up a wash to that impressive geologic formation and back is about 1 mile and is worth the effort because of the reward — walking under a rock bridge that's about 35 feet above the canyon floor. Having boots on the ground inside a Death Valley canyon can result in a better understanding and appreciation of this otherworldly landscape. Views of the salt flats and the towering Panamint Mountains are part of the package, and so is limited shade from canyon walls, depending on the hour of the day. For those wanting more hiking time, Golden Canyon is an excellent alternative to Natural Bridge, although parking spots can be hard to come by.
Artists Drive
Continuing north on Badwater Road toward Furnace Creek, motorists will see the entrance to the one-way, 9-mile Artists Drive Scenic Loop, which rangers have marked as a "do-not-miss" attraction in the park's visitor guide. The paved road itself is a thrilling Mario Kart-style adventure in more subdued desert colors with road dips, dramatic curves and narrowing canyon walls (vehicles longer than 25 feet are not allowed). There are safe pullouts for stops along the winding drive through eroded hills that quilt together browns, tans, whites, oranges and reds with sudden brilliant bursts of pink, turquoise, purple, green and yellow. The most important stop on Artists Drive is called Artists Palette. From a distance the palette looks like a mural depicting the magic of color, but visitors can also walk right up to hills created by deposits of volcanic ash and remnants that differ in hue because of oxidation of their various mineral compounds. Whether seeing Artists Palette's spectacular collection of color from the comfort of a car or exploring it by foot, visitors will gather strong evidence to defend Death Valley if anyone calls it a barren wasteland.
Furnace Creek Visitor Center
Badwater Road's northern end meets California Route 190. Head north on the highway to Furnace Creek Visitor Center, which has limited picnic space, rangers to answer questions, an indoor theater showing a film about Death Valley, a gift shop, restrooms and the possibility of seeing wildflowers benefiting from the building's shade and a greater chance of getting water. Supplies, expensive gas, meals and ice cream may be purchased nearby at Furnace Creek shops and restaurants. Make sure not to bring the family pet, but do pack a lunch, snacks and a gallon of water per person.
Zabriskie Point
The final stop on this potentially exhausting day-trip itinerary is Zabriskie Point on your way out of the park via California Route 190. After overcoming the challenges of finding a parking spot and walking uphill a quarter-mile on a paved path, Zabriskie Point offers a perch with stunning looks at striped yellow and brown badlands directly below as well as faraway Badwater Basin and the Panamint Mountains, including 11,049-foot Telescope Peak. The water-eroded designs and striped patterns of the badlands are mesmerizing, especially with changing light and shadows as sunset approaches in Death Valley.