1,500 to graduate from Western Governors University in Las Vegas
Updated June 1, 2018 - 1:05 pm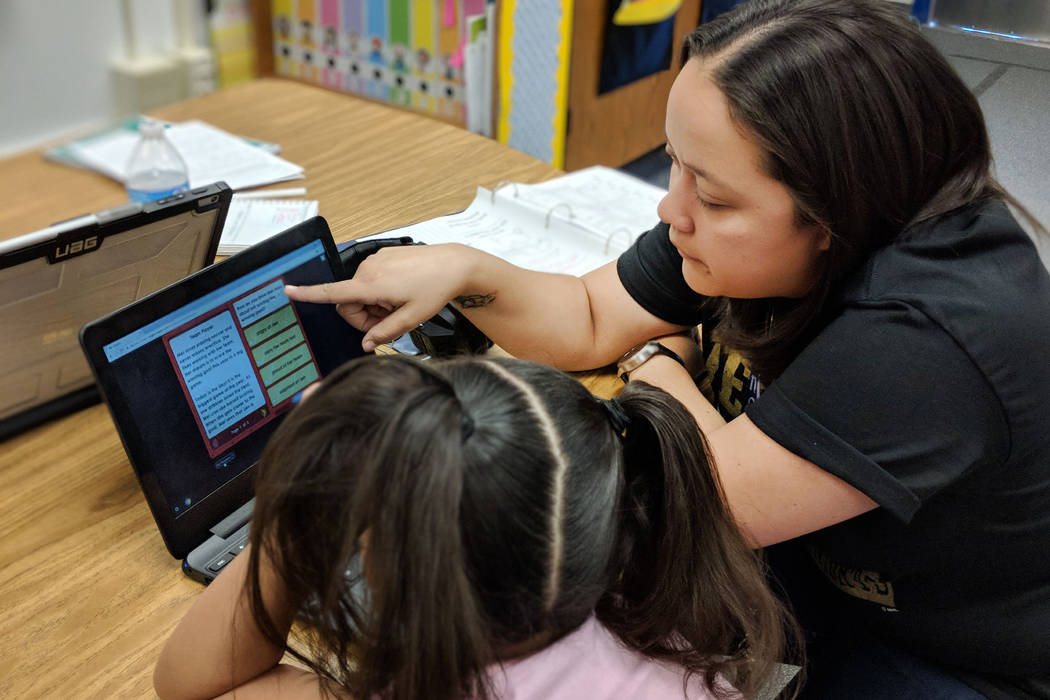 The walls around the first grade classroom were filled with pictures depicting both English and Spanish translations.
It was how Blanca Martinez navigated her new environment.
"I went straight into first grade with my sister, but nobody spoke the language (Spanish)," she said. "I remember crying a lot in my classrooms."
But with the help from and patience exhibited by her teacher, the 6-year-old Martinez became fluent in English in half a year — and developed an appreciation for the teaching career.
"It was the first time I remember wanting to be a teacher, and that never went away for the rest of my life," Martinez, now 31, said.
She has made similar connections with her own students as a second-grade teacher at Vail Pittman Elementary School in North Las Vegas. And she's one of more than 1,500 graduates who will attend on Saturday a regional commencement ceremony for Western Governors University.
"It really speaks to the transformative power of education," WGU Nevada Chancellor Spencer Stewart said of Martinez's story.
WGU Nevada — an affiliate of WGU — will host a master's and bachelor's degree graduation ceremonies at the Thomas & Mack Center at UNLV, at 9 a.m. and 2 p.m. It's the first year that WGU — an online university that features competency-based curriculum — is hosting regional commencement ceremonies.
"This is a such a milestone for our graduates that many of them will travel great distances to be recognized," Stewart said.
The most recent regional commencement was held in Seattle.
"What has been fascinating to me, having spent the better part of my career in higher education, is instead of hearing the customary calls in the audience of 'that's my son, that's my daughter,' the difference at our ceremony is that you hear, 'that's my mom, that's my dad, that's my aunt, that's my uncle,"' Stewart said. "It's very memorable, heartwarming to see these families recognizing the work of parents, the older generation."
While Martinez doesn't fit into that group, her educational journey hasn't been without tribulation.
She was the first in both her immediate and extended family to earn a bachelor's degree. But because she wasn't yet a U.S. citizen, and therefore couldn't pass the required background checks, she had to change course midway through her studies at Nevada State College.
Instead of graduating with her teaching license in hand, she earned a degree in English in 2009.
"I was pretty lost because it wasn't the degree I wanted," Martinez said. "On the one hand I was happy I had a degree, but on the other, I didn't know what to do with it."
She gave private tutoring lessons and taught English to adults at the Uceda school in Las Vegas. But it didn't feel right.
"I wanted to teach children — I always wanted to be a school teacher," she said. "It reignited my hopes, but it still didn't seem possible because I wasn't a citizen."
Martinez began her path to citizenship in late 2011 when she received a green card through marriage, and received U.S. citizenship three years later. She then entered the Alternative Route to Licensure program offered by the Clark County School District, and began teaching children in February 2016.
She'll walk across the Thomas & Mack Center stage on Saturday with her master's degree in teaching kindergarten through eighth grade, and this summer, she'll begin the process of removing the conditions from her three-year teaching license.
"It feels like a complete 360," she said. "And it feels like déjà vu for me. I can do the same things for my students that my teachers did for me."
Contact Natalie Bruzda at nbruzda@reviewjournal.com or 702-477-3897. Follow @NatalieBruzda on Twitter.
By the numbers
• 12,005 students have completed bachelor's and master's degrees at Western Governors University, including 292 students of WGU Nevada, a state affiliate.
• Average age of graduates: 38
• 90 percent of graduates are 27 years of age or older
• 72 percent are female; 28 percent are male
• Since its founding, WGU has awarded more than 110,000 degrees