CCSD is considering 3 options for later school start times
Updated September 22, 2023 - 3:46 pm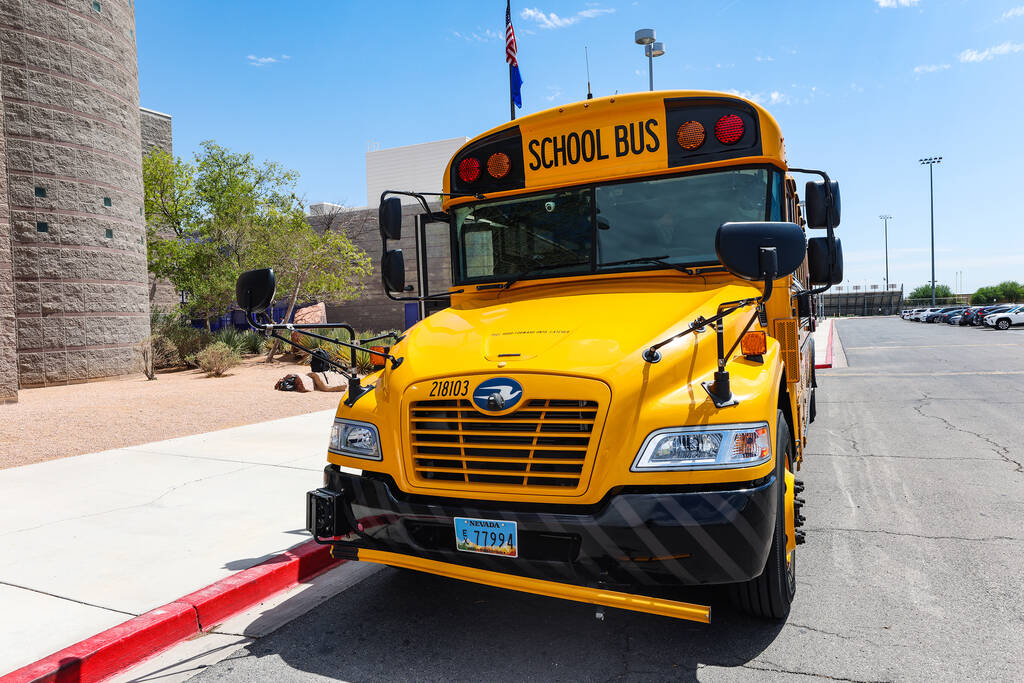 The Clark County School District is considering three options for later school start times in response to a proposed new state regulation.
School Board trustees are scheduled to hear an information-only presentation on Thursday.
Options include pushing start times forward by one hour, switching high school and elementary times, and consolidating the current three-tier bell schedule into two tiers.
Earlier this month, the Nevada State Board of Education approved draft language for a regulation that would require high schools to begin no earlier than 8 a.m. Proponents argue later start times would lead to better student outcomes.
If approved, a gradual implementation — beginning with 35 percent of high schools in each district complying or offering alternative options — would start during the 2024-25 school year.
Changes would apply to school districts and public charter schools. Districts would be allowed to apply for a waiver.
The district said in a Friday email to the Las Vegas Review-Journal: "Due to the need for more clarity around the proposed regulation by the State Board of Education, trustees will receive a presentation regarding the numerous issues a rushed decision like this will create."
"Southern Nevada families are unaware of this proposal and the impacts such a decision will have on students, student transportation, extracurricular activities, workers, employers, and traffic patterns," the district wrote.
"The enormous unfunded mandate imposed on districts to comply by the State Board and the Department of Education will negatively affect our families and the entire community," the district wrote. "This is why the public must be informed transparently."
The district also alleged the State Board of Education doesn't have "regulatory authority" to impose the decision on districts because it "violates local authority prescribed by state law."
State Board of Education President Felicia Ortiz said Friday that she notified the district that its presentation — which is posted online — doesn't include updated regulation language.
The language is from a draft regulation the board considered but doesn't reflect changes that were made.
Ortiz said she also notified the district that the proposed regulation only applies to high schools.
She said she feels the district's presentation is missing the opportunity for options. "It doesn't have to be an all-or-nothing situation."
Ortiz said the district is thinking about it a little too linearly instead of "more creatively" and the presentation excludes the possibility of applying for a waiver.
Draft regulation language was sent to the state's Legislative Council Bureau.
But it would have a "significant impact to the CCSD community and families," according to online meeting materials.
Option B would mean a 10 a.m. start time for high schools, 9 a.m. for middle schools and either 8 or 9 a.m. for elementary schools.
The district says it would need to buy 52 more school buses and hire 52 bus drivers. It would cost an estimated $11.6 million initially, followed by $2.9 million in annual costs.
Option C proposes having a two-tier bell schedule, with high schools starting at 8 a.m. and elementary schools at 9:30 a.m. Some middle schools would begin at 8 a.m., while others would start at 9:30 a.m.
It would require hiring 450 more bus drivers, buying 450 buses and building a new bus facility.
The district estimates it would cost $145 million initially and $23.2 million annually after that.
"The implementation cost of this option would be substantial," according to meeting materials.
Ortiz said that out of the district's three options, Option B — switching high school and elementary start times — was the most appealing to her.
The $3 million annual cost is less than 5 percent of the district's total transportation budget currently, she said, for something that could result in better outcomes for students.
That could include fewer mental health and safety issues that would also benefit the community in general, Ortiz said.
She also said the cost of buses could be spread out over a three-to-four-year implementation timeline.
Possible service reductions
The district also could consider service reductions to partially offset increased transportation costs resulting from start time changes, according to meeting materials.
That could include increasing the "walk zone" to 5 miles for general education transportation services. It's currently 2 miles.
It means the district wouldn't provide bus transportation unless a student lives five miles or more from their zoned school. That would eliminate 293 bus routes.
Five miles is "in alignment with comparable large urban districts," according to meeting materials.
Another option is eliminating transportation for magnet schools, and career and technical academies. That would cut 107 routes.
The Clark County School District, which has about 300,000 students, has the nation's largest district-owned-and-operated bus fleet. It has 1,421 routes.
Contact Julie Wootton-Greener at jgreener@reviewjournal.com or 702-387-2921. Follow @julieswootton on X.