CCSD to consider new two-year contract that may ease chronic teacher shortage
January 9, 2016 - 5:41 pm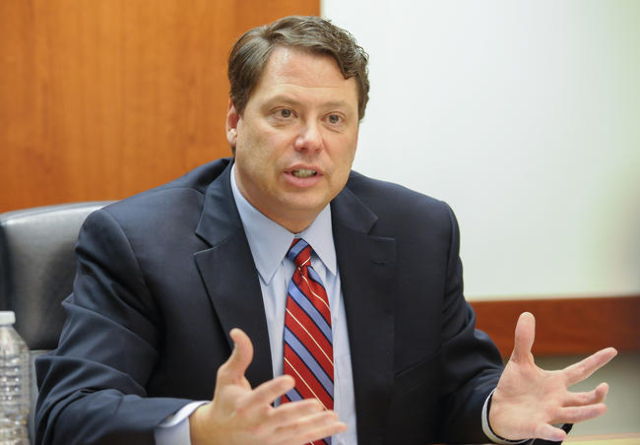 It only took six months, dozens of teacher rallies and quiet intervention from Gov. Brian Sandoval before the Clark County School District and its teachers union struck a deal on a new contract that will cost taxpayers $135.5 million.
That hefty package — the details of which only became public on Friday — now heads to the Clark County School Board for approval on Thursday.
District officials have expressed confidence that the proposed two-year contract, which includes four pay raises over the next nine months and a 15 percent bump in the starting salary for new teachers, should help solve the chronic teacher shortage in Southern Nevada.
Nonetheless, Superintendent Pat Skorkowsky kept his answer brief when asked Friday where he found $135.5 million in the district's cash-strapped budget.
"Cuts," Skorkowsky said.
"It's a two-year deal, which gives us the opportunity to plan a little better for next year, but we did make cuts in some areas," he added. "We realized that we had to do what we have to do to get the teachers in the door."
'Better than nothing'
In late December, the day after schools closed for winter break, members of the teachers union attended a last-minute meeting to ratify the proposed contract.
About 88 percent of members in attendance — representing roughly 5 percent of the 18,000 teachers who work for the Clark County School District — voted in favor of the deal.
"It's better than nothing," said Mari Finn, who works at Fremont Professional Development Middle School.
If trustees approve the contract, teachers first will see a one-time boost in their Feb. 25 paychecks to reflect retroactive raises for the beginning of the 2015-16 school year. A new salary schedule then goes into place March 1, with all teachers placed at a higher level than their current salary.
The district also will provide a 2.25 percent cost-of-living adjustment effective July 1, and teachers again will bank a raise when a second salary schedule starts in August.
Compared to the existing salary schedule that starts at $34,637 and tops out at $72,331, the proposed changes would offer a minimum salary of $40,900 and a maximum salary of $90,877.
To afford the wage hikes, district officials will cut $11.5 million from a deferred maintenance budget, leaving only about $3 million to pay for safety, playground and other necessary facility repairs.
The district also will trim approximately $6 million from a human resources and payroll management system.
Jim McIntosh, chief financial officer for the district, said employee attrition will provide the "bulk" of savings to pay for the new teacher contract and that most revenue gains from per-pupil funding and property taxes next year will go directly toward paying for the collective bargaining agreement.
McIntosh also deflected concerns that the costly agreement would provide a financial incentive to keep nearly 700 classroom vacancies unfilled.
"The superintendent and board's goal is to fill every vacant classroom position," he said.
"If we end up in a deficit, we will work the state to find solutions," McIntosh added.
'A game changer'
As for the teacher shortage, union leaders believe the proposed contract already has made an impact.
John Vellardita, executive director of the Clark County Education Association, which represents teachers, said the union has fielded questions about the new salary schedule from educators in California, Texas and other states with much more competitive pay structures.
"These aren't people looking for work," Vellardita said. "They are currently employed but heard about the salary schedule and asked how it works.
"They've seen the entry and top pay but want to know how someone can advance on that," he said. "We've never got inquiries like that before. That's a first."
Asking the same question, many educators who currently work for the district have taken to social media in recent weeks trying to make sense of a contract proposal that overhauls the way teachers earn higher pay beyond staying for an additional year.
Under the proposal, teachers must develop a so-called professional growth plan and submit it to their supervisors for approval.
The plan requires 675 off-the-clock hours of participation in professional development courses but, once completed, that offers a potential salary bump ranging from $3,963 to $7,926 within a two- to four-year timeline. The final amount depends on whether teachers work in at-risk schools or become a "master practitioner."
While some teachers have complained the plan is too burdensome or confusing, Vellardita described it as a "game changer."
"It's a different way of recognizing that these teachers are professionals and should be treated as professionals, like a lawyer and a doctor," he said. "They have degrees, they have to be re-licensed (and) they have to be certified, but what happened before is they never got paid for that.
"That's why it's a game changer, and there will be growing pains, but two years from now, people will say, 'I get it and I'm doing okay with this.' That I'm confident of," Vellardita said.
Contact Neal Morton at nmorton@reviewjournal.com or 702-383-0279. Find him on Twitter: @nealtmorton.