Clark County School Board gets first look at gender-diverse policy draft
Updated June 15, 2018 - 12:32 am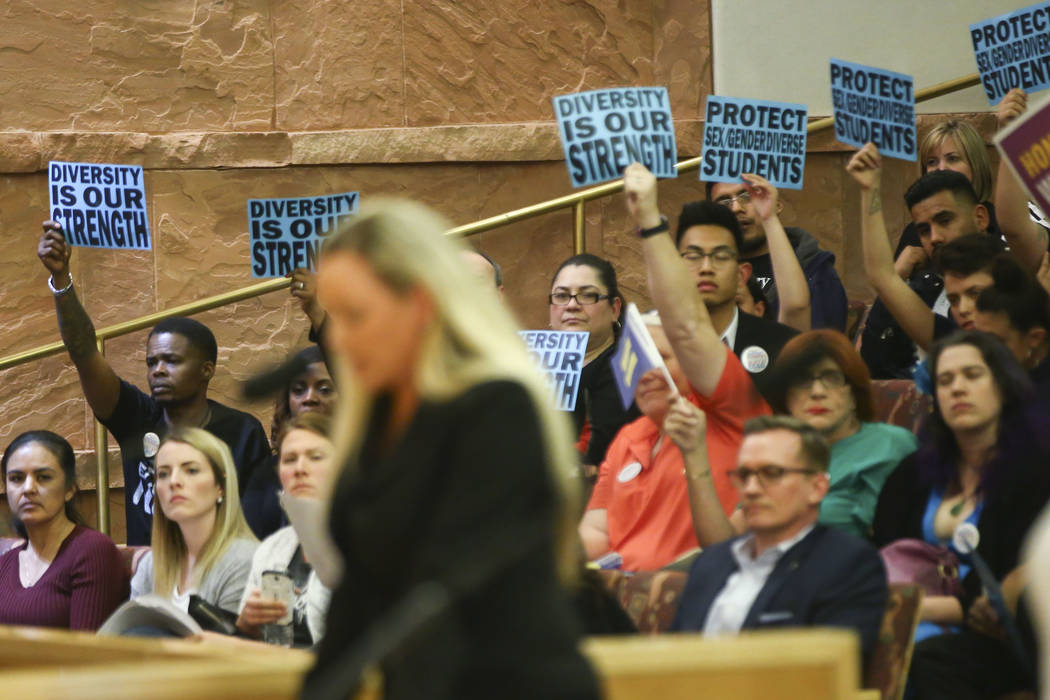 Formal guidelines for how Clark County schools should handle students with diverse gender expressions moved one step closer to becoming reality Thursday, as trustees looked over draft policy language for the first time.
At 12:18 a.m., after hours of debate and a few suggested changes, trustees voted 4-3 to move the policy forward to another meeting in August, at which time trustees may take action on the policy. Trustees Deanna Wright, Carolyn Edwards, Lola Brooks and Linda Cavazos voted yes on the policy, while Linda Young, Chris Garvey and Kevin Child voted against the measure.
As in previous meetings, the discussion elicited high turnout and lengthy public comment from people on both sides of the issue.
Proponents of the policy urged swift action by the Clark County School Board, saying it's time to put the policy in place and move on.
"We have beat this horse to death; let's move on and decide what actions can be taken for those who have concerns," said Laura Hernandez, the family services coordinator for Gender Justice Nevada and the mother of a transgender student.
At the same time that proponents urged swift action, those against the policy told the board to take a step back.
"I do not see anti-discrimination safeguards in this policy that protect the right of my child," said Jennifer Ferry, who said she had an 8-year-old daughter. "I see an opportunity to step back and work together."
But Holly Welborn, policy director for ACLU of Nevada, said that transgender students are operating without equal rights.
"Until this passes, our trans students are living in a school environment where they don't have equal rights. That's why this policy is so important," she said.
Parents who oppose the policy repeatedly told the board they felt their suggestions and concerns were not being heard by the board, as evident by the draft policy.
"We want to be heard and we want to have a say. That does not make me a bigot, that does not make me hateful," said Mindy Davies, who identified herself as a mother.
State direction
The district's draft poli
cy comes after state Superintendent of Instruction Steve Canavero signed off last month on the state's policy and sent it to an interim legislative committee for final approval.
The state policy serves as a general guideline that districts must follow as they set their own policies.
Clark County school officials began gathering input on the topic before the state did, creating a working group in July after the law took effect.
At both the state and district levels, the subject of gender diversity has proved to be a lightning rod, with public comment lasting hours each time it came up. Advocates say the policy is necessary to provide consistent treatment of students at all schools, while opponents say such a policy would violate the rights of other students in some cases.
Contact Meghin Delaney at 702-383-0281 or mdelaney@reviewjournal.com. Follow @MeghinDelaney on Twitter.
What is a 'gender diverse' policy?
A law passed by the Nevada Legislature in 2017 required the state and school districts to develop "gender diverse" policies to address the needs of transgender students whose gender identity and/or expression differs from what is typically associated with their sex at birth. That includes students born male who have transitioned to female, those born female who have transitioned to male and those who don't identify fully with either gender.
The bill instructed state Superintendent of Public Instruction Steve Canavero to set basic guidelines for school districts to follow, which he did in May, followed by school districts setting their own, more detailed policies. That's what the Clark County School District is doing now.