Clark High School team wins Nevada Science Bowl
February 5, 2018 - 6:04 pm
Updated February 5, 2018 - 11:06 pm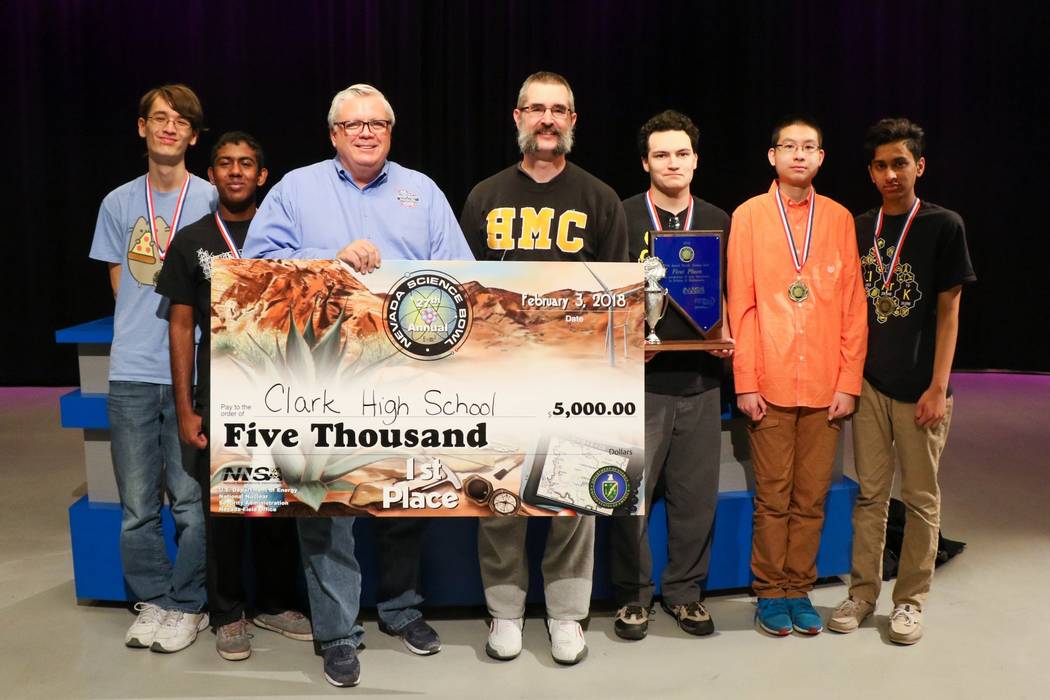 Clark County public school students swept the top spots at a regional science competition, and a team from Clark High School will represent the area at nationals in April.
Four students and an alternate from Clark High School won the 27th annual regional Nevada Science Bowl over the weekend for the first time since 2005. They bested 31 teams from 29 schools, including another team from Clark High School.
"The last two years we took second place. This year we managed to take first. It was a big thrill," said coach Chuck Bean, who teaches physics at the school.
The students on the winning team are Jay Desai, Brennan Ferrington, Ashish Kalakuntla, Jeff Luo and Alex Bean. In addition to earning $5,000 for the school's math and science department, the students will compete in Washington, D.C., in April.
Clark County schools took home the top five spots. Clark's first team was followed by Coronado High School, Palo Verde High School and Rancho High School. Clark's second team tied with Green Valley High School for fifth place.
Last year's champion, Davidson Academy of Nevada — a school for gifted students in Reno — was unable to take the top spot again, tying for seventh place. Darwin Morgan, a spokesman in the Nevada National Nuclear Security Administration field office, said the competition is cyclical. For the last two or three years, private schools have dominated.
"This was the year for the public schools in Clark County to come in and show their dominance," he said.
Students face off in nine rounds at the regional level, using a buzzer to signal answers to a variety of science- and math-related topics. It's similarly styled to the College Bowl, Morgan said.
The competition can help students develop higher-level skills needed for science- and engineering-related careers, Morgan said.
"For us, we need and we want for the future these scientific-minded students that when they graduate from college they come back. They're the kind of people we look for," he said. "We've got ulterior motives. We want to keep these kids interested in science."
Between now and April, Bean said, he plans to continue holding practices for his team. He sets up the practices as scrimmages or mock science bowls.
At the regional level, some of the questions were based on current scientific studies, so the students will have to brush up on that area, he said.
Bean has the benefit of having students who are inherently interested in math and science when they walk through his doors, since Clark has a math and science magnet program. Kids tend to be knowledgeable about niche topics, so he helps identify other areas to make sure all topics are covered.
"We do try to split up topics and give kids separate things to study," he said.
Contact Meghin Delaney at 702-383-0281 or mdelaney@reviewjournal.com. Follow @MeghinDelaney on Twitter.
Regional competition
Team of students from the following schools competed in the regional Science Bowl competition:
Advanced Technologies Academy
Arbor View High School
Bishop Manogue High School
Cedar City High School
Centennial High School
Clark High School (two teams)
Coral Academy of Science-Las Vegas
Coral Academy of Science-Reno
Coronado High School
The Davidson Academy of Nevada
Douglas High School
Faith Lutheran High School
Foothill High School
Green Valley High School (two teams)
Laughlin High School
Legacy High School
Liberty High School
The Meadows School
Northwest Career & Technical Academy (two teams)
Pahrump High School
Pershing County High School
Palo Verde High School
Rancho High School
Reno High School
Sierra Vista High School
Southeast Career & Technical Academy
Timpview High School
West Career & Technical Academy
Whittell High School