'Eager to help': Lombardo willing to get involved with teacher contract negotiatons
Updated August 29, 2023 - 12:53 pm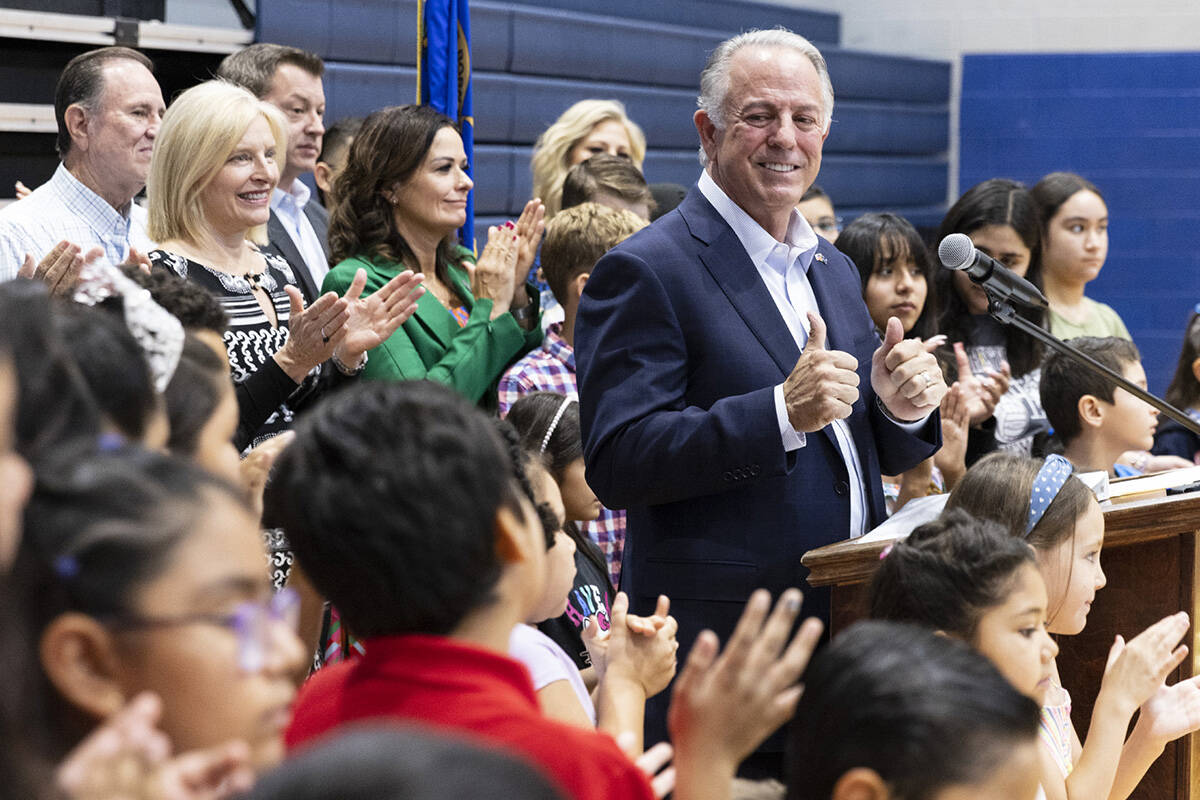 The Clark County Education Association reached out to Gov. Joe Lombardo to request his help facilitating teacher contract negotiations.
A governor's office spokesperson confirmed Monday that the teachers union contacted Lombardo.
"After providing record funding for education in Clark County, it's disappointing that negotiations between (Clark County School District) and CCEA have been unsuccessful so far," Lombardo said in a statement to the Las Vegas Review-Journal. "While I've always believed collective bargaining should be handled at the local level, I'm eager to help resolve this conflict in a way that best serves the children of Clark County."
The state Legislature appropriated more than $2 billion in additional K-12 public education funding for the next two years, as well as $250 million for school districts to give employee raises.
The teachers union — which represents about 18,000 licensed employees — held a members' meeting Saturday at UNLV's Cox Pavilion to consider next steps amid contract negotiations.
The union had set that Saturday deadline to consider whether to take "work actions" if a contract wasn't in place, union officials previously said. The outcome hasn't been publicly disclosed.
The meeting was closed to reporters and no news conference was held afterward. Union officials haven't responded to multiple requests for comment.
The district said in a statement Monday that issues dividing the parties should be resolvable at the bargaining table.
"If CCEA is proposing that the Governor mediate the parties' dispute, we welcome the opportunity to show the Governor that our proposals are fair, equitable, and financially responsible," the district said.
The district and union began contract negotiations in late March over topics including pay, benefits and working conditions.
The process has become increasingly contentious. Last week, a District Court judge denied the district's injunction request seeking to prevent a future teacher strike.
Union members have held protests since last month, including thousands of educators who demonstrated outside school board meetings Aug. 10 and on Thursday.
At Thursday's meeting, three teachers — including two union officials — were removed from the meeting room by police. Two received citations for disturbing a public meeting.
It's not immediately clear what role Lombardo could play in resolving the contract dispute. CCEA didn't make an endorsement in the 2022 governor's race.
But Lombardo isn't the first governor who has made statements amid teacher contract negotiations.
In 2019, then-Gov. Steve Sisolak and legislative leaders held a news conference regarding negotiations.
Sisolak, who was endorsed by CCEA in the 2018 governor's race, said it was "astounding" that the district's state budget request hadn't accounted for money needed for its teacher professional growth system.
He said the district needed to fix the issue in order to avoid a threatened teacher strike. The union had set a specific date in September 2019 for a strike to occur if an agreement wasn't reached.
Contact Julie Wootton-Greener at jgreener@reviewjournal.com or 702-387-2921. Follow @julieswootton on X.