Education Notebook, April 9-15, 2015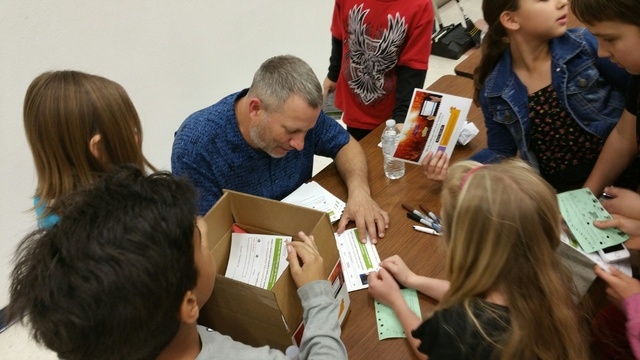 FORUM FOR OUR FUTURE PLANNED APRIL 11 AT EAST LAS VEGAS COMMUNITY CENTER
Families are invited to speak with elected officials about decisions regarding Nevada education during a town hall event, Forum for Our Future, planned from 10 a.m. to noon April 11 at the East Las Vegas Community Center, 250 N. Eastern Ave. Snacks and beverages are planned courtesy of Cardenas Markets. The forum is organized by HOPE (Honoring Our Public Education).
To RSVP to speak at the forum, email Caryne Shea, HOPE vice president, at caryne@hopefornevada.org with "4/11 Town Hall RSPV" in the subject line.
MCDONALD'S TO HOST GREEN FOR GRADS SCHOLARSHIP FUNDRAISER
McDonald's plans to host its fifth annual Green for Grads scholarship fundraising event April 10. Participating Southern Nevada locations will donate $1 from every Extra Value Meal purchased, and funds raised will benefit the Ronald McDonald House Charities of Greater Las Vegas scholarship program. Last year's event resulted in $41,113 in donated scholarship funds.
For participating locations, visit mcnevada.com.
ROGERS FOUNDATION TO AWARD EDUCATION GRANTS
The Rogers Foundation plans to award up to $300,000 in education-based grants. Clark County School District educators and local nonprofits are invited to apply for up to $100,000 in grant support. The foundation is working with UNLV's Grantwell Program to review and evaluate grant applications. The program is led by UNLV graduate students and provides services in grant evaluation, allocation and strategic innovation at no cost to the grant-making organization.
The foundation offers scholarships to students in categories such as diversity, disability, financial need and academic achievement. Annual grant opportunities are available in three focus areas: Gift of Imagination, Gift of Knowledge and Gift of Innovation.
The application deadline is April 15. Grant applications are available at therogers.foundation.
FOOTBALL COMBINE AND SKILLS CAMP PLANNED APRIL 11 AND 12
Phase 1 Sports plans to present a Football Combine and Skills Camp April 11 and 12. Initiating the recruiting process for college-bound athletes across the Las Vegas Valley, the annual event gives high school football players the opportunity to showcase their athletic abilities to invited scouts and sports writers while obtaining verified data on measurable skills. The combine also features an educational seminar on achieving success in academics, nutrition, training and more.
Camp is planned from 1 to 5 p.m. April 11 at Phase 1 Sports, 5137 W. Oquendo Road; and from 1 to 5 p.m. April 12 at Faith Lutheran High School, 2015 S. Hualapai Way.
To sign up or for more information about the camp, email Michael Waters at mwaters@phase1sports.com or call 70-641-0011.
For more information about Phase 1 Sports, visit iamphase1.com.
STUDENTS WITH A CAUSE CONTEST TO AWARD SCHOLARSHIPS
The sixth annual Students With A Cause contest invites Clark County high school students to submit a community-focused video on the theme of "What If…" In the video challenge, students will answer the hypothetical question as it relates to improving their lives, those in their family or community, or making a better society. Students can apply by submitting a 30-second video. The winning video will be aired on TV in June and posted on the Internet.
First prize is a $1,500 scholarship and $500 donation to the student's high school, and second prize is a $1,000 scholarship.
The contest is sponsored by the Richard Harris Law Firm. For more information, including contest rules, visit studentswithacause.org. Submissions are due May 3, and the winners are set to be selected May 22.
CSN TO BRING THERAPY DOGS ONTO CAMPUS
The College of Southern Nevada plans to have a group of therapy dogs visit each of CSN's three campus libraries throughout April to help students de-stress as they gather to work on research papers and group projects and prepare for upcoming final exams. The schedule is: noon to 2 p.m. April 9 at the Charleston campus library, I Building; and noon to 2 p.m. April 16 at the Cheyenne campus library, E-201 in the main building.
For more information, visit csn.edu.
MGM RESORTS ACCEPTING APPLICATIONS FOR CULINARY ASSOCIATES PROGRAM
MGM Resorts International is accepting applications from professional cooks who wish to broaden their experience under the guidance of expert chefs at Bellagio, Aria, The Mirage, Mandalay Bay and other MGM properties through MGM's Culinary Associates Program. During the program, they will work in full-time paid positions for one year in the kitchens of MGM Resorts, guided by hands-on instruction from the resorts' executive chefs.
Applicants must have at least one year of resort experience and at least three years of experience in a lead cook position. Apply by April 10 at mgmresortscareers.com (select "MGM Resorts International Operations" from the drop-down menu, click "Search New" and enter "Culinary Associates Program.") Training for those accepted is set to begin July 15.
SONS OF NORWAY OFFERS SCHOLARSHIP
Norwegian-American students who are at least high school seniors living in Clark County can apply for a scholarship from the Vegas Viking Lodge of the Sons of Norway.
Applications must be postmarked by April 10 and are available at vegasviking.com. The scholarships are worth at least $500 each and must be used for full-time, post-high school studies. Winners are chosen based on grades, financial need, involvement in extracurricular activities, and the content and quality of their essays, including how they express appreciation for their Norwegian heritage.
Tax-deductible contributions to the scholarship fund, including naming gifts, are welcome. If preferred, a donor's name may be kept confidential. To donate, a check payable to the Vegas Viking Sons of Norway Scholarship Fund should be mailed to treasurer Warren Halvorsen, 830 Kingston Springs Way, Las Vegas, NV 89123-3643.
For more information, call Suzan Sibert, co-chairwoman of the scholarship committee, at 702-645-6666.
UNLV TO HOST FESTIVAL OF COMMUNITIES APRIL 11
The Festival of Communities, a celebration of cultural traditions, is set from noon to 5 p.m. April 11 at the Alumni Walk at UNLV, 4505 S. Maryland Parkway. Live music, dancing, readings and performances are planned, along with international food tastings, booths with displays of art and culture, balloon art, face painting and more.
The event is free and open to the public. For more information, visit tinyurl.com/ly7uezr.
REBEL PREVIEW TO OFFER LOOK AT COLLEGE LIFE
Prospective students are invited to learn about life as a UNLV student at Rebel Preview from 8 a.m. to 2 p.m. April 11. Students and families can get questions answered and tour the campus at 4505 S. Maryland Parkway, along with residence halls and specialty areas. Activities and informational sessions are planned, including discussions of degree programs and qualifying for scholarships and prizes and meeting current UNLV Rebels.
For more information, visit unlv.edu/event/rebel-preview.
NEVADA CONNECTIONS ACADEMY PLANS INFORMATION SESSION
Nevada Connections Academy, a virtual public charter school for students in kindergarten through 12th grade, plans to host an information session regarding enrollment for the 2015-16 school year from 5:30 to 7 p.m. April 13 at the Las Vegas Library, 833 Las Vegas Blvd. North.
For more information, visit connectionsacademy.com.
YOUNG SCHOLARS PROGRAM ACCEPTING APPLICATIONS
A five-year scholarship and educational support program is accepting applications for its Young Scholars Program through the Jack Kent Cooke Foundation. The foundation seeks seventh-graders from low- to moderate-income families who stand out because of their high academic ability and achievement, persistence and desire to help others.
Young Scholars come from all racial and ethnic backgrounds and from rural, suburban and urban communities throughout the U.S. They are typically in the top 1 percent of their class academically and have family incomes averaging $30,000 annually.
Up to 65 students will be selected and paired with an educational adviser who will work to ensure that scholars are academically challenged and inspired, have the financial resources to develop their academic and extracurricular talents and are prepared for college success. Successful Young Scholars are eligible to apply for the foundation's $40,000-per-year college scholarship.
The application deadline is April 14. For more information, visit jkcf.org/ysp.
COX SCIENCE CHALLENGE TO AWARD FUNDS
Cox Las Vegas hopes to discover Clark County School District high school students who are Stars of Science through its Science Challenge 2015. Students can participate in the challenge by creating a two-minute digital story (video) that shows science at work in one of three categories: applied science, natural science and health science.
The first-place participant in each story category will receive $1,000 plus $1,000 for his teacher and $1,000 for their school. Second- and third-place winners, their teacher and school also will receive cash awards. Winners will be announced May 2 during the 2015 Las Vegas Science and Technology Festival at Cashman Center.
The entry deadline is 11:59 p.m. April 15. For more information, visit coxstarsofscience.com.
UNLV LAW STUDENTS TO TEACH FREE INCOME TAX CLASS
UNLV law students are set to teach free income tax education classes during a Low Income Taxpayer Clinic scheduled from 2 to 4 p.m. April 16 at the West Charleston Library, 6301 W. Charleston Blvd. Under the supervision of a Boyd School of Law professor and a Nevada Legal Services attorney, UNLV law students will discuss filing status, earned income tax credit, child tax credit, premium tax credit and penalties for not having health coverage under the Affordable Care Act. An open question-and-answer session will follow.
For more information, visit tinyurl.com/nqkejqm.
CSN TO HOST SCIENCE AND TECHNOLOGY EXPO APRIL 24
The College of Southern Nevada plans to host the 12th annual CSN Science and Technology Expo from 9 a.m. to 1 p.m. April 24 at the Cheyenne campus, 3200 E. Cheyenne Ave.
Kindergarten through 12th-grade students are set to take part in the free expo, which promotes science, technology, engineering and mathematics programs to help prepare students for related careers.
The public is welcome to attend. For more information, visit csn.edu.
SPLASHDOWN FOR KIDS TO RAISE FUNDS FOR NONPROFIT GROUPS
Communities In Schools of Nevada and After-School All-Stars Las Vegas plan to host the second annual Splashdown For Kids event from 10 a.m. to 5 p.m. April 25 and 26 at Wet'n'Wild, 7055 S. Fort Apache Road.
Proceeds will benefit both local nonprofits. Presale tickets are $25, and tickets at the door will be $35. Children 2 or younger will be admitted free. For one-day tickets, visit shop.omniticket.com/WWL/index.cfm and use the promo code "CISASASDAY."
For event sponsorship information, contact Brittany McCoy at brittanym@cisnevada.org or Ranna Daud at ranna@asaslv.org.
LVA TO HOST COLLEGE FAIR APRIL 27
The Western Association for College Admission Counseling plans to bring a Las Vegas College Fair to Las Vegas Academy, 315 S. Seventh St., from 7 to 9 p.m. April 27. Pre-fair workshops are planned from 5:15 to 6:40 p.m. All Clark County high school students and their parents are encouraged to attend to meet with representatives from more than 150 colleges and universities. The fair is open to public and private school students. Admission is free.
For more information or to preregister, visit wacaccollegefair.com or email Joel S. Diamond, college counselor, at jsdiamond@interact.ccsd.net. For more information about WACAC, visit wacac.org.
POLICY RESEARCH INSTITUTE TO OFFER $2,500 SCHOLARSHIP
The Nevada Policy Research Institute plans to offer a $2,500 scholarship to a graduating Clark County high school student who shows the potential to make a significant contribution to the cause of economic liberty.
This is the fifth year that the Professor R.S. Nigam & NPRI Freedom Scholarship is being offered. It is open to all Clark County high school students (public, private, online or home school) who plan to attend college beginning in the fall. Students are asked to write a two-page essay on the topic "Improving education: raise taxes or allow school choice?"
All applicants must have a GPA of at least 3.2 and complete an application, which includes the essay question. To be eligible, a student's parents must have earned less than $125,000 in income in 2013, and the student must plan to attend a four-year degree program in business, economics, political science, public administration or a related field, at an accredited college or university.
Essays and applications are due by May 1. For the application, visit tinyurl.com/nureqff. For more information, call 702-222-0642 or visit npri.org.
LEADERSHIP TRAINING SET FOR PEOPLE WITH DEVELOPMENTAL DISABILITIES
Partners in Policymaking plans to offer leadership training for people with developmental disabilities, parents and family members. The training is designed to teach the power of advocacy and change the way people with disabilities are supported, viewed, taught, live and work. The program will provide information about issues and policies related to disability and develop participant competencies to become more effective in influencing policy development at all levels.
Parents of children with developmental disabilities and adults with developmental disabilities are encouraged to apply. Classes are planned from 8 a.m. to 4:30 p.m. once a month through August at the University of Nevada Cooperative Extension's Lifelong Learning Center, 8050 Paradise Road. Participants are expected to commit to all classes or complete make-up assignments. Remaining dates are: April 18, May 16, June 20, July 19 (in Reno) and Aug. 15. Participants will receive a stipend to help with child care and transportation costs.
For more information or to apply, visit nced.info/pip.