Ex-Raiders celebrate Henderson students' activity achievement
November 28, 2017 - 5:55 pm
Updated November 29, 2017 - 8:27 am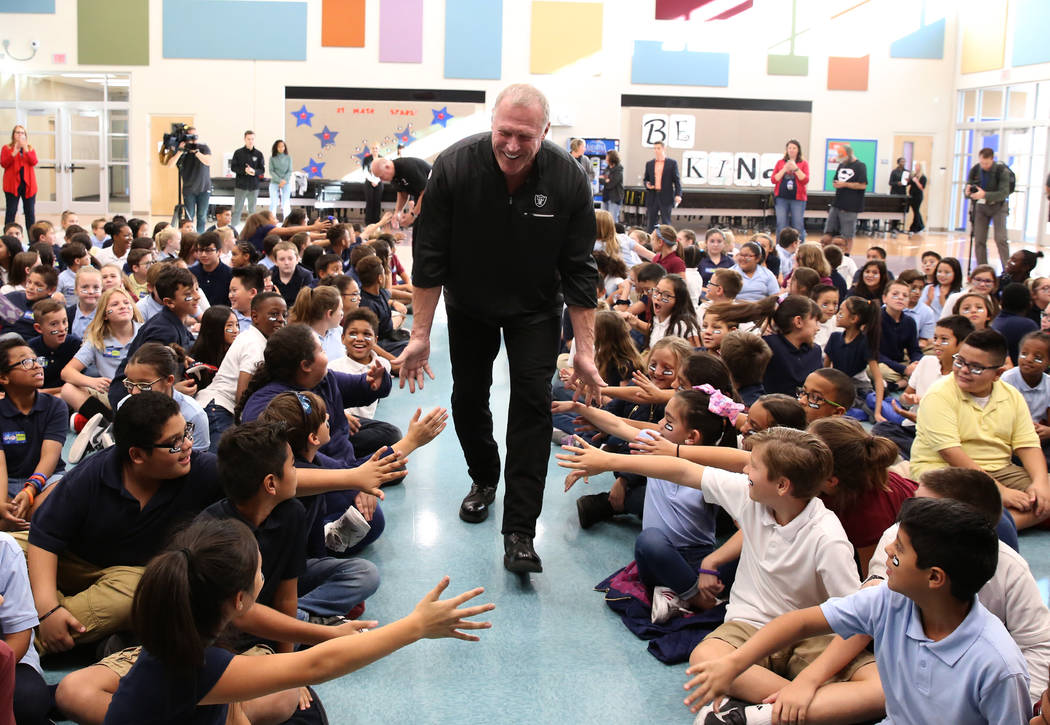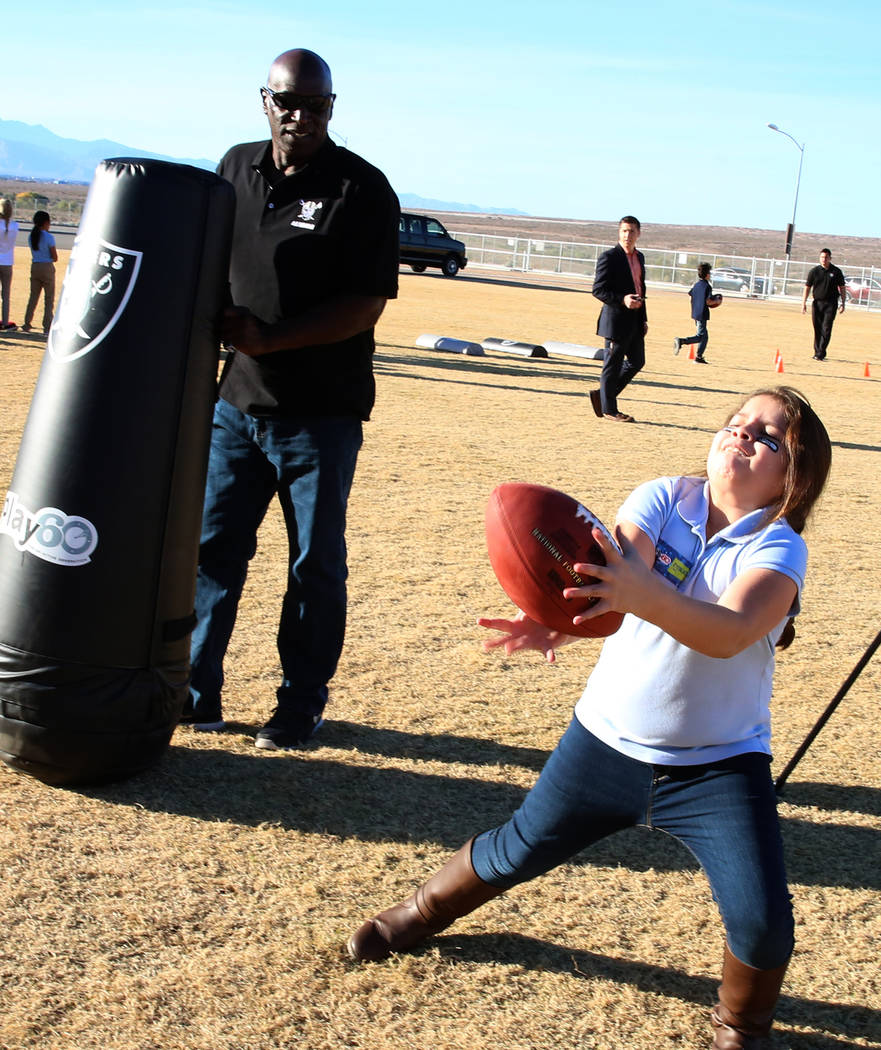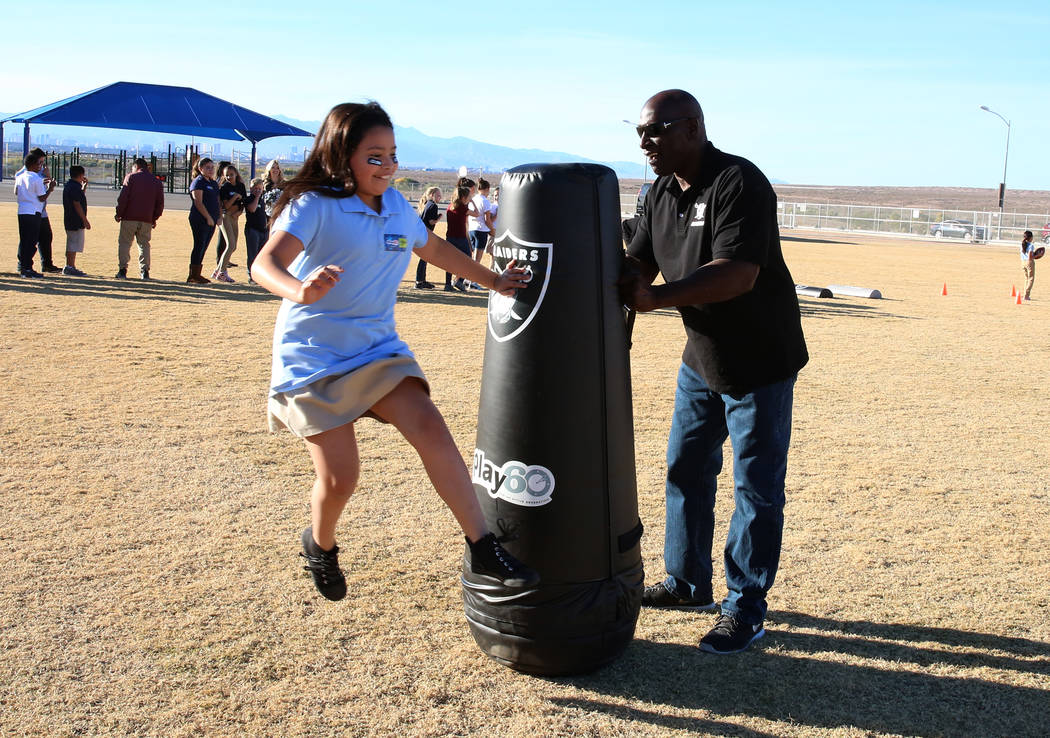 Travis Fralin and his classmates at Stevens Elementary in Henderson have been on the move.
They logged every minute of physical activity over four weeks as they competed in the NFL Play 60 Challenge, which encourages students to stay active for 60 minutes every day.
It all paid off in a celebratory rally on Tuesday, when the students were visited by former Raiders players Jay Schroeder, Linden King, Leo Gray and Reggie Kinlaw and members of the Raiderettes cheerleading squad to celebrate their first-place finish.
"It's exciting," said Fralin, a fifth-grader who hopes to one day play in the NBA. "I've never experienced seeing, face-to-face, NFL players."
The 183 students in fourth and fifth grade at Stevens beat two other Clark County schools in the competition, logging 645,070 minutes during the challenge.
The event was one of several the Raiders attended in the Las Vegas Valley on "Giving Tuesday" as the team works to build a community presence in its future home.
"We're a few years away from the Raiders being here, but to get the environment and the participation now is phenomenal," said former quarterback Schroeder, who high-fived excited students as they did exercises with players on the school's football field.
The players also presented $10,000 checks to Veterans Village, the USO and the U.S. Veterans Initiative.
In a quick question-and-answer session after the exercises, the former players imparted valuable life lessons to the students about staying in school.
Schroeder, who played from 1988-1992 with the then-Los Angeles Raiders, compared preparing for a game to studying for a test.
"To tell you the truth, if you prepare properly, the test is the easy part," he said. "It actually becomes fun, to play the game at that point. But you have to prepare, and that's what we do."
It meant a lot to students like fourth-grader Braxlee Foley, who enjoys watching football.
"It was really cool and a great opportunity," Foley said before heading outside to practice with the players. "I'm happy they came, because we worked really hard for it."
Contact Amelia Pak-Harvey at apak-harvey@reviewjournal.com or 702-383-4630. Follow @AmeliaPakHarvey on Twitter.
Tale of the tape
The 183 students at Josh Stevens Elementary School logged:
— 645,070 minutes over four weeks.
— 161,267 weekly average.
— 126 minutes a day per student.
Source: Oakland Raiders/American Heart Association