Financial stresses challenge UNLV law school
September 1, 2014 - 8:50 pm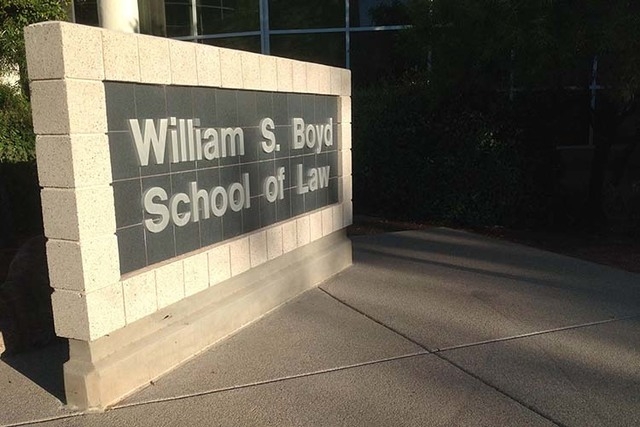 In a state with few higher education bragging rights, UNLV's law school stands out.
The law school is ranked among the top 100 by U.S. News and World Report and its graduates are in demand locally, with students doing well on the state bar exam.
But the school's success could plummet quickly if something isn't done about the gap in its budget.
Law schools nationally are seeing lower enrollment. UNLV's 16-year-old William S. Boyd School of Law is no exception.
The school once saw 150 students enrolling every year; the new norm is 110-115. The result: A $3 million shortfall.
The University of Nevada Board of Regents is asking for $1.5 million in state funds to help the law school adjust to the economic reality.
The rest of the loss likely will be absorbed through cost cutting, a tuition hike, philanthropy and new programs.
It's a critical time for the school. The request for additional state funds easily could not survive the legislative process, especially when several big-ticket projects for higher education, such as a medical school for UNLV, also are looking for state funds.
"The law school is really one of the great success stories in the history of Nevada higher education," Daniel Hamilton, Boyd's dean, said Friday.
"It's very hard to build and relatively easy to lose if you don't work very hard with a real focus on maintaining that quality."
This week another important part of the school's plan for the future will be tested: making up the lost revenue with new programs.
Boyd is looking to add a new signature program — a master's in gaming law and regulation — as well as offer more educational opportunities for business professionals. The faculty already has approved the new gaming law master's program. The regents will vote Friday on whether or not to approve the program, which would be the first of its kind in the nation.
If approved, Boyd will recruit internationally, targeting Macau and Singapore for students, Hamilton said.
"We have the greatest expertise in gaming law in the world, and we have demand both domestically and internationally from people who want to know more and more about gaming law," Hamilton said. "That's a natural fit for this great law school to become the center for gaming law instruction in the county"
Also, as part of new programming efforts, Boyd is hosting its first big executive education conference, Hamilton said. This conference also capitalizes on gaming expertise. Boyd's Gaming Law Conference on regulating land-based casinos will be held from Wednesday through Friday.
Hamilton said the school is working closely with UNLV's College of Hotel Administration — another Nevada higher education achievement — as it develops executive education opportunities, as that is something in which the hotel college excels.
The other solutions Boyd is implementing to weather its financial predicament are less palatable to students and faculty.
Tuition for Boyd students will gradually go up, 4 percent next academic year and 4 percent the following year.
It's the first tuition increase for Boyd students in four years.
Boyd has implemented a hiring freeze, planned phased-out retirements of faculty and is exploring the idea of voluntary buyouts for faculty, Hamilton told regents when advocating for additional state funds Aug. 22.
Without financial assistance, the school could be forced to be more lenient with admissions, resulting in fewer students passing the bar exam. That could damage the school's reputation, Hamilton said, making it hard to attract and retain desirable professors and students. A law school's success hinges on top students and top faculty, Hamilton said.
During the August regents meeting, at which the request for more funding was approved, Chancellor Dan Klaich noted that not helping the law school weather the national change in legal education could be "catastrophic."
Law School Admission Council reports an 8 percent decrease in law school applications for 2014 across the nation. That comes on top of sharper declines in previous years.
"I don't think we want to be known for 'Mediocre is OK,' " Klaich said, after the meeting. "Mediocre is not OK."
After the regents meeting, UNLV Acting President Don Snyder said he was grateful that the regents approved the additional funding request for Boyd, saying it showed the regents are committed to maintaining the school's standards.
Having the regents commit to helping the school was just one hurdle. Now, Boyd is tasked with rallying the community to give philanthropic and legislative support.
"The community came together to build a top law school," Hamilton said. "Now we need to come together again and make sure it comes out of this crisis in legal education even stronger."
Contact Bethany Barnes at bbarnes@reviewjournal.com or 702-477-3861. Follow @betsbarnes on Twitter.