Former astronaut shares space travel tales at Katz-McMillan schools
January 28, 2016 - 8:00 am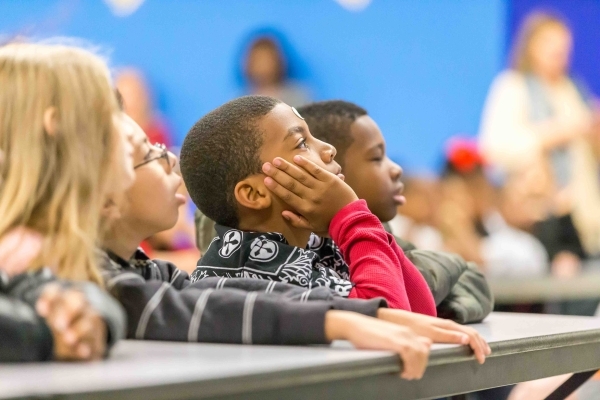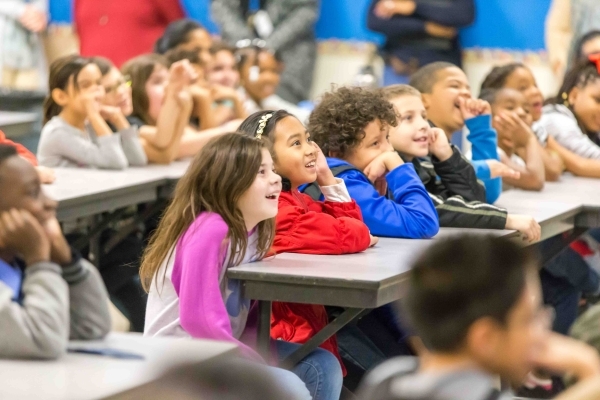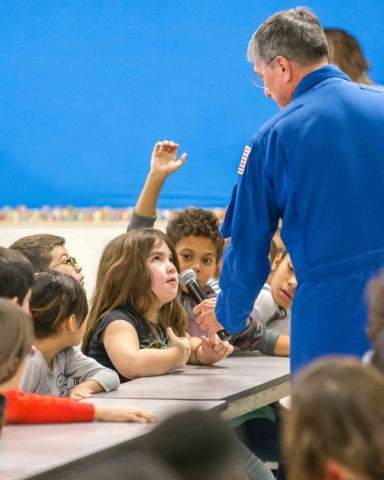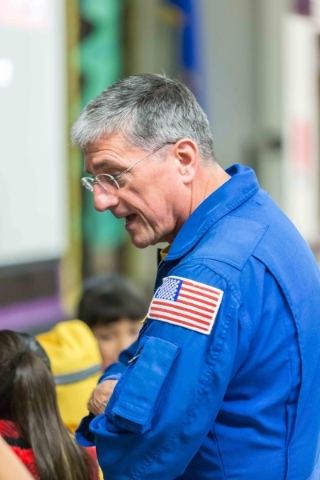 It's never too early to aim for the skies and let your expectations soar. All it takes is hard work and tenacity.
That was the message given to students of Katz-McMillan Cooperating Schools as it welcomed NASA astronaut Donald Thomas, Ph.D., who has been on four missions to space. He spoke to third-graders at the campus of McMillan Elementary School, 7000 Walt Lott Drive, Jan. 6.
"I knew since I was 6 years old that I wanted to be an astronaut," Thomas told the students, adding he gave his "top effort in school" to make it happen.
He has a bachelor's degree in physics and a master's degree and doctorate in engineering. Thomas said he applied four times before being accepted as a NASA crew member at age 39.
He flew four missions — three on the space shuttle Columbia and one on Discovery — spending a total of 44 days in space. He used those missions to tell the children what it was like to be blasted out past the atmosphere and the idiosyncrasies of living in zero gravity.
First, he asked the students to guess how many times he'd circled the Earth. Numbers were called out, each one higher than the last: 50, 80, 100, 180.
"Nope," Thomas said. "I've gone around the Earth 692 times."
That elicited a collective "whoa" from the audience. Thomas told how he visited the launchpad the night before he was to go into space for the first time. He said he was excited and felt "a little scared, probably like you do, before a test."
Strapped into the cone of the space capsule, he told how everything was silent until the two solid rocket engines were fired up. Then there was a loud roar, and everything began shaking and rattling.
As soon as the anchoring cables fell away, he said it was "like a giant hand in the middle of my back, pushing me up."
Within four seconds of liftoff, he said the craft was traveling 120 mph. Eight and half minutes later, the astronauts were past the grasp of gravity, and silence ensued once more.
No gravity meant learning to do things differently — if tapping on a keyboard, they had to anchor themselves with their floating feet. Eating was done out of pouches. There was no up or down in space, and blood never rushed to your head if you did a handstand. Showering was a relative term; it was really taking a sponge bath, and their shampoo was a no-rinse kind developed for bed-bound hospital patients. The astronauts attached their sleeping bag to any wall available, even the ceiling, if they wanted to brag when they got back home.
Thomas showed a picture of a female crew member, Marsha Ivins, with long hair that splayed out around her head like Medusa.
"Every day in space is a bad hair day," he quipped.
He said time was distorted as they circled the Earth at 18,000 mph, seeing 16 sunrises and 16 sunsets every 24 hours. Eye shades were a must.
The presentation included photos. The views from space elicited "oohs" and "ahhs" from the students. There was Mount Everest, a hurricane 400 miles across, the railing vapors of a volcano, and Las Vegas in daytime and at night.
"That's the Strip," Thomas said, pointing. "What are those other lights? Do you know? Those are you guys, in your homes, studying so you can be an astronaut or a doctor or whatever."
There was also a shot of the Earth, a thin blue line surrounding it like a membrane. The atmosphere, said Thomas, is only about 20 miles thick, a sobering fact when viewed edge on.
The students held on to Thomas' every word.
One of the students (whose last names are withheld), Thomas, 10, said he wants to become an astronaut because he wants to "meet aliens."
"Aliens are awesome, and I want to do the alien dance," he said.
Another student, Logan, 8, said, "I want to be an astronaut because I want to see all the planets." He said flying without gravity would be fun, but he'd miss his family and his dog, Dixie.
Another student, Lyric, 8, said the best part of Thomas' talk was about "the kind of spaceship and how you float and all that."
What would she ask if she had a one-on-one conversation with him?
"I would ask him what the aliens look like," she said.
Another student, Jhaden, 9, said the coolest part of the talk was about eating the food.
"It's like solid, but they can turn it into a drink."
What did she think of the way they slept?
"It was cool but also kind of scary because you usually sleep in a bed, not on the ceiling."
Cheryl Wagner, STEM coordinator for the Clark County School District, said she loves having NASA personnel come talk to students.
"One of the reasons we picked this school is because they're involved in the Flying Classrooms program," she said. "It's a national program where a pilot goes on excursions around the world with scientists, and then those scientists interact with students around the world."
The second semester of Flying Classrooms will look at flight, said McMillan principal Antoinette Irby, adding that the timing of Thomas' visit fit well with the curriculum.
"We're trying to set up something with a hot air balloon, so we'll be Skyping with them, and so the NASA concept fell right into where we're headed," Irby said.
She added that the hands-on work and bringing reality into the classroom was an exciting opportunity for students.
"They can take virtual trips to places they may never get to go," Irby said. "When I see a child's eyes light up (with comprehension), it's an everlasting 'ah-ha' moment. It (tells me) the students are connecting the concept to the real world, and it's now moving to long-term memory and the college readiness mentality we're striving for them to have."
NASA, which is focused on the Space Launch System (SLS), is looking to reach Mars. The SLS, with the Orion space capsule, is scheduled for its first test flight in 2018. It took the opportunity of being at CES, the international consumer electronics show, to reach out to the school district and secure speaking dates at various schools and a Boys & Girls Club.
"We hope to encourage students," said Twila Schneider, education and public outreach specialist for NASA. "They don't have to be a scientist or an engineer if they don't want to be, but they can still contribute and help us along this journey we're taking to Mars. … I'm a former school teacher doing outreach for SLS, so there's a place for them if they want to contribute."
— To reach Summerlin Area View reporter Jan Hogan, email jhogan@viewnews.com or call 702-387-2949.