Garden classrooms project sows environmental seeds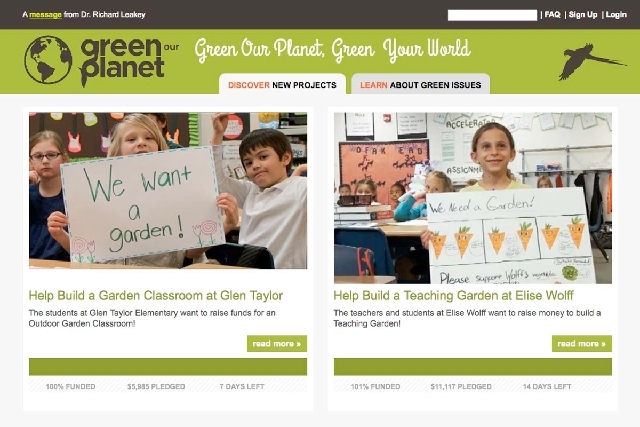 They want gardens because if they binge on candy, they can reverse their sugar highs by crunching on veggies. They want to be healthy, attract bees and animals, and beautify their surroundings. They want strawberries.
These are among the reasons Clark County students shared in videos posted on GreenOurPlanet.org, a Las Vegas-based fundraising website that connects donors to green projects, such as "garden classrooms."
The nonprofit organization launched quietly in March and has facilitated $76,000 in fundraising for 15 gardens at Clark County elementary schools, as well as a $12,000 solar project at Friends in Service Helping, a Carson City homeless shelter.
The website now focuses on building school gardens but the goal is to expand nationally to raise money for causes such as global warming, pollution prevention and energy and water conservation.
Green Our Planet was founded by documentary filmmakers Ciara Byrne and Kim MacQuarrie, a couple who wondered how they could use their craft to inspire people and protect the planet.
"We realized there's a link between films about conservation and raising money," Byrne said.
They knew of crowd funding websites such as Kickstarter and Indiegogo, which fund creative and civic projects, but found nothing with an ecological mission.
After identifying the niche, they created Green Our Planet, which pairs promotional videos with a web platform — designed by Web developer Jeff Newburn — that accepts donations. Green Our Planet collects a 5 percent fee, and PayPal collects 3 percent. The rest goes to the project.
"We're using technology and crowd funding to solve a problem for schools," Byrne said.
The garden campaigns have, for the most part, quickly met their goals. For schools that are slower at raising money, garden plans can be scaled back and campaigns can be extended, said Bryan Vellinga, owner of Garden Farms of Nevada and Green Our World's master gardener. He builds and tends the gardens and teaches students to care for them — a skill he hopes they will carry into adulthood.
The funding isn't just from parents and grandparents, but from local businesses that sponsor the schools, he said.
"The beauty of it is no taxpayer dollars are used by it," Vellinga says. "It's all funded by the community."
In underprivileged schools, Green Our Planet has lined up NV Energy, the Las Vegas Sands Corp. and Pardee Homes, among other corporate sponsors.
Green Our Planet has partnered with Clark County School District to identify another 30 schools to receive plots in September.
Desert Oasis High School teacher Jennifer Davis is among the hopefuls. She aims to raise $13,000 to create a garden for her special needs students' Earth Club. She said the garden would teach healthy eating habits, but also valuable vocational skills.
This fall, Green Our Planet will also partner with Walter Bracken Elementary School to orchestrate a "you-pick" farmers market where students will learn how to market the event and calculate profit. Proceeds will go to the Salvation Army food pantry and back into the gardens.
Bracken Elementary has several gardens, including a plot for kindergarteners, a planting garden, a memorial garden and herb gardens.
"They're picking new vegetables and trying new things," Bracken Principal Kathleen Decker said of her students and how their lives are enriched by the experience.
"They don't have farms at home, so this a pretty great opportunity," she said.
Students at Elise Wolff Elementary met their goal. Read more about their garden project and watch a video about what the students learned.
Students at Frias Elementary could still use some help in meeting their goal. Watch a video of the students from Frias and learn what they are doing.
The garden project at HP Fitzgerald Elementary is still short of their goal. You can learn more about the project at GreenOurPlanet.org.