Global Community High School serves students from all over the world
January 17, 2012 - 12:29 am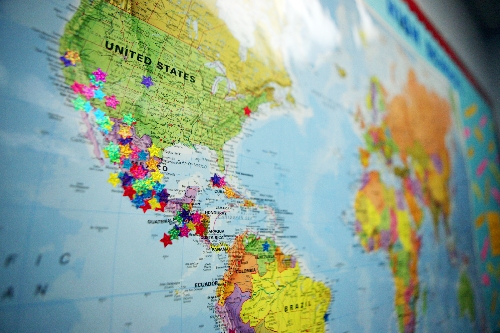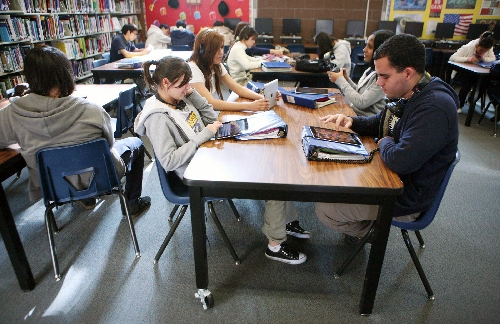 For kids new to the country and the English language, a 3,000-student high school and class sizes of 40 to 50 probably do not make for the most effective learning environment. A small campus in the Sunrise area caters especially to such students.
Global Community High School, 3801 E. Washington Ave., has about 200 kids, most of whom are international students who have not yet mastered the English language. There are students from about 40 countries, and most of them speak Spanish as their first language.
"We have every student from an hour in the country to several years," principal John Anzalone said. "I feel like I inherited a gem of a school. It's going to get bigger and better."
Anzalone, who is in his first year as principal at the school, wants to increase enrollment but faces a few obstacles. The biggest one, he said, is that most people have no idea the school exists. Another is that the school does not offer bus transportation, though he is working hard to add that.
The school keeps class sizes small — usually fewer than 15 students but some as small as four — to be as effective as possible.
"We don't want it busting at the seams," Anzalone said. "It works better with smaller class sizes."
Senior Quyen Luu agrees. Luu has been in America less than a year. He speaks English quite well considering he was living in Vietnam at this time last year.
"I feel very comfortable," Luu said. "We are new immigrants, and America is a new environment for (my family). The small classes help."
Every student starts with intensive English Language Learner classes unless they test out of them. The school offers traditional high school classes but is limited on the variety of electives. The school has only 16 teachers, after all.
Every student takes an American culture class as well. Anzalone enjoys seeing the transformation of international students as they become just as bratty as their American counterparts, he said with humor.
The only thing missing is sports teams, but Anzalone is starting a soccer club for his students. Anzalone also plans to add an eighth grade to the school next year.
The school integrates iPads in every classroom, which has helped tremendously, Anzalone said. Every student, no matter where they are from, becomes more engaged in learning when technology is added, he said.
One of the coolest things about going to school here, said junior Jiovanny Bucio, is the exposure he gets to outsiders. Bucio is one of the few native-born students at the school.
"You'll meet a lot of people here you wouldn't have gotten to otherwise," Bucio said. "It's good to meet people from all over the world."
He said international students are very open to questions about their homeland, as is he to them. Bucio and the few other American-born students also serve as role models for the non-native students, Anzalone said.
For those students such as Bucio who are already fluent in English, Global has helped them stay in school and on track to graduate.
Senior Alfonso Martinez has been at the school for almost four years. He transferred here because of behavior issues at his former high school. He does not have such problems anymore.
"It's easier to focus just on school," Martinez said. "It's a bit less crowded. It's easier for you to learn here."
Martinez is a special case at Global that illustrates the closeness of the staff and students.
His mother, Piedad Martinez, died last month over the holiday break. Martinez lives with his older sister in North Las Vegas and no longer has a family member to take him to school. He would have had to switch to his regularly zoned school for his final semester had the faculty not stepped in.
For the next four months, Anzalone and his staff will take turns giving Martinez rides to and from school so that he can graduate with his friends at Global.
"It means a lot," Martinez said. "I'm very fortunate to be here."
Contact View education reporter Jeff Mosier at jmosier@viewnews.com or 224-5524.
For more information
Global Community High School is a school of choice. No students are zoned to attend. The school's focus is on serving students with limited English language skills who have been in the United States for two years or less. For more information about enrollment, visit globalchs.com or call 799-8850.