'Growing and growing fast': Mariachi programs flourishing in Las Vegas
Updated March 20, 2023 - 9:45 am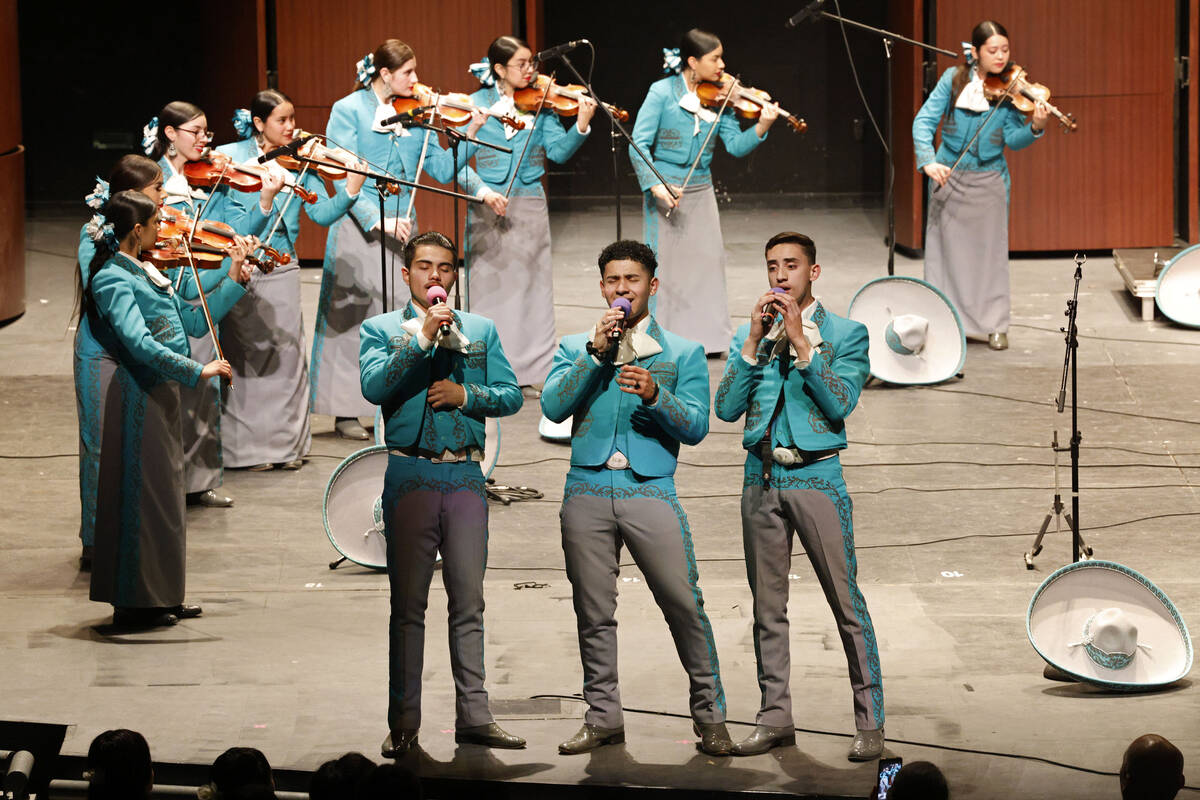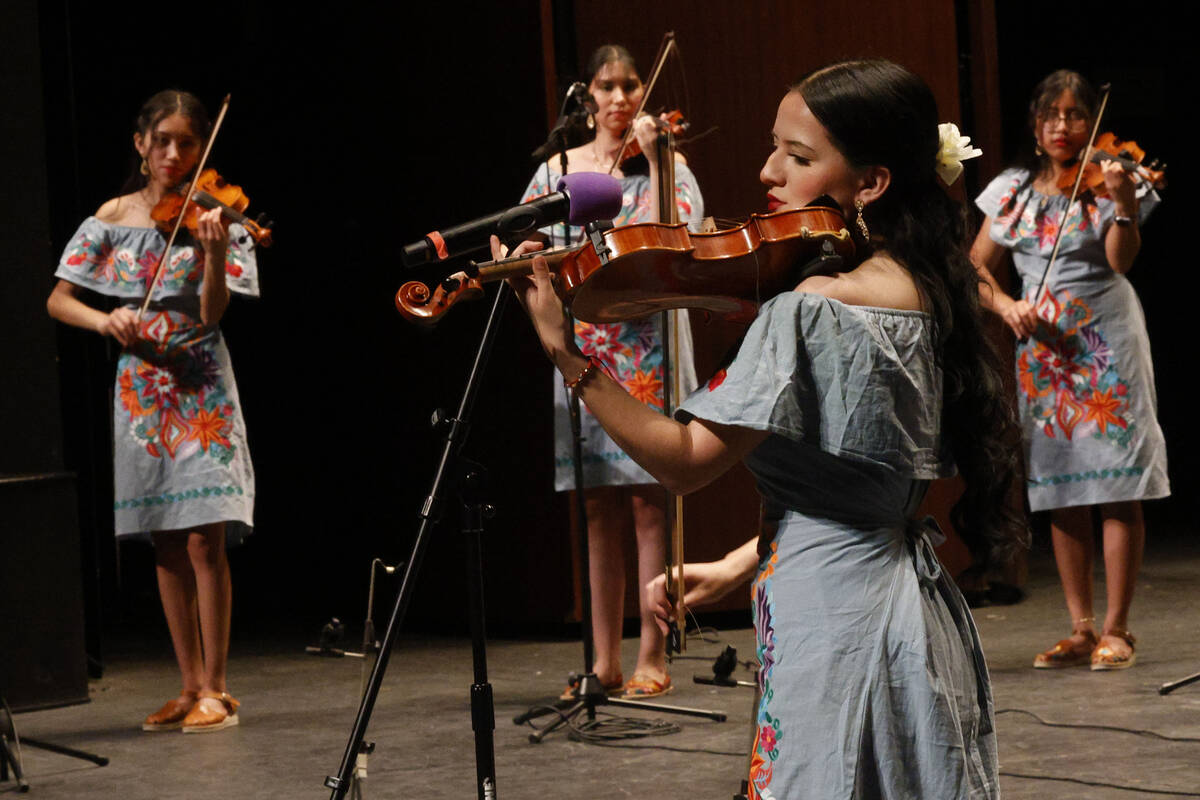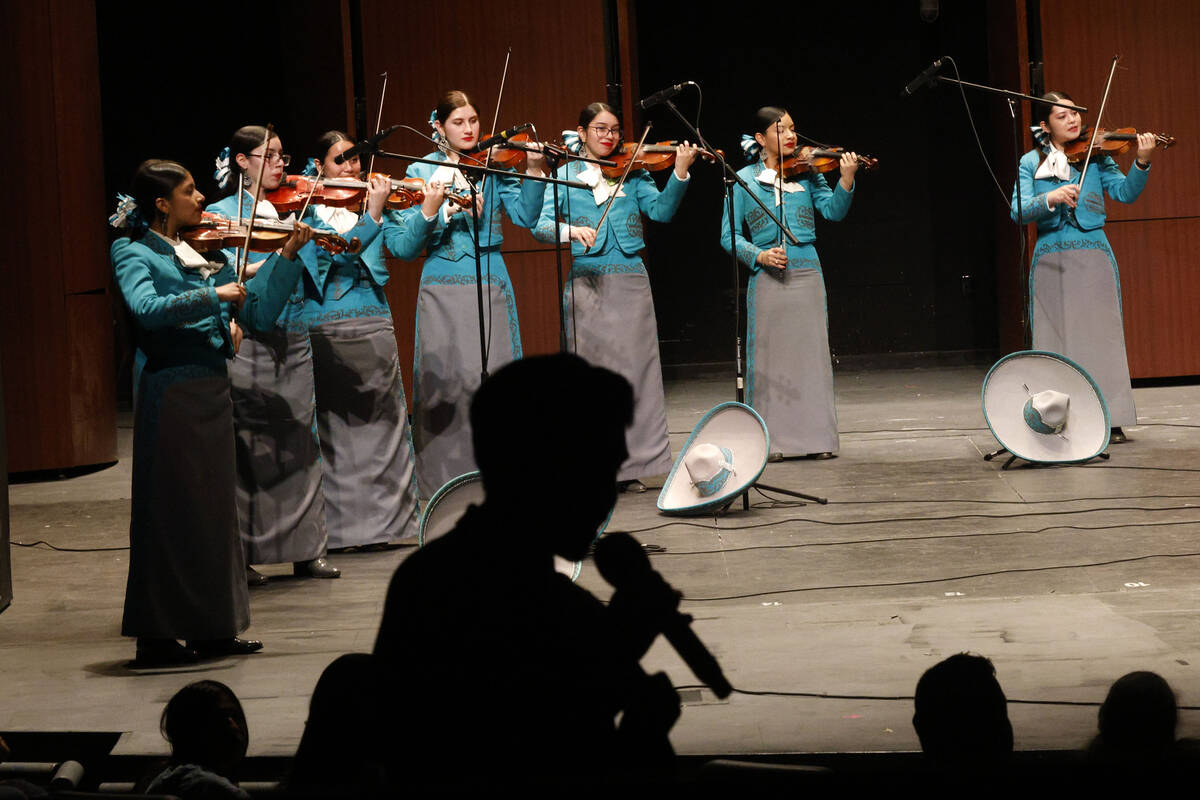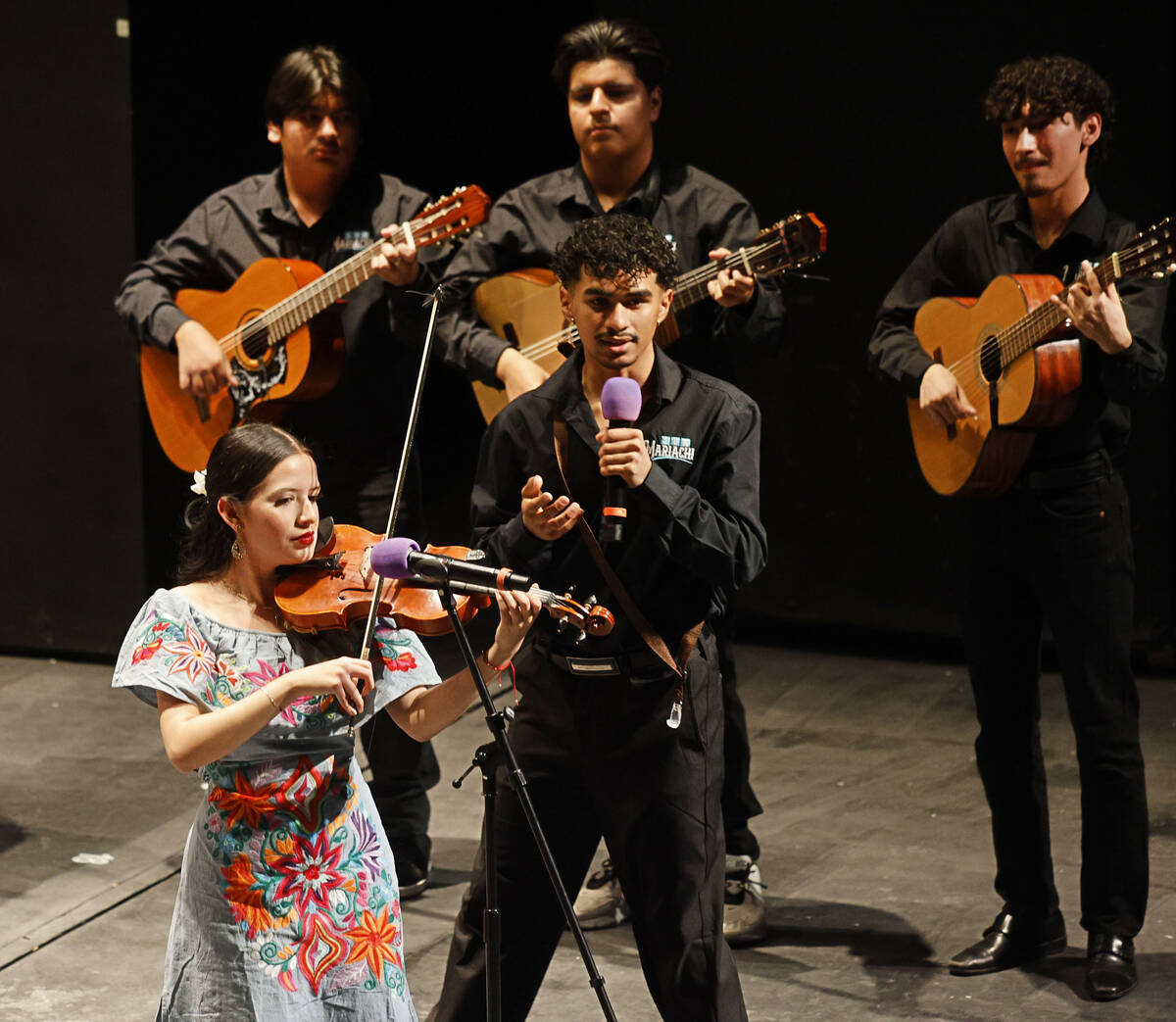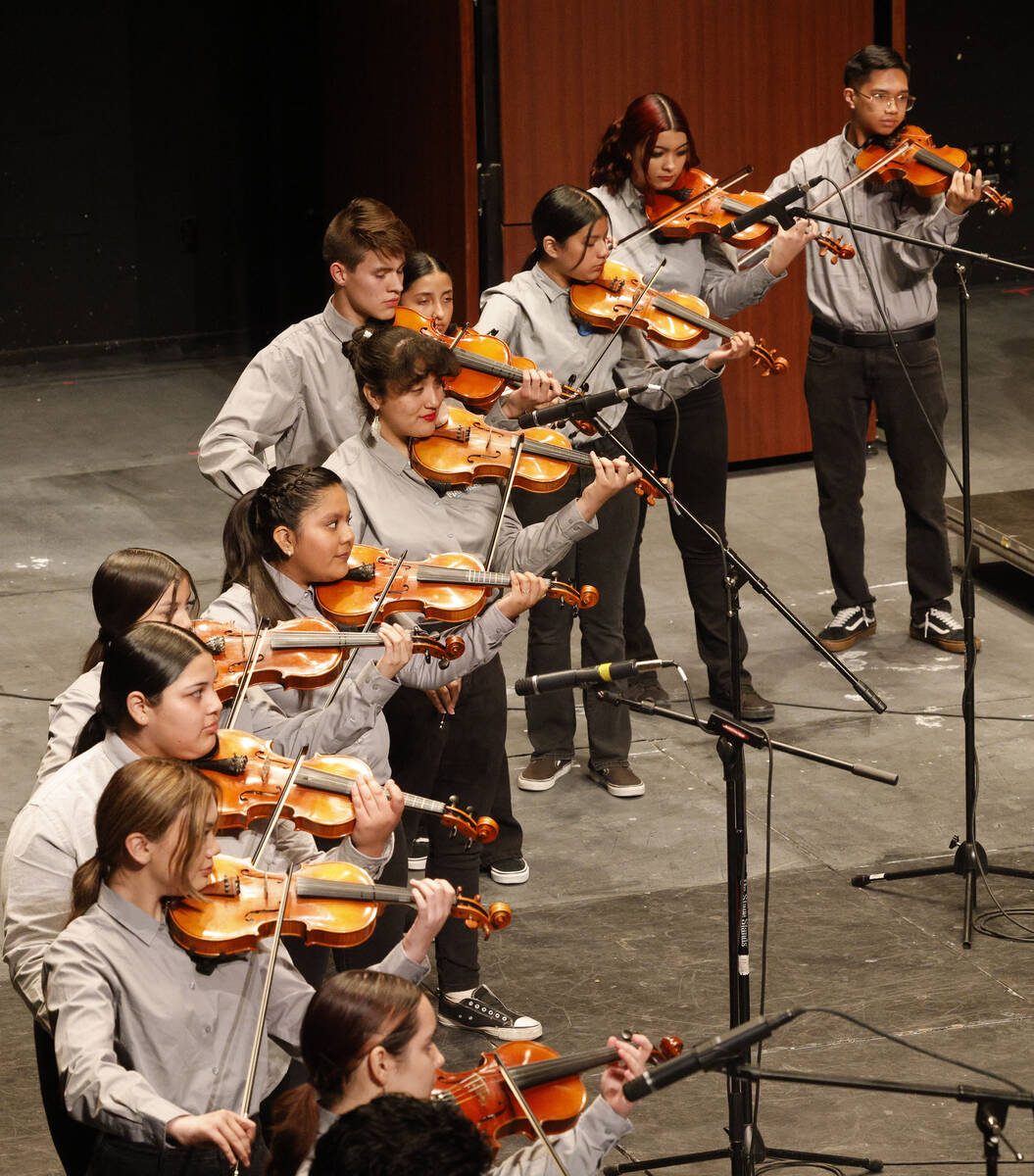 The audience quiets as the Las Vegas Academy Mariachi Regional group takes the stage for their spring concert.
Basses, trumpets and violins start the song as Jeriel Javier, a freshman vocalist, walks to the center stage and sings "Hablame de ti" — or "Talk to me about yourself" in Spanish — in a low, bellowing voice.
For Javier, it was a moment he long envisioned, and a dream come true.
"This is what I always wanted, to be on stage," he said. "I've imagined myself on the stage and everyone was clapping for me."
Friends and parents cheer in applause as he continues to sing the song "Costumbres" by Rocío Dúrcal, the first of the the academy's four mariachi groups to perform on March 8 at the school's Lowden Theater.
"To me, mariachi is something I use to express myself," the 14-year-old Javier said about how he uses his emotions to sing. "I give it all. I put all my past and energy into the music."
Keeping kids in school
LVA's mariachi program has been around for at least 15 years. David Rivera, the school's mariachi director, took over the program 10 years ago. In the time since, he's been able to double the class size of all four mariachi groups.
"These programs in Vegas are growing, and are growing fast," LVA junior Edgar Ramos said.
When Rivera came to Vegas, there were roughly 40 students in the program between the four groups. Now, the program has grown to more than 110 students.
"Being a performing arts high school, we're always out there promoting ourselves a lot," Rivera said. "We're well known."
Rivera describes mariachi musicians as a niche group across the country. He says mariachi is prevalent in South Texas, Southern California, Southern Nevada and some patches of Arizona and New Mexico.
However, in some regions like Southern California, "programs are actually dying because there is no funding and they're getting rid of their fine art programs in schools," he said.
But in the Las Vegas valley, Rivera says that mariachi programs are flourishing and keeping kids in Clark County in school.
The weekend before, the academy had competed in the first annual City of North Las Vegas School Mariachi Competition at Craig Ranch Park on Saturday, March 4. Over 10 middle schools and nine high schools from around the valley competed.
Mariachi Internacional took second place in the top category to the Del Sol Academy of the Performing Arts, while Mariachi Femenil Internacional placed in first in the division below.
"That same day we were all like, 'We got the next competition'," Ramos said of getting second place. "We'll take it back."
'A beautiful kind of music'
Behind the stage of the Lowden Theater, two mariachi groups share space before they perform. In front is Mariachi Internacional, with the Mariachi Femenil Internacional, an all-women's group, in the back.
Mariachi Internacional wears teal charro and charra suits, or traditional Mexican horsemen outfits.
They look for the signal from their section leader, Alondra Bernal, a 17-year-old senior. With her violin under her chin and bow in hand, Bernal lifts the bow up and down, signaling the entire group to play.
They practice their timing to make sure everyone is together.
"Mariachi is a beautiful kind of music," Bernal said. "I love the people around me that play this music. There is a lot of passion people have for (mariachi)."
"Yo!" Rivera suddenly shouts to the room. Everyone stops playing. "They're on their last song."
The students fix their clothes before they line up to walk out of the warmup room and onto the stage. Two students do a handshake for good luck before heading out of the room.
"It's a great feeling to be able to teach the cultura and teach not only just music, but to teach them to be better human beings," Rivera said. "This stuff turns into good habits."
He has taught his students how to lead, both during practice and on stage. Now, during the performances, he stands offstage listening to the result of countless hours of practice and weekend rehearsals.
"Hopefully, one day my dream is to hand over my program to a previous student," Rivera said.
Contact Jimmy Romo at jromo@reviewjournal.com or call 702-383-0350. Follow @jimi_writes on Twitter.