Hoggard Elementary students turn classroom into museum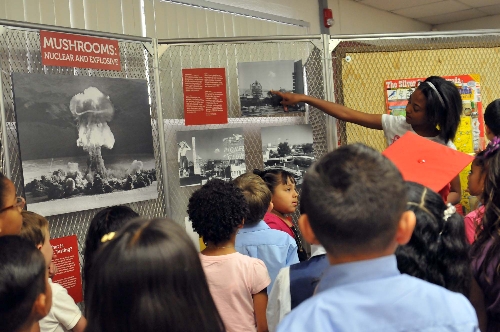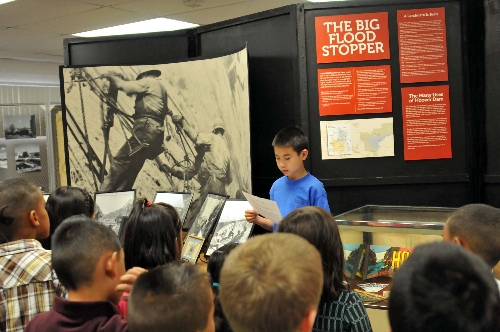 Gifted and Talented Education students at Hoggard Elementary School spent the past two years creating a museum in an unused classroom.
The museum is home to nine exhibits featuring rocks, fossils, the Las Vegas Wash, Mark Twain, antiques, Native Americans, Hoover Dam, mining and the Nevada Test Site.
GATE teacher Mary Stanley-Larsen started the project with her fifth-grade students during the 2009-10 school year and continued it with her fourth-graders this year.
She got the idea to start the museum project after Woolley Elementary School donated plastic bins full of artifacts and fossils to Hoggard, 950 N. Tonopah Drive .
"I thought, we have this stuff, we're going to build a museum," Stanley-Larsen said. "We had no idea it would turn out like this. We could not have imagined this when we started."
The museum is in a former classroom that had to be cleaned and decorated from scratch. Teachers, students, administrative staff, parents, local businesses and volunteer professionals donated to the project.
"It looked like a ghost town at the beginning of the year," said fourth-grader Chanel Pulido.
The Bureau of Land Management donated $950 to the project .
Stanley-Larsen hopes this once-empty room can serve as a teaching tool and learning resource for all grade levels.
"We've been trying to show things in context," she said, "how we use rocks and minerals in actual products, and we're trying to emphasize Nevada."
Each exhibit has explanatory plaques to accompany it.
For the Mark Twain exhibit, students created a mock interview in which Twain explains his life and time spent in Nevada. The Nevada Test Site and Hoover Dam exhibits feature historic photos donated by the Las Vegas News Bureau.
Every class in the school received a tour of the museum during its opening week.
GATE students read from a script beginning outside the museum door, which is painted to look like a time machine.
"You are now going to travel to the past, to all different times in the history of Nevada and our world," the script read.
After the 10-minute tour ended, students got a chance to play with some of the hands-on artifacts. Most kids crowded together to touch the soft animal furs. Some opted for the artificial animal scat.
The kids learned during the tour that Native Americans used animal feces as fuel for fire.
Fourth-grader Kriselda Dauz said it was the most stressful project she has been involved in.
"We had a hard time getting everything together," she said. "But it all paid off."
Her classmate, Kaheya Nash, said they were happy to be leaving their mark on the school for years to come.
"We feel proud of it," Kaheya said. "It's a weird feeling you can't describe. It's kind of like we're famous."
Stanley-Larsen said she's already looking forward to next year and having her students develop activities, a more detailed tour and making it a stand-alone museum that can be open to the public.
For more information about the project, visit the Hoggard's website at wix.com/peffer/hoggard1 or call 799-4740.
Contact View education reporter Jeff Mosier at jmosier@viewnews.com or 224-5524.