'Just keep going': Local students honored at RJ's Academic Excellence Awards
Updated May 12, 2023 - 7:56 pm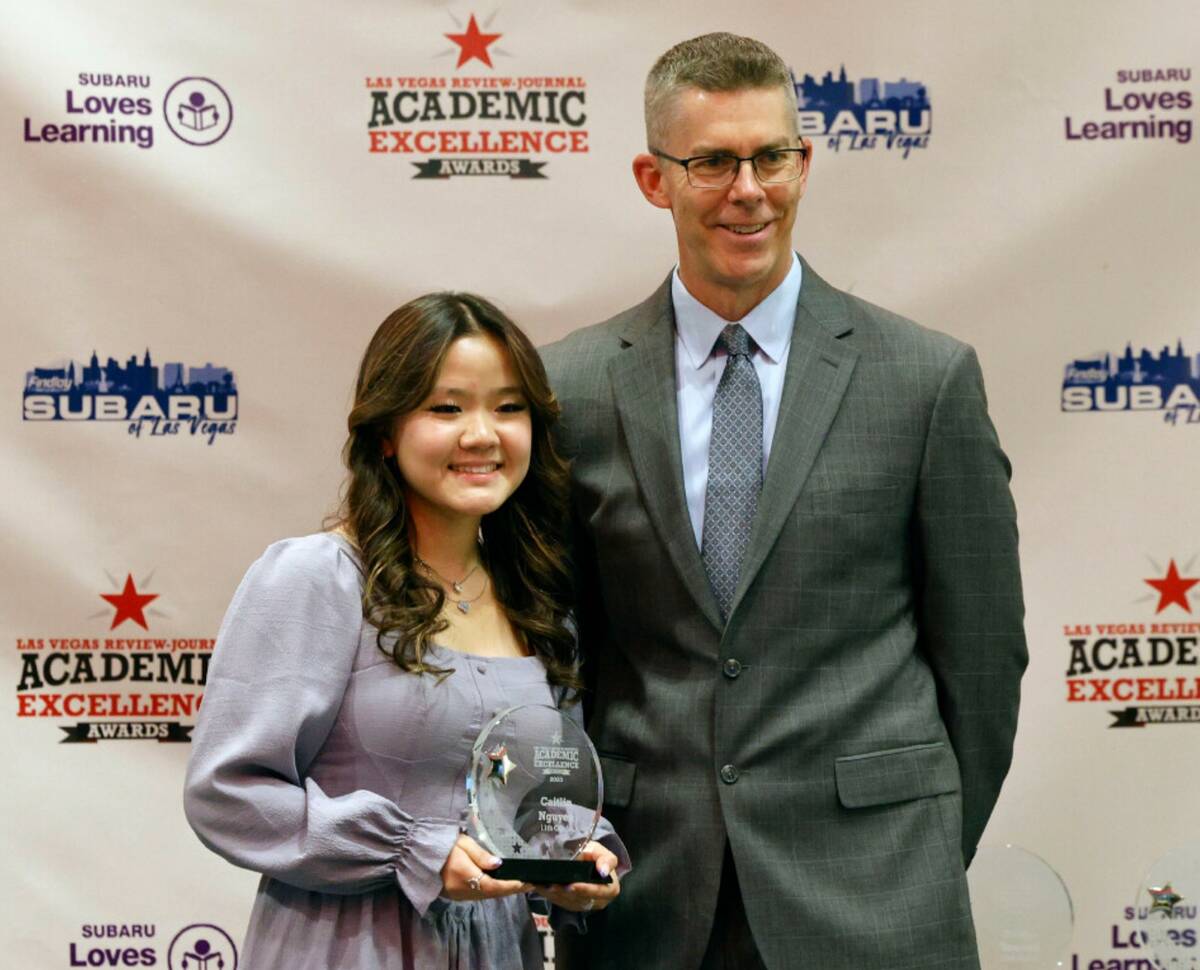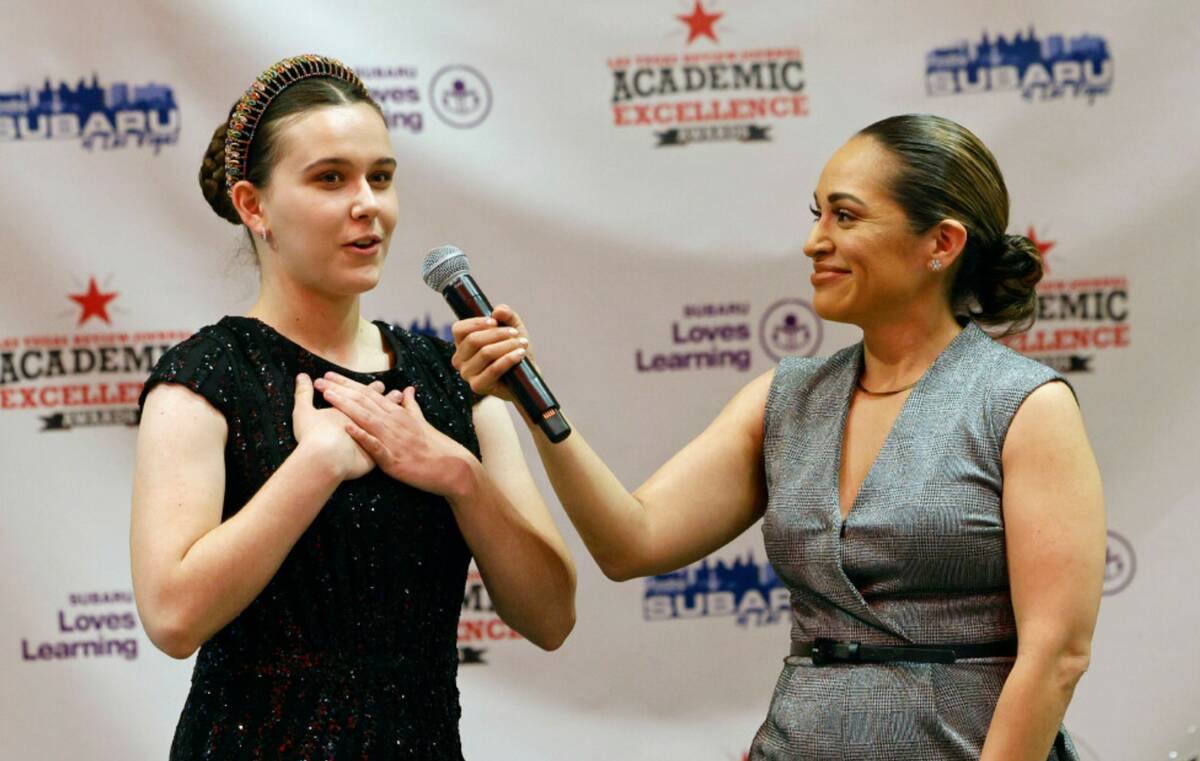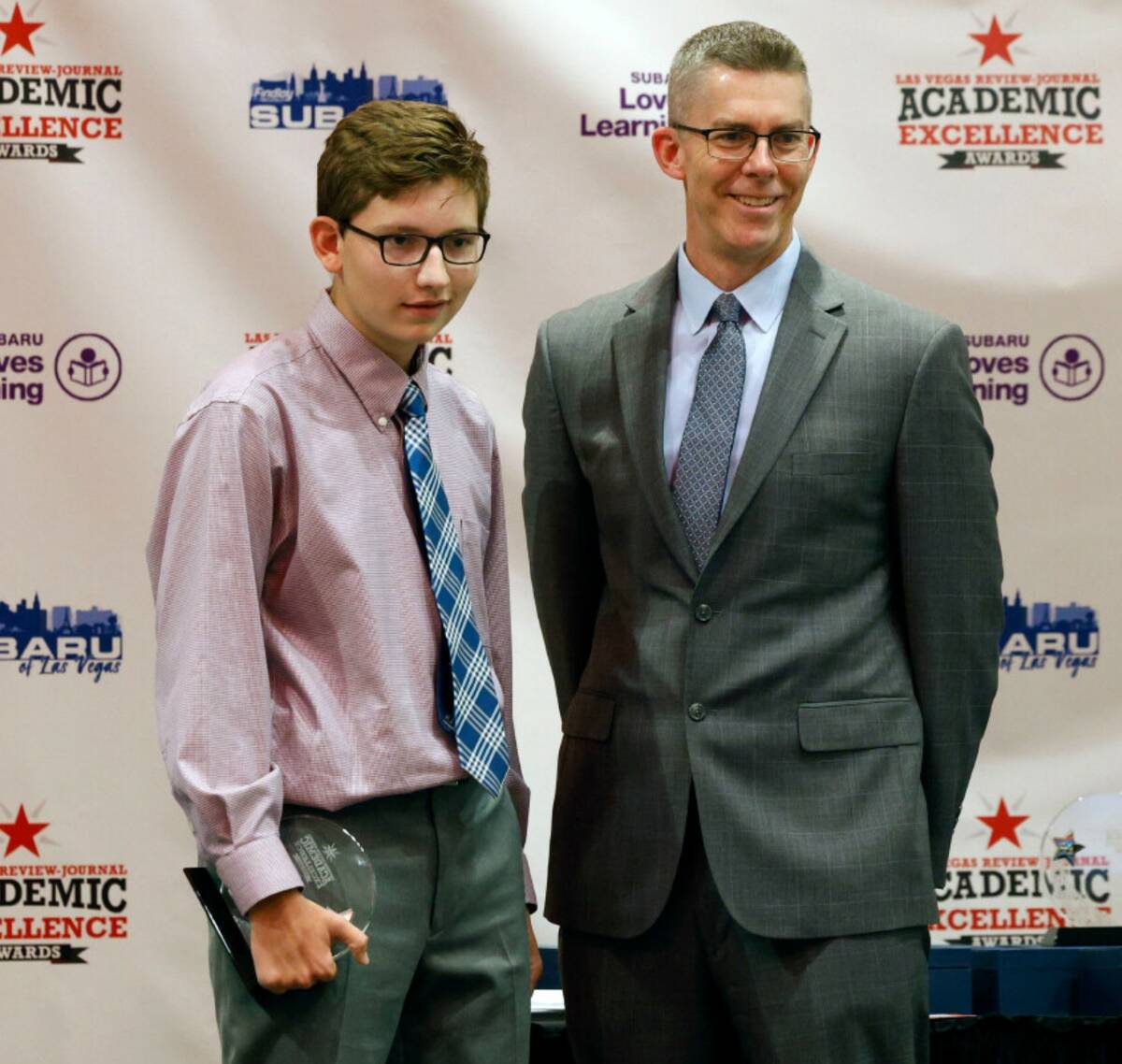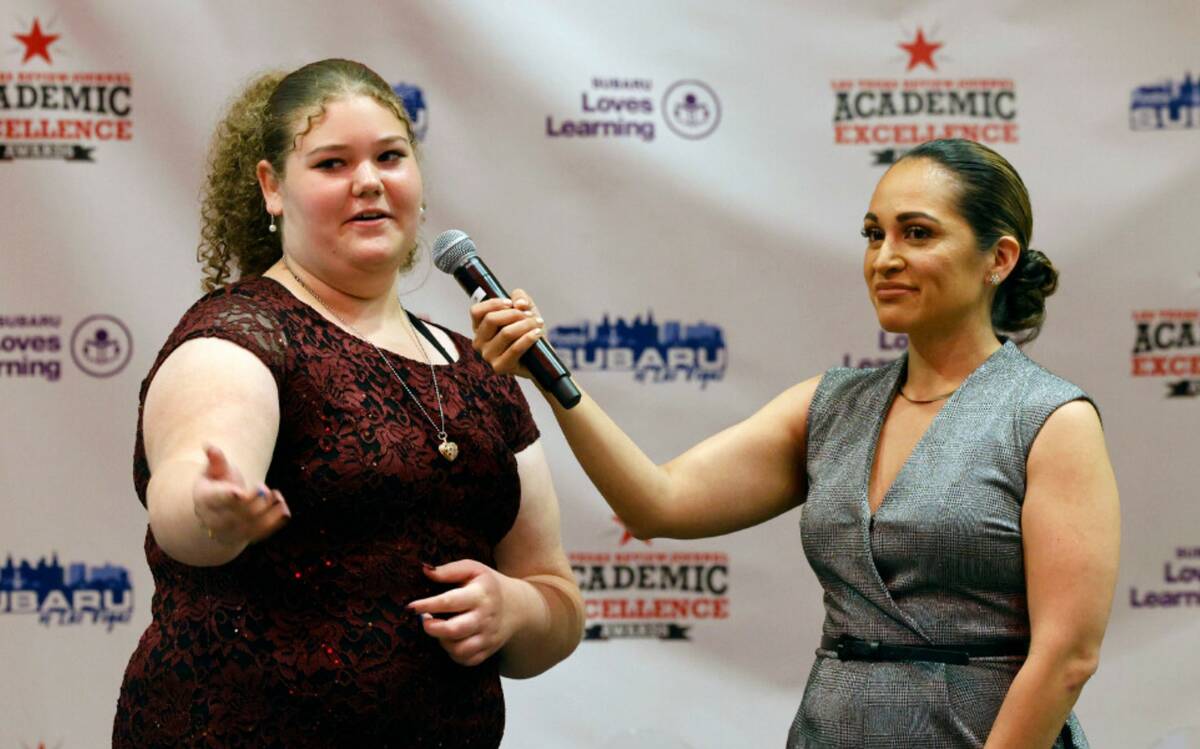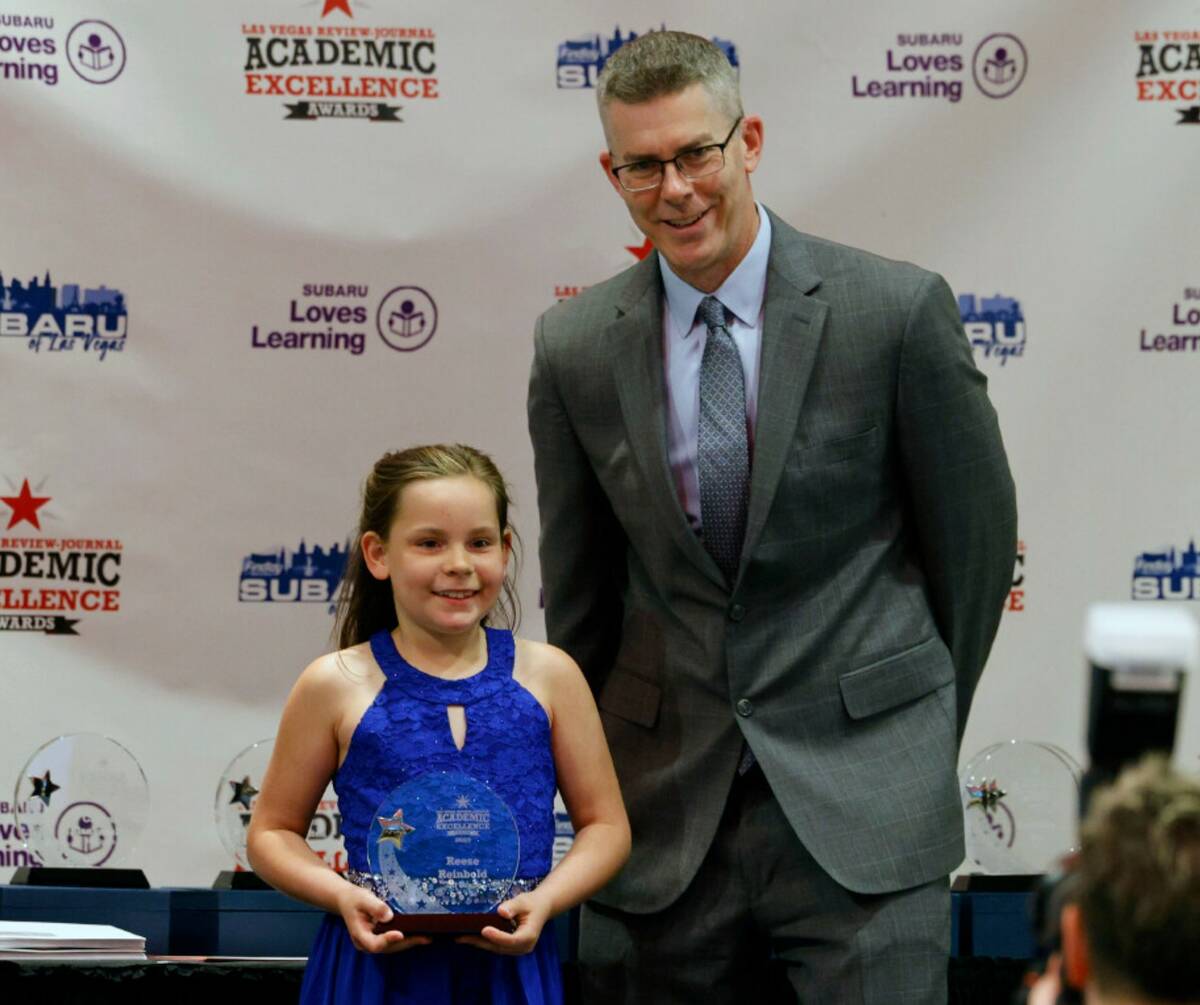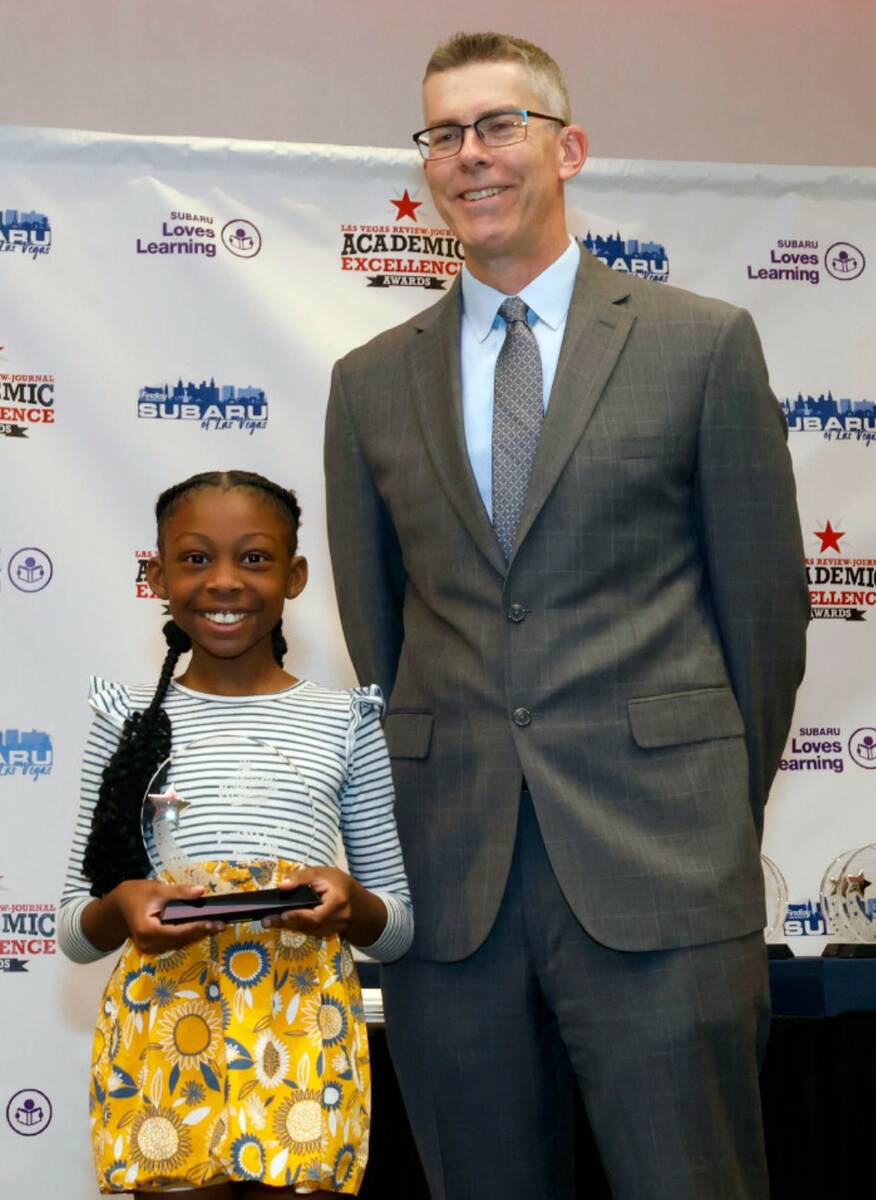 Local students were honored Thursday night at the Review-Journal's annual Academic Excellence Awards.
Fourteen students from first to 12th grade received awards at the event, held at the JW Marriott in Summerlin.
"In addition to scholarship, the academic excellence awards emphasize leadership, service and character," Review-Journal Executive Editor Glenn Cook said during the award ceremony. "These are the traits and deeds that will put you on a path to success."
Caitlin Nguyen, the 11th grade winner of the Academic Excellence Award, said being recognized helped her realize that all of her hard work had paid off and encouraged her to keep going.
Nguyen attends Coral Academy of Science Las Vegas and serves as the American Red Cross Club vice president and helps to organize blood drives. Her goal is to become an anesthesiologist, and she will be part of a medical summer program at Johns Hopkins University.
"Don't procrastinate with a lot of things on your plate. You have to just get things done and keep going," Nguyen said as advice for her fellow students.
Valley High School 12th grader Danya Youssif ranked first in her class through all four years of high school with a 5.45 GPA. She said being recognized felt extra special because she was nominated by one of her teachers.
This summer Youssif will be part of an internship at the University of Utah focusing on cancer research related to her kinesiology major.
"Keep going and never give up even when it feels like everything isn't working out," Youssif said. "Just keep going because in the end you'll see results if you just keep persevering."
Each student and their school each received $500 with the award.
The rest of this year's winners were:
Oliver Callahan: The Ellis Elementary first grader is an avid reader and enjoys Spanish club. Callahan showed off his Spanish knowledge while receiving his award by saying, "¿Hola, cómo te llamas?"
Jamari Jade Rhodes: Rhodes is the youngest in her second grade class at Berkley Elementary due to grade acceleration. She helps her mom at events for the Nevada Partnership for Homeless Youth.
Reese Reinbold: The third grade award winner is a GATE scholar at Carl Elementary. She enjoys animal care, cursive writing and origami.
Brianna Ong: A fourth grader at Legacy Traditional Southwest Las Vegas, Ong founded a creative club, plays the drums and is learning to play violin. Ong has performed in plays such as "Peter Pan" and "Princess Whatsername."
Cynthia Srinarayana: Srinarayana was a runner-up in Stanton Elementary's yearbook cover contest and recently entered her original story with illustrations in the Vegas PBS Kids Writers Contest. She's cheer captain and volunteers for Shade Tree and the Salvation Army.
Elizabeth Frus: The Garrett Junior High sixth grader volunteers for extracurricular assignments and activities. Frus is an avid gardener and enjoys the outdoors.
Kamilla Hu: Hu, a seventh grader at Bob Miller Middle School, qualified for the Summer Junior Olympics in swimming and has a monetized gaming channel on YouTube where she has more than 26,000 subscribers.
Jeremy Lindsten: An eighth grader at Faith Lutheran Middle School, Lindsten plays football and track and is working toward his Eagle Scout Award.
Chyann Blankenship: Blankenship is a ninth grader at Desert Pines High. She was recently nominated for a medical junior doctorate program at Harvard.
Viktoriia Marushchak: One of two 10th grade winners, Marushchak just completed her first school year in the United States since her family moved from here from Ukraine. She attends Coral Academy of Science Las Vegas and served on the student council and excelled in four advanced placement classes.
Sawyer VanZanten: The Cimarron-Memorial High 10th grader was first in his class with a 4.7 GPA and participates in academic olympiads. VanZanten is taking 18 advanced placement tests this spring.
Brian Phu: Phu was recognized with the Community Commitment Award that was presented to him by Findlay Subaru of Las Vegas.
Contact David Wilson at dwilson@reviewjournal.com. Follow @davidwilson_RJ on Twitter.