Later high school start times? State could explore options
Updated December 5, 2022 - 8:21 pm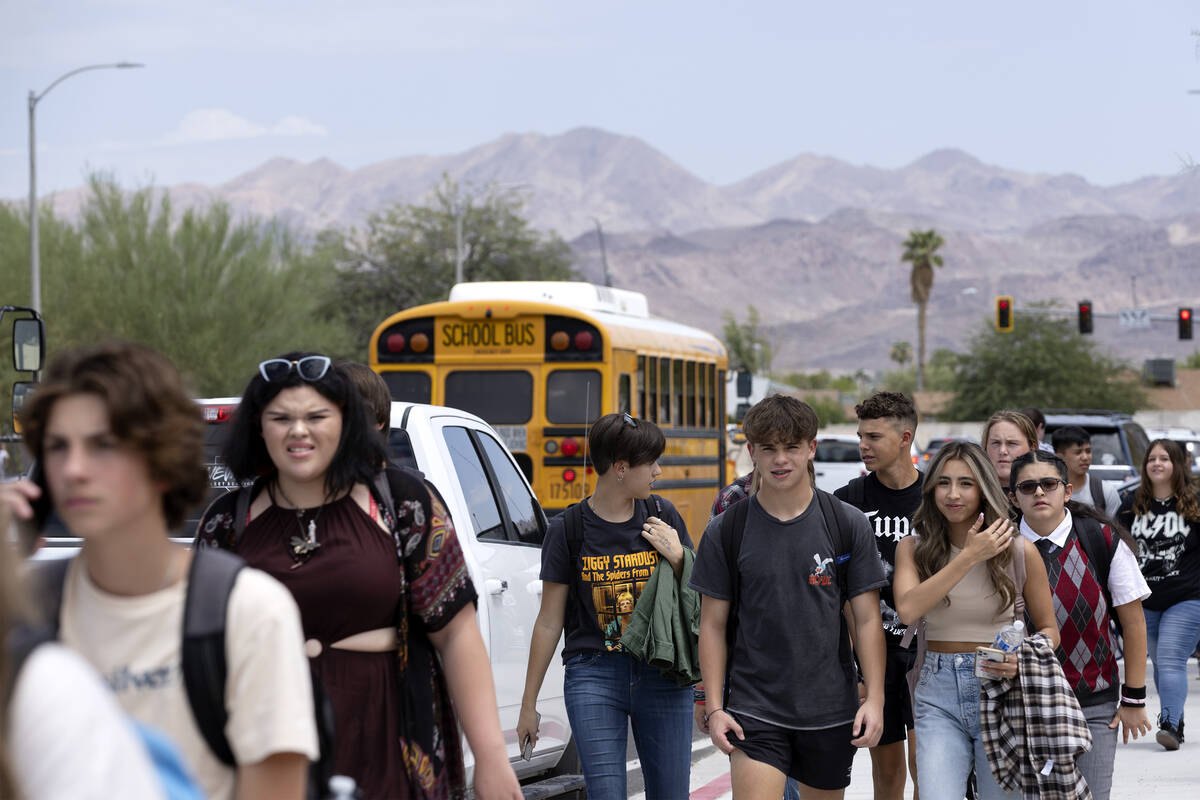 The topic of later start times for high schools could come before state education officials this month.
The Nevada State Board of Education plans to "discuss the possible implementation of regulations to require later start times for high school students," according to its Dec. 15 meeting agenda.
It's an information-only item, so the board isn't scheduled to make any decisions.
The impetus behind the idea is 100 percent based on research showing better student outcomes with later start times, board president Felicia Ortiz said.
"There's enough studies out there to justify the move," she said.
Research studies have shown that early school start times are associated with fewer hours of sleep for students, which can affect children in areas such as health, safety and academics.
Ortiz said an existing state regulation requires school districts to submit their schedules to the state for approval.
The plan would be to include a guardrail in that to ensure that high school start times are later than 8 a.m., she added.
Ortiz said she first wants her team to buy in. The next step would be to hold workshops so the public could provide input, she said, then regulation language would be considered.
The best-case scenario would be for implementation during the 2024-25 school year, Ortiz said.
She said she wants input from members of the public to know if there's anything related to student outcomes that they're concerned about.
"I am not super interested in hearing adult excuses for why we haven't done it," she said.
The Clark County School District's early high school start times — with many campuses beginning classes around 7 a.m. — are a frequent concern voiced by students and parents.
This school year, the district adjusted its start and end times for more than half of its approximately 360 campuses in an effort to improve school bus service.
Most changes were 30 minutes or less, but some campuses saw more drastic shifts.
This year, a California law went into effect — the first of its kind in the nation — saying that high schools can't begin earlier than 8:30 a.m. Middle schools can't start before 8 a.m.
Ortiz said she didn't know about the California regulation, so the timing of considering a similar move in Nevada is "not intentional at all."
The Dec. 15 meeting is set for 2 p.m. at the Department of Education's offices in Las Vegas and Carson City, and it is to be streamed live online.
Contact Julie Wootton-Greener at jgreener@reviewjournal.com or 702-387-2921. Follow @julieswootton on Twitter.