Most applicants for school-choice program are from wealthy neighborhoods
October 29, 2015 - 4:07 pm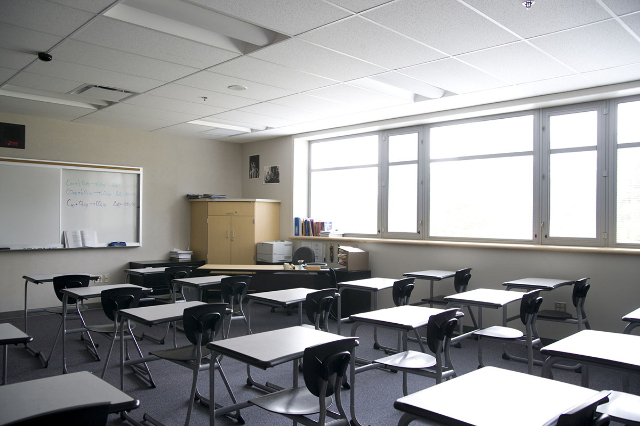 Families who live in Nevada's wealthiest neighborhoods have flooded the state treasurer's office with applications to enroll in a controversial school choice program that supporters argued would help low-income students.
As of last week, only nine students who live in the poorest neighborhoods in Nevada had applied to open an education savings account, or ESA, a new program that Republican lawmakers said would increase access to high-quality private schools for disadvantaged children.
However, a Las Vegas Review-Journal analysis of data from the treasurer's office found 120 households in the wealthiest neighborhoods in Nevada have rushed to apply for an ESA. A majority, or 99, of those applications list an address in the master-planned Summerlin community.
Overall, half of the nearly 3,100 applications submitted as of Oct. 28 list an address in a ZIP Code among the top 40 percent of median households in Nevada. That's in contrast to just 10.7 percent of applications from households with median incomes in the bottom 40 percent.
The ZIP Code with the single-largest number of applications, 124, includes the well-to-do Anthem community and country club in Henderson.
"It's what we expected," said Sylvia Lazos, policy director for the education reform group Educate Nevada Now.
The ESA program "was not tailored to low-income parents. It was not tailored to parents with children in (low-performing) schools," she said. "With every program of this nature, it's just the reality that affluent and high middle-income families are always in the best position to take advantage of government programs."
In June, Gov. Brian Sandoval signed legislation authorizing the creation of ESAs, widely considered the most expansive school choice program in the country.
Families who apply for an ESA must first pull their children out of public schools. Starting in February, the state then will funnel about $5,000 in per-pupil funding into an ESA through quarterly payments for parents to spend on private school tuition, homeschooling, tutors and other qualifying expenses.
Opponents of the program have filed two legal challenges in state court, claiming ESAs will divert money from Nevada's historically underfunded public schools. They also contend the program offers a handout to wealthy families who already can afford to send their children to high-performing private schools.
Supporters, however, note that about 21 percent of ESA applicants identified themselves as earning less than 185 percent of the federal poverty level, making them eligible for a higher ESA amount of $5,700. That means a household income of $44,863 or less for a family of four.
Denise Lasher, a state advisor with the Washington, D.C.-based American Federation for Children, which supports school choice for low-income families, said 21 percent is "pretty incredible for a program that isn't even in existence yet."
She cautioned against drawing conclusions about what type of families are taking advantage of the ESA program based on the ZIP Code they list on an application.
"Yeah, some come from places with high median incomes, but that means half of the households make less than that," Lasher said. "There are poor and working-class families living all around the community. They're not just in one or two ZIP Codes.
"The data is incomplete at this time, but we do know that 650 (applicants) identify as poor," she added. "That's incredible."
Contact Neal Morton at nmorton@reviewjournal.com or 702-383-0279. Find him on Twitter: @nealtmorton