Nevada among top 10 safe states for teen drivers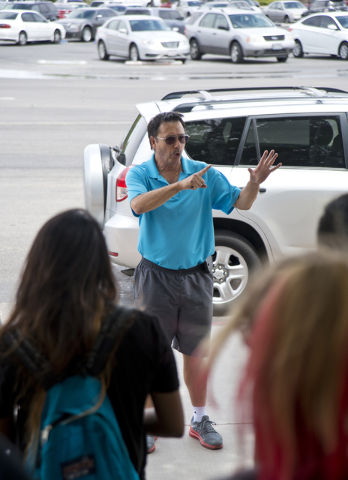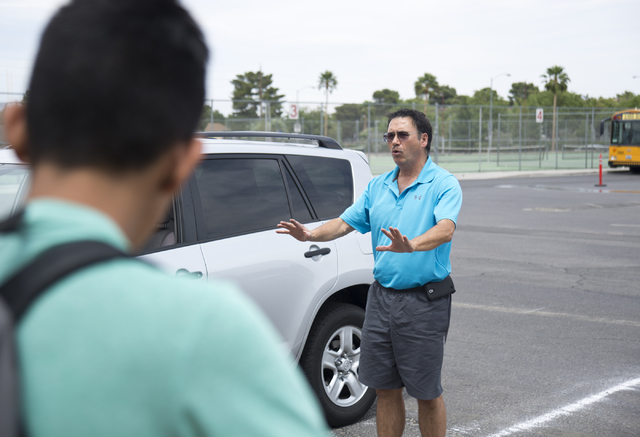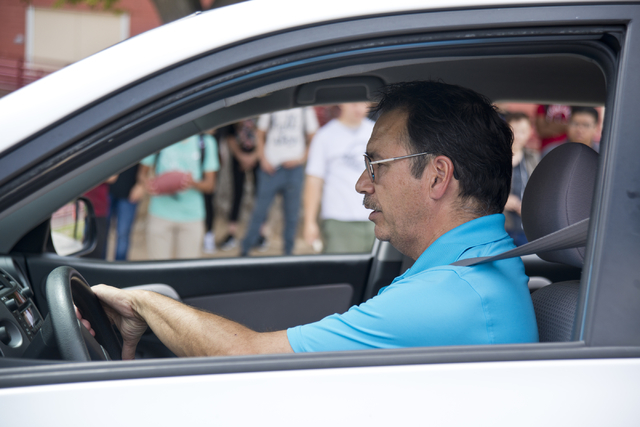 At Valley High School, driver's education is classroom instruction only.
So it was a rare sight Friday when driver's ed teacher Michael Grady set up cones in the parking lot to give onlooking students a lesson in parallel parking.
"They can't be in the car with me … This is the best we can do with the current setup," he said.
A SAFE ENVIRONMENT?
Grady has been teaching the rules of the road for 30 years.
He's been in Las Vegas for only two of those years, teaching the subject through the Clark County School District and the A-1 Driving School, but he already has a solid grasp on the lay of the land when it comes to teens and driving.
Which is why he finds it "hard to believe" that a recently released study by CarInsurance.com ranked Nevada in the top 10 among states for providing the safest environment for teen drivers.
"That would be a shock," Grady said. "From what I've seen in my two years, people are aggressive — very aggressive on the road. Few people respect the speed limit or use turn signals, and you have visitors who are coming to visit us for a short time and are not familiar with the Spaghetti Bowl."
Grady, who came from teaching an after-school driver's ed course in Washington state, is a proponent of in-person interaction.
The online courses accepted by the state Department of Motor Vehicles are not enough, he said.
"If Kylee (a student) has a question, I'd like to think I can answer it for her, but online, are they really getting the information they need?" he asked. "I want to make sure we give them as much information as we can give them to prepare them for the DMV test, and make sure they are safe, defensive drivers."
STAYING AWAY FROM FREEWAY
To identify the best and worst states for teen drivers, CarInsurance.com analyzed the following:
■ Number of teen driver fatalities per 100,000 population
■ Effectiveness of graduated driving license (GDL) components
■ Teen drinking and driving rates
■ Teen emailing/texting and driving rates
■ Average annual insurance costs for teen drivers
While the study did not expressly address whether a state is pedestrian-friendly, Kevin Moore, Zero Teen Fatalities program manager, believes Nevada's ranking may be fueled by the experience teens get behind the wheel, especially in Las Vegas.
"Neither Las Vegas, or Reno, our other large city, are pedestrian-friendly cities," he said. " Any teen who learns how to drive in Las Vegas is experiencing 10 times more driving traffic situations as when they travel to other cities. Volume is so much larger than other cities in the state. Teens get a better foundation for driving if they learn in Las Vegas. It's definitely scary, but it's going to make you a better driver."
Grady disagrees.
"This town is very difficult," he said. "We have so many people in a tight area. I stay away from it (the freeway), unless parents ask me to give them a more challenging environment."
He said parents are afraid to teach their children how to drive in Las Vegas, which is why they seek Grady's help through A-1 Driving.
"I haven't gotten on the freeway much," said 17-year-old Kylee Coombs. "My dad wants me to avoid it until I really need to. This summer, I'll be driving to work, and I'll have to go through the Spaghetti Bowl."
He advises his students to stay away from the hot spots such as freeways, especially during morning and evening rush hours.
"Friday and Saturday nights on the freeway in Las Vegas is a very scary place to be," he said. "They have to make adjustments and stay away from those areas."
STRENGTHENING LAWS
According to the study, Nevada could cut its teen fatal crash rate by 24 percent if a stricter GDL law was in place.
"I definitely feel the graduated license law has made a positive effect on our young drivers," Moore said. "But we can make GDL more robust and set minimum standards, and ensure teens meet the minimum requirements before they get a full driver's license."
One component of Nevada's current law does not allow teen drivers to have passengers under the age of 18 for the first six months after they receive their licenses. Moore said he would like to see that period extended to a full year.
In Nevada, of the 39 fatalities in crashes involving a young driver in 2014, 19 were drivers between the ages of 15 and 20; six of the fatalities were passengers in that age range; and five fatalities were passengers over 21, according to the National Highway Traffic Safety Administration.
"Passengers are the No. 1 distraction for teen drivers," Moore said. "Simply adding one passenger under the age of 21 increases their risk of getting into an accident by 50 percent. Every time they add another teenage passenger, the percentage continues to go up."
Grady, however, believes cellphones are a teen's biggest distraction and that the problem will only continue to worsen.
"Kids admit that they cannot help but be on their phones, and that naturally carries over into the car," he said.
Grady and Moore agree, however, that the GDL laws can only do so much, especially when students wait till they turn 18.
According to data provided by the DMV, there were 8,256 16-year-olds with a license in July 2002; in July 2015, the number dropped to 5,461.
"In my experience, I'm finding when I go and talk to teenagers in school, a lot of them are circumventing the graduated licensing law," he said. "If you wait till you're 18, you don't have a meet those requirements anymore. You just have to pass the test and you get full driving privileges."
Moore said he believes those who do this are finding themselves in situations "they simply aren't prepared for."
Grady believes the decision is tied to a lack of money on the part of the student and their family, with some online DMV courses costing $200.
Because of Valley High School's socioeconomics, the school has made the driver's ed course — although it lacks a hands-on portion — a priority, Grady said.
"You see kids driving illegally now, because they can't afford it, and the pressure is on them to help their family out," Grady said.
Contact Natalie Bruzda at nbruzda@reviewjournal.com or 702-477-3897. Find @NatalieBruzda on Twitter.