Nevada colleges work to pump up Hispanic enrollment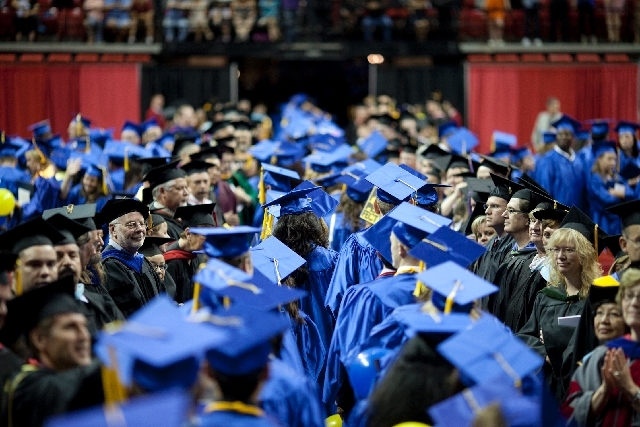 Alan Filoteo believes he has the responsibility to excel as a leader in the Hispanic community.
But the 22-year-old College of Southern Nevada student is now feeling a little more pressure to achieve that goal.
That's because CSN is an emerging Hispanic-Serving Institution and aims to get the full designation in 2015.
CSN offers Hispanic students many opportunities, and with those opportunities comes students' responsibility "to obtain an education," he said. "I think it's something to take more seriously."
The College of Southern Nevada is among several two- and four-year colleges in Nevada considered to be emerging Hispanic-Serving Institutions. To get the full designation from the U.S. Department of Education, schools need to reach and maintain an enrollment that is 25 percent Hispanic.
That status lets colleges compete for additional federal funding that can range from $535,000 to $775,000, which would benefit the institutions in general, officials said.
While some schools project reaching that benchmark within two years, others don't really know how long it will take.
Nevada's Hispanic population was 27.1 percent in 2011, U.S. Census Bureau statistics show. In Clark County, Hispanics accounted for 29.7 percent of the population the same year.
That growth is prompting colleges to earn the Hispanic-Serving Institution status.
"I think that it's the best way, or one of the best ways, to send the message that UNLV recognizes and appreciates and embraces the role of the growing Hispanic population in Nevada," said Luis Valera, interim vice president for diversity initiatives and government affairs at the University of Nevada, Las Vegas.
As of fall 2012, UNLV's enrollment was 23.5 percent Hispanic, CSN was at 24.7 percent and Nevada State College was at 20 percent. The University of Nevada, Reno, had an enrollment that was 13.3 percent Hispanic in the fall, which has now risen to 15.3 percent. Great Basin College's enrollment is currently about 14 percent Hispanic.
In 2008-09, UNLV exceeded the 25 percent requirement for the designation, Valera said. However, when the economic downturn hit, Latino students felt the impact from the recession and many decreased school hours to work more.
Some of them even had to move back home to help their families, Valera said, and that resulted in a dip in Hispanic student enrollment.
Still, Valera remains optimistic that UNLV will be able to raise its Hispanic student population again.
"We feel confident that within the next two years we'll be able to meet the threshold," he said.
Clarissa Cota, interim dean of CSN's School of Business, Hospitality and Public Service, is leading the college's Hispanic-Serving Institution task force. Cota said getting the designation is a priority for the college.
"It is to better serve the community that we are within," she said.
That status would position the college to apply for federal funds that would provide more support to Hispanic students and help them graduate. But those funds would also "benefit the entire student body."
For example, some of those funds could be used to improve academics, to buy equipment that's needed to support programs in the science, technology, engineering and mathematics fields, or even to renovate instructional facilities, Cota said.
Several efforts are underway at CSN to help meet the 25 percent goal, including targeted outreach at schools, Cota said.
"We are very close, but we are not quite there," she said.
State Sen. Ruben Kihuen, D-Las Vegas, has helped CSN with its efforts. He recently finished a two-month contract with the college to help recruit Hispanic students. During that time, he spoke at nine different high schools, where he shared his personal story to try to encourage students to attend college.
"I think it's crucial that we help some of these colleges meet that 25 percent threshold," said Kihuen, who was born in Jalisco, Mexico. "Nevada is one of the fastest growing states, especially with the Hispanic population."
Retention also is important, Kihuen said. The colleges need student support programs to help keep them enrolled until they earn degrees.
"That's not an easy thing to accomplish," he said.
Nevada State College President Bart Patterson said getting the status of Hispanic-Serving Institution comes with the mission of developing a structure to help students succeed.
Reaching out to students at a young age is always helpful, he said, especially since historically, Hispanic students have not performed as well as their peers.
The college also has initiatives to help it attain the designation in 2015.
"It requires a lot of dedicated work," Patterson said.
Reginald Stewart, director of UNR's Center for Student Cultural Diversity, said getting the Hispanic-Serving Institution designation highlights the university's commitment to serving Latino students.
He said whether the university's Hispanic enrollment is 15 percent or 25 percent, they want to be ready to serve that population and help them succeed in college.
"We are not going to wait," Stewart said. "We are doing it now."
Patterson said Hispanic students will be the future leaders in the state, but for them to lead and contribute to the economy, they need to have college degrees.
"It will be a victory, not just for the Latino students," Kihuen said.
Contact Yesenia Amaro at yamaro@reviewjournal.com or 702-383-0440.