Nevada online university graduates first 200 students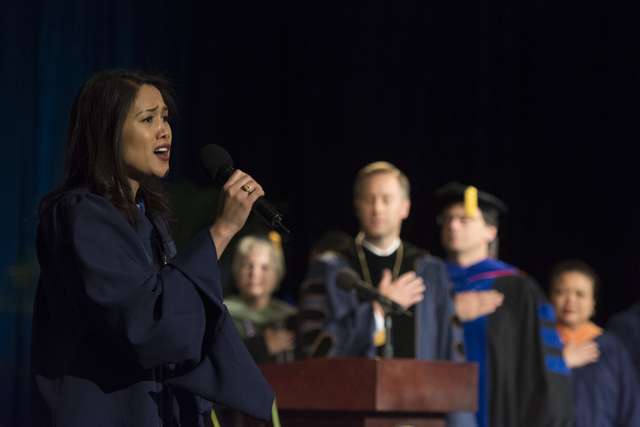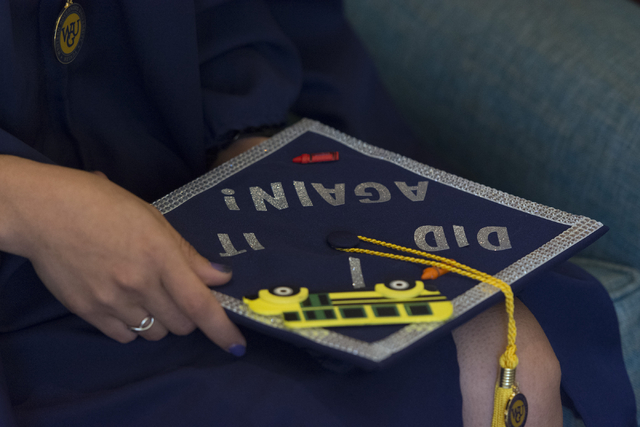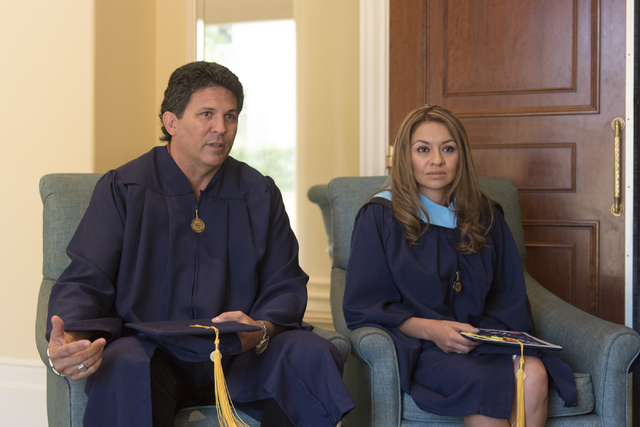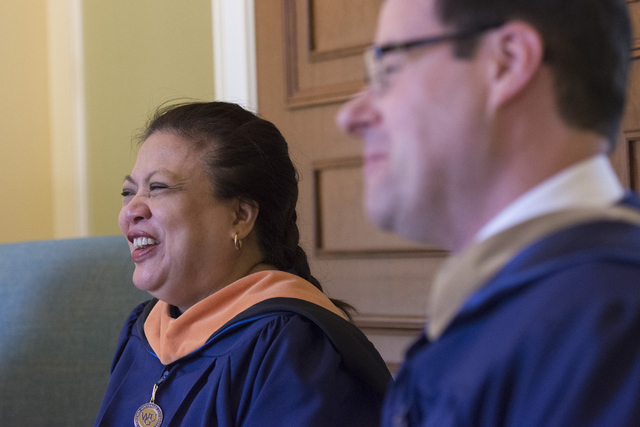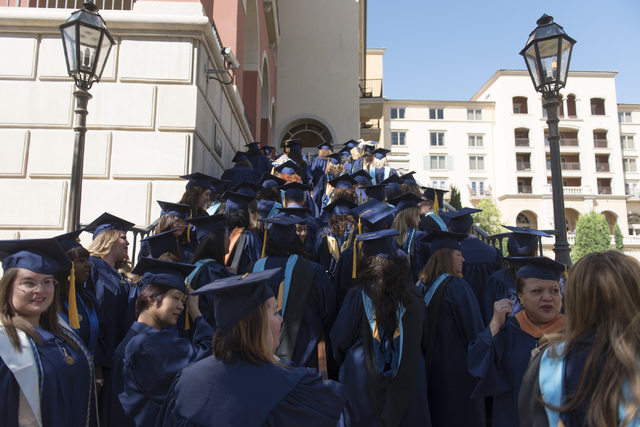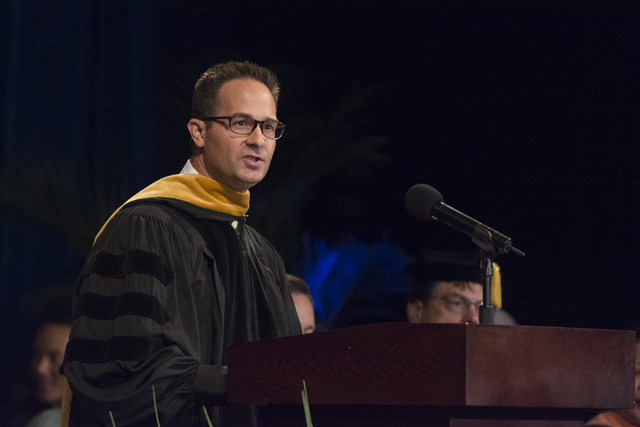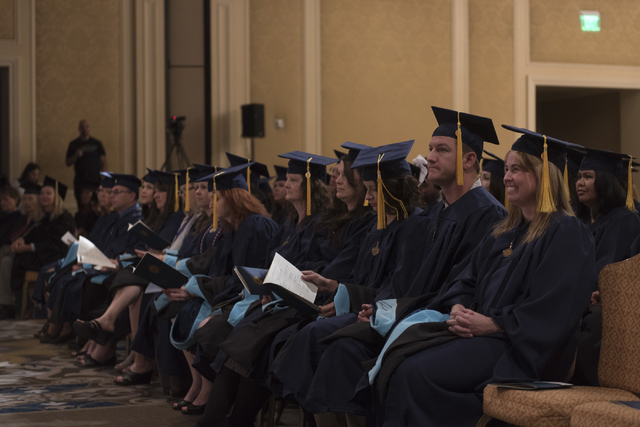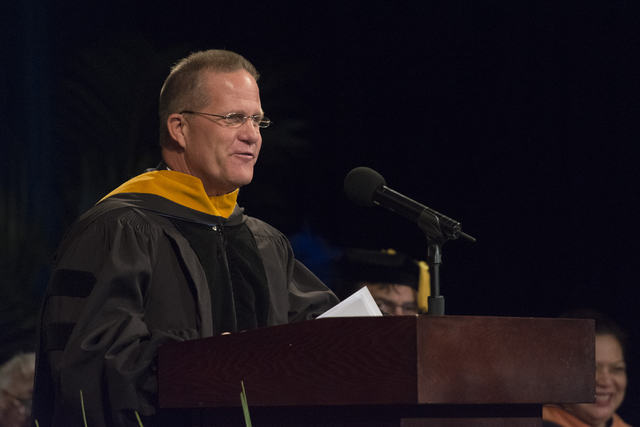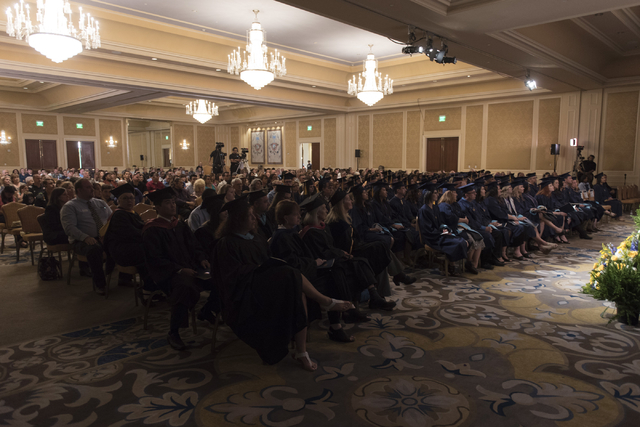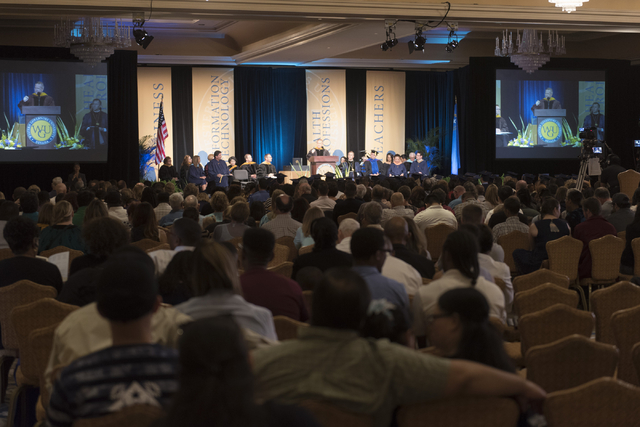 Saturday was a special day for Gilbert Elementary School first grade teacher Silvia Mendoza-Stout.
The Las Vegas mother of three was the first in her family to receive her bachelor's degree in elementary education six years ago from the University of Nevada, Las Vegas, and on Saturday, she added another accomplishment by becoming the first in her family to obtain her master's degree.
"This degree is for my family and to show them that it's possible," she said.
Mendoza-Stout was one of more than 200 students on Saturday to graduate from WGU Nevada, an online, nonprofit university that launched in Nevada last June.
The university's inaugural graduation ceremony recognized those who completed bachelor's and master's degrees in business, K-12 teacher education, information technology and health professions at the Hilton Lake Las Vegas Resort & Spa.
Graduates of the competency-based university spent an average of just over two years completing their bachelor's degrees and one year for their master's degrees.
"Instead of focusing on what they know, our students are able to focus on what they don't know," WGU Nevada Chancellor Spencer Stewart said. "It's a great fit for those juggling work and a family."
WGU Nevada, which has nearly doubled its student enrollment since its launch, boasts more than 1,600 students.
"At the rate we're growing, we could double our enrollment again over the next 12 to 16 months," Stewart said.
For Mendoza-Stout, she was looking for an affordable and flexible university that allowed her to finish her degree at her pace.
"I work more than 50 hours a week and wanted something that I could do at night and on the weekends," she said. "I was able to finish in a year and a half."
Fellow graduate Jeanette Magbutay of Las Vegas was also the first in her family to receive her master's degree.
She received her second degree from WGU Nevada on Saturday as she obtained her bachelor's degree in nursing two years ago before moving on to the master's in nursing education program.
Magbutay has been a nurse in the neonatal intensive-care unit at Summerlin Hospital Medical Center for the past seven years and decided to pursue her master's degree in order to become a nurse educator.
"Everyone at WGU was ready and willing to help you out when you needed it," she said. "My course mentor got me through the tough times when I thought I couldn't do it."
In January, Magbutay became a nursing instructor at the College of Southern Nevada, and this summer, she'll start as a pediatric nursing instructor at Touro University Nevada.
"My mother was the one who suggested I become a nurse because it's a stable career path and I can work anywhere in the world," she said. "I decided to pursue my degrees because of my thirst for education, my love of teaching and to become part of the ever-growing population of nurses."
After retiring from the Air Force and transitioning into a civilian job at Nellis Air Force Base, North Las Vegas resident James Lemmons Jr. realized that without an education he wouldn't be considered for advanced positions.
The 50-year-old received a bachelor's of science degree in business-IT management on Saturday.
"I can remember taking tests on my mom's kitchen table in Mississippi," he said. "With my laptop, a hotspot and a webcam, I could complete the work anywhere."
Though it wasn't an easy road for him to earn his degree, it's definitely been a rewarding one, Lemmons said.
"Doors that were once closed are now open," he said. "It's taught me to keep moving forward no matter the pace or the challenge."
Contact reporter Ann Friedman at afriedman@reviewjournal.com or 702-380-4588. Follow @AnnFriedmanRJ on Twitter.