Nevada regents discuss options as search for chancellor stalls
Updated April 20, 2017 - 10:59 pm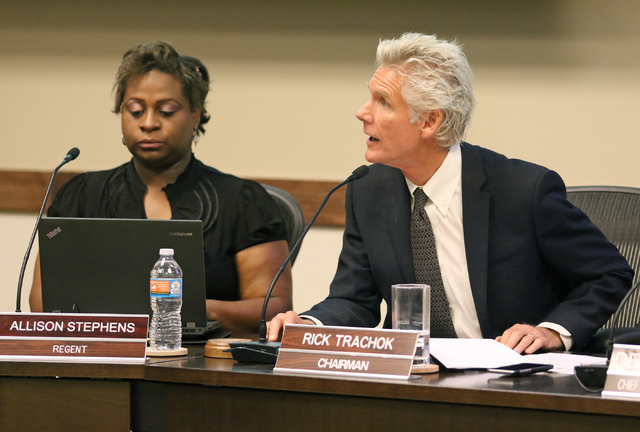 The top position overseeing the state's higher education system is up for grabs, and the Nevada Board of Regents on Thursday tiptoed around the idea of offering the position permanently to interim Chancellor John White.
"I think we have somebody in place now," said Regent Cedric Crear, referencing White. "I would recommend the (search) committee puts this committee on hold until a conversation is had with the acting chancellor, to figure out what it's going to take for him to move into a full-time position."
Regents spent most of the meeting Thursday discussing whether they could talk about White and his future with the system after legal counsel said doing so would violate the state's open meeting law.
"He has not signed a waiver, and we do not have him on the agenda as a discussion point," said Dean J. Gould, chief of staff and special counsel to the board.
His advice didn't stop the regents from talking in generalities about White, whose one-year, $303,000 contract ends June 30.
"I think the job he has done has been outstanding," board Chairman Rick Trachok said.
The search for a new chancellor commenced in December when the board hired AGB Search in Washington, D.C., to conduct a national search for candidates.
The firm received 33 applications, which consultants whittled to nine semifinalists. Five of those individuals were determined as the "top" candidates; however, all five bowed out. Four of the candidates expressed concerns that their names would be released to the public in the semifinalist stage.
"It's unrealistic that really good candidates will want to hang themselves out to be exposed," said Tom Gallagher, an advisory member for the search committee.
James McCormick with AGB Search said it was "quite unusual" for four people to drop out of a search due to open meeting law concerns. He said he and his team have never experienced it.
Gould said candidates also expressed concern that they were unable to meet presidents and regents prior to their names being made public, worrying that they could end up in a position with board members and other education officials not liking them.
Regent Trevor Hayes suggested that the board direct its legislative staff to work with lawmakers on tweaking the open meeting law.
Meanwhile, McCormick suggested resuming the search in September, which marks the beginning of the academic year, as he believes it would draw more candidates. He also suggested that the regents present a fully defined compensation package to the candidates up front.
Ultimately, by a 3-2 vote, the search committee authorized committee chair Kevin Page to work with AGB Search to identify internal candidates who might be qualified for the position and, if they can't find anyone, determine the best time and procedure for resuming the search.
Page and Regents Sam Lieberman and Jason Geddes voted yes. Hayes and Regent Allison Stephens voted against the measure.
"We have this rare opportunity to consider someone from the outside, who brings fresh ideas," Hayes said. "We don't want to miss an opportunity to do a broad search to find the best candidates because we have a little hiccup."
Contact Natalie Bruzda at nbruzda@reviewjournal.com or 702-477-3897. Follow @NatalieBruzda on Twitter.