Nevada sets bar lower for 11th-graders taking ACT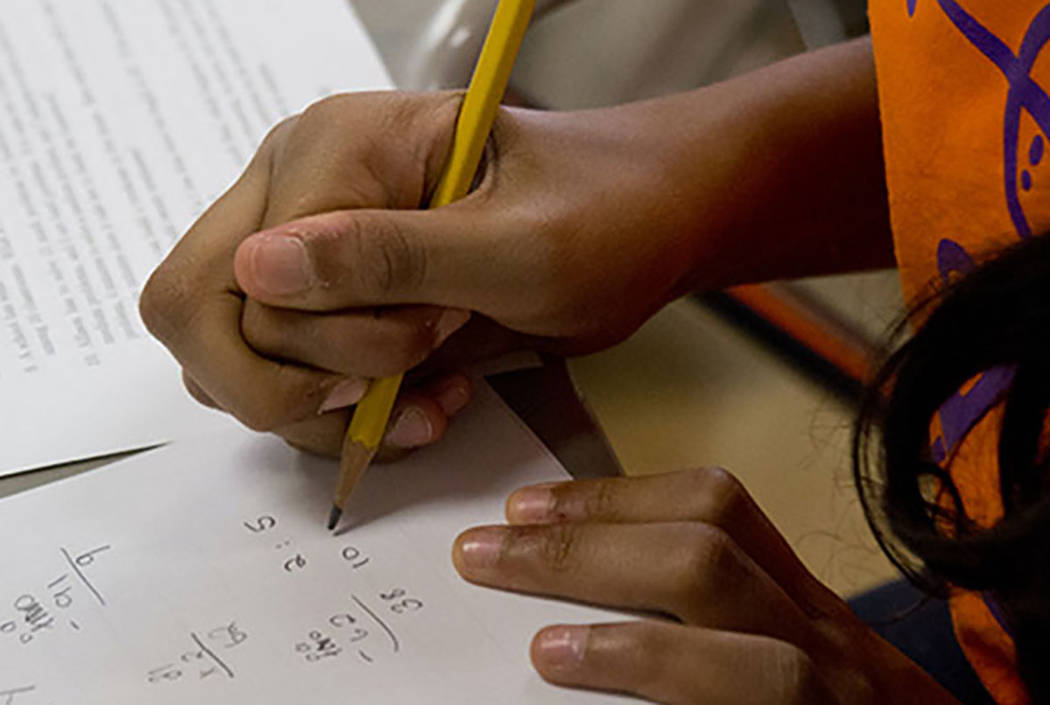 Nevada high school students taking the required ACT exam will be considered proficient starting this fall if they reach a threshold that's lower than the national standard set by the test creators.
The State Board of Education signed off on the "cut scores" that will be used to determine whether students have demonstrated sufficient mastery of math and English on the test at a meeting Thursday in Las Vegas. The board decided to divide student test scores into four different categories, with the highest two — Levels 3 and 4 — being considered proficient or passing grades.
ACT doesn't set cut scores the same way, instead using what its creators call benchmarks. Students receive scores out of 36 maximum points in different subjects, and then those are averaged to a final composite score. Nevada only set cut scores for math and English, but the ACT gives scores in reading, science, writing and English language arts.
In math, students who score a 22 or higher have a 50 percent chance of earning a "B" or higher in college math courses, according to the ACT's creators. In English, the benchmark is 18.
But Nevada will set the bar a bit lower, with students who score a 20 or higher considered proficient in math and those who achieve a 17 or higher considered proficient in English.
Impact on star ratings
The board's decision won't mean much if anything for students, who are required to take the test in 11th grade but don't need to pass it to graduate. But it will have big implications in the system the board is developing to measure high schools' achievement rankings.
The percentage of a school's students considered proficient on the ACT will be one factor used to establish schools' star ratings, the five-tier scale that Nevada will use to measure school progress and compare schools against one another. Five-star schools are considered to be exceeding expectations, while one-star schools are seen as failing to provide students with a quality education.
Clark County officials took issue with the use of the ACT test as a factor in the rankings, arguing that it is intended to project how students may fare in college-level courses rather than measuring whether they have mastered the material they've been taught.
Rebecca Meyer, who works in the district's assessment department, suggested that students who score in the Level 2 zone also considered proficient because of that disconnect.
"That way schools would not be penalized," she said.
The board rejected the suggestion.
Stagnant scores
For the last three years, Nevada's scores on the ACT have remained flat, much to the frustration of State Superintendent of Instruction Steve Canavero.
"I fundamentally reject that those challenges are unique or different than challenges facing other states who have achieved these benchmarks or higher. Our kids are capable," he said last summer, when it was revealed the average ACT scores hadn't budged in three years.
The state average composite came in at 17.4 of the possible 36 points last year, with Clark County students coming in slightly under that average at 17.2. Only 10 percent of all Nevada students scored above the ACT benchmark in all categories. Sixty percent of students who took the test didn't meet a benchmark in a single category.
In English, Nevada students scored 16.1, which is under the proficiency set by the state board Thursday. In math, they averaged a 17.6, also lower than the proficiency mark set by the board.
New star ratings were issued in 2017 for elementary and middle schools for the first time in three years because of an issue with the testing data. Between 2014 and 2017, the state also changed the formula for how schools were measured, effectively making it harder to reach the higher levels.
High schools were not issued star ratings, however, as officials were still tinkering with the correct way to measure success, including how much weight to give to various components like the ACT.
Star ratings serve as an easy comparison for school officials, parents and the public. Star ratings also have implications for certain types of state funding.
New star ratings for all schools are expected in September.
Contact Meghin Delaney at 702-383-0281 or mdelaney@reviewjournal.com. Follow @MeghinDelaney on Twitter.
Why the ACT?
New federal law requires high school students to take some type of standardized test that can be reported to the federal government for accountability purposes.
Nevada has been offering the ACT, for free, to students in the 11th grade since 2014, which made its use as the federal reporting tool an attractive option, rather than forcing students take yet another test.
Taking the ACT also can help students gain access to college scholarships and allows them to take college-level classes while still in high school — known as dual-enrollment courses — at a discounted rate.
Students in elementary and middle school take exams created by Smarter Balanced assessment consortium to meet the guidelines. Those tests are aligned to the academic standards taught in classrooms, whereas the ACT is not tied to any particular set of academic standards.