Nevada State College marks 10 years with plans to expand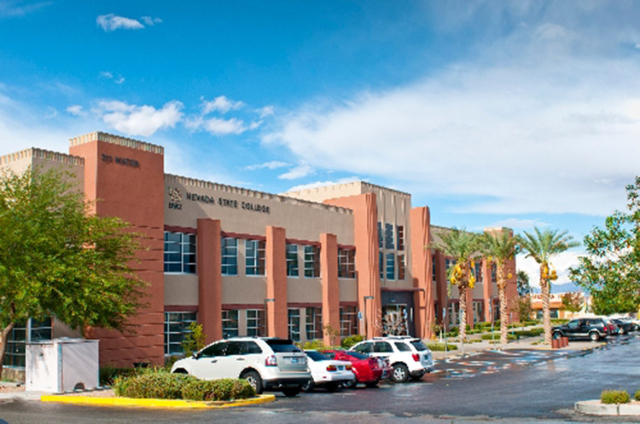 Its first decade was an arduous one for Nevada State College.
The school at 1125 Nevada State Drive in Henderson plans to celebrate its 10th anniversary with two events in September. The first is a five-day campus pride event, NSC Week, scheduled to start Sept. 10. It is open to the public and will feature lectures and book readings, a campus rally, a beautification project, music and more.
The 10th Anniversary Gala is scheduled for 6 p.m. Oct. 19 at Green Valley Ranch Resort, 2300 Paseo Verde Parkway. Tickets are $200. The event will honor NSC supporters and highlight the history of the college. Administrators also plan to use the occasion to unveil more detailed plans and renderings of the future campus, to be built on the school's largely unused 509-acre site in southeast Henderson.
The future of the college has not always been so bright. Teachers, students and administrators started under stressful conditions, said Spencer Stewart, associate vice president of college relations, who has been there since the beginning.
"The first faculty and staff were hired in 2001," Stewart said. "Within a relatively short period of time, we had to develop our curriculum and policies. We had to lay all the groundwork."
NSC opened its doors to 177 students on Sept. 3, 2002.
Stewart said the 23rd and latest comparable California school, California State University, Channel Islands in Camarillo, Calif., had four years to plan before opening.
"We did it in less than 12 months," he said.
The college was criticized by some for its underwhelming initial enrollment, which failed to come close to the college's own projection of 500. Others criticized it for taking funding that otherwise would have gone to the University of Nevada, Las Vegas and the Community College of Southern Nevada, now the College of Southern Nevada.
Classes were held in a renovated 35,000-square-foot warehouse at 1125 Dawson Ave. The college also leased buildings on Water Street in downtown Henderson.
"For the first graduating classes, there was a tremendous leap of faith on their part, and with the faculty for that matter," Stewart said. "… There was this wonderful sense that we are all in this together."
The first graduating class in 2004 —- transfers from other colleges and universities —- had 13 students. Few of the initial freshmen stayed the course, though. The college has had low graduation rates, about 16 percent in 2008 and 21 percent in 2010. The University of Nevada, Reno had the highest rate in the state in 2010 at 48 percent. CSN had the lowest at 4 percent. About two-thirds of NSC students graduate with degrees in nursing or education.
The first new permanent building, the Liberal Arts and Sciences Building, opened in August 2008 on the original 509-acre site.
NSC's Campus Master Plan was approved by the Board of Regents in 2010 and would utilize about 340 acres of the 509 for classrooms and education buildings. The other approximately 170 acres would be used for residential, retail and commercial purposes.
To give an idea of the scope, NSC President Bart Patterson said UNLV's campus is about 340 acres. He said the plan could support a student body of 30,000.
It all depends on demand and funding from the state Legislature, Patterson said.
The biggest boost the college has received, Patterson said, was full accreditation last year. NSC graduated 320 students in May, its largest graduating class. It also enrolled about 3,200 students last spring.
"We're looking at a steady growth," Patterson said. "We're the fastest-growing institution in the state. We're the only one that grew last year. … We think demand will ultimately be quite high."
Patterson said expansion could begin as early as this fall, with a potential for groundbreakings on one or two buildings.
For more information, visit nsc.nevada.edu/anniversary. For gala tickets and sponsorship opportunities, visit nsc.edu/gala.
Contact View education reporter Jeff Mosier at jmosier@viewnews.com or 224-5524.
Nevada State College's 10th anniversary
Nevada State College, 1125 Nevada State Drive in Henderson, plans to mark its 10th anniversary with a five-day campus pride event, NSC Week, beginning Sept. 10, and a 10th Anniversary Gala set for 6 p.m. Oct. 19 at Green Valley Ranch Resort, 2300 Paseo Verde Parkway.
NSC Week will be open to the public. Sponsorship opportunities are available for the 10th Anniversary Gala. Tickets are $200.
For more information on sponsorships or table reservations for the gala, call Brandi Robinson at 992-2368 or email 10anniversary@nsc.nevada.edu, or visit nsc.edu/gala.
For more information about anniversary events, visit nsc.nevada.edu/anniversary.